New York City. Three magical, almost mystical words for shoppers.
"Budget" may not be the first thing at comes to mind when you think of New York city shopping. But don't fret. My quick-and-dirty guide below will help you make the most of your time in the Big Apple — and show you the true NY shopping experience!
First things first. Put on your most comfortable shoes, grab your biggest tote, and gather up your dough. It's time to go bargain hunting.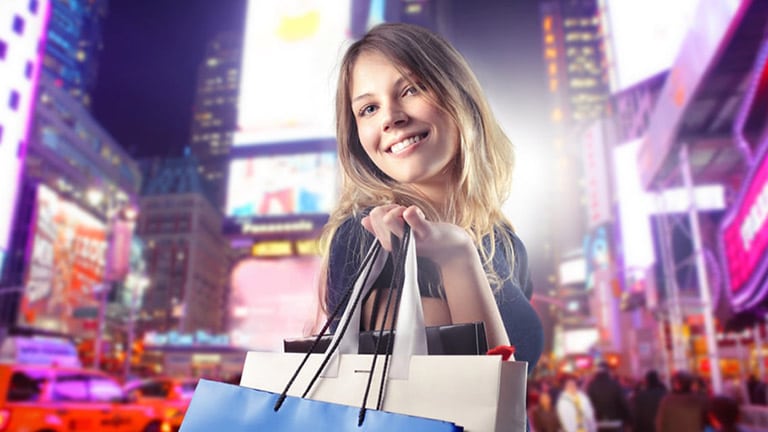 12 New York City shopping hacks
Find the Sample Sales. New York is known for taxis, big apes and sample sale events. Check our New York sample sale calendar here. You can also contact designers or stores directly to ask about upcoming sample sales.
Shop Uptown. Yes, Uptown is best known for being uber-expensive. Still, it's worth taking a stroll along Madison Avenue from the 60s to the 80s to window shop. Then head to some of the best consignment shops in the world to search for higher end fashions for less. Try consignment shops like Michael's Consignment Shop and Cancer Care Thrift Shop, where you might find last season's Chanel suits for rock-bottom prices.
Explore Midtown. Visit Bergdorf and Saks to get your sticker shock. Then head to Zara and the flagship H&M store to find similar fashions (but lower quality) for significantly less.
Stop at Chelsea. Chelsea is as close to suburban shopping as Manhattan gets with a Bed, Bath & Beyond, Old Navy, and T.J. Maxx. However, you can find great deals while supporting worthy causes at the nearby Housing Works Thrift Shop. That's where I found a beautiful, barely worn, Donna Karan Collection evening dress for $45 (my best guess on the retail price is $1,500).
Shop Downtown. As long as authenticity doesn't concern you, Chinatown is the perfect place to bargain hunt. The street is a knock-off mecca. Plus head to Gabay's outlet, a little known shopper's paradise off the beaten path.
Bring credit cards. New Yorkers rarely carry more than $20 in cash. Sad but true — it's not safe or practical. Stay away from traveler's checks, as well. Many merchants regard them as a nuisance.
Call ahead. Stores tend to come and go quickly in Manhattan. Before you make the trip, make sure the store is still there.
Ship it home. The 8.875% sales tax can put a crimp in any sale you might find. Avoid the tax by having the item shipped to your home state.
Limit taxi and Uber use. Yes, riding in a cab or Uber is a great NYC experience. However, each little jaunt cuts into your shopping dollars. So walk whenever possible. Blocks running north-south tend to be shorter than blocks running east-west. The subway system is also fast and relatively safe.
Wear comfortable shoes. Only Sarah Jessica Parker goes shopping in New York City wearing Manolo Blahnik. Shopping in New York is a sport. You wouldn't wear heels to play sports, now, would you?
Pick up a Time Out Magazine or a New York Magazine. These weekly magazines profile all the major and minor shopping, theatre, art, comedy, books and other events in New York city.
Venture outside of Manhattan. Head to over to the Williamsburg section of Brooklyn for unique boutiques and designs from up-and-coming designers who can't afford Manhattan rents.

On your way to the airport, visit the Jersey Garden Outlet Mall in Elizabeth, New Jersey. There, you can pop into Saks Off Fifth and/or Forever 21.

Or, if you are up for an adventure, trek an hour north to the grand-mama of all outlet malls, Woodbury Commons Premium Outlets, which features the outlets of Bottega Veneta, Burberry, Chloe, and more.

More New York information
Want to share your best New York City shopping trick? Post it in the comments section below.