While you might think skinny jeans — by virtue of their somewhat discouraging name — are only for the super-skinny we see no reason why every girl, including plus size, can't rock whatever trend they like. There are ways to maximize your style, however, while minimizing any potentially unfortunate (and unflattering) side-effects. The trick to wearing a trend — any trend — is to wear it in a way that works best for YOUR body type. Tips for plus size fashionistas who want to rock plus size skinny jeans:
Do the dark wash.
It's one of the oldest tricks in the fashion book — darker colors make us look slimmer, and dark denim is always more sophisticated than your acid-wash, distressed, razor-hacked alternatives.
Proportion, proportion, proportion.
Skinny jeans create a sharp line from the waist down. For curvier girls, that might be an all too exaggerated line from a wider hip to a slimmer ankle — meaning to avoid looking like an upside down triangle, we'll need to skip the oversized, boldly patterned top in favor of something solid and neutral that skims the body, like this embroidered tunic from Lane Bryant.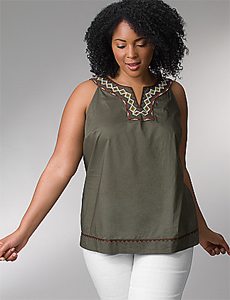 Pick the right shoes.
Speaking of proportion, balance out fuller hips/thighs/calves with some substantial — but still sexy! — shoes. Bold strappy wedge sandals are everywhere right now, and are the perfect counterpoint to add some substance and interest at the slimmest point of your body.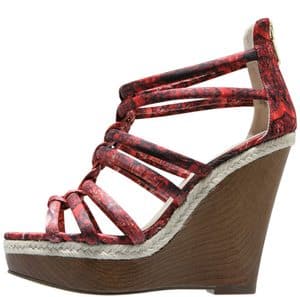 To Spanx or not to Spanx?
That's always the question. While we're always fans of anything that makes us just a little bit more smooth, slimmers under jeans can be tricky as they can add additional bulk to an already tight ensemble. That being said, slip into a high-waisted, mid-thigh slimmer to help keep everything where it belongs.
Check Out The Rest of Our Skinny Jean Guide
Petite Skinny Jean Tips
Skinny Jean Tips for Those with Large Thighs
Skinny Jean Tips for Those with a Tummy