We've bemoaned the agony of finding fashionable and affordable plus size clothing a million times before, so we'll skip that soapbox here, in the interest of brevity. That being said, Torrid is one of the very few retailers that features trendy and junior-centric clothing for girls with a little more curve. The problem? Quality is not job one here, and the prices really aren't always as cheap as they should be (for what you get). As some wise person once said (we're sure it was a woman) — know before you go.
How to Shop Torrid
Think Fun, Not Forever. Meaning consider Torrid the place for here today, gone tomorrow trend pieces (case in point: a Tripp Denim Braided Corset — promise us you won't be wearing this next year). At TBF, we never recommend investing big bucks in trendy items, but it's those very fun trendy items that keep our higher-quality wardrobe staples up-to-date. So, get your staples elsewhere (Macy's, Lane Bryant, etc.) and keep Torrid firmly in the sexy-top-for-this-Friday-night category.
Divastyle Rewards. Rewards are never all they're cracked up to be, but they don't hurt either. If you're a regular Torrid shopper, it pays to sign up for the Divastyle Rewards – particularly since there are no sign-up or membership fees. For this one, the rewards are perhaps a bit underwhelming (after you spend $250, you get 5% off purchases for a year, event invitations and a birthday gift of some kind or other). But IF, and only if, you would spend the $250 anyway, you might as well get something extra out of the deal.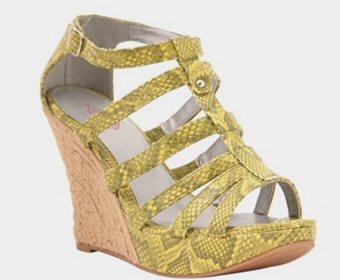 Three Words: Wide. Width. Shoes. Okay, we understand that wide-width shoes are not necessarily a given for plus size girls, and also that plenty of 'average' sized women have wide feet. We also understand that finding a decent selection of cute wide-width shoes can be maddening, so anytime we find a source, we just gotta share. Z. Cavaricci Couture Perforated Black Heels in a wide width? For less than $20 (on clearance)? Exactly.
Don't Discount The Clearance Section. Isn't clearance always a budget shopper's best friend? In a word – yes. We like Torrid clearance especially, however, because for whatever reason, we frequently find stuff in clearance that's as cute and season-appropriate as in the regular-priced offerings, and much more within the kind of Forever21 price point we'd like to see.
A Final Style Note: While Torrid does stock Ed Hardy items, this is just a friendly reminder that if you are even the slightest bit tempted to purchase one, you should either a) unplug your computer immediately or b) run out of the store until the feeling passes.