Skinny jeans can be a great asset for petite girls, because while we support our vertically-challenged sistas (Angela is one of them – holla!) we know looking longer and leaner is never a bad thing. We also know that being petite doesn't necessarily mean being a twig. For petite fashionistas, the biggest style challenges are fit and proportion, and skinny jeans are no exception. Here's our tips for Petite Fashionista's who want to rock the skinny jean look.
---
Balance your body.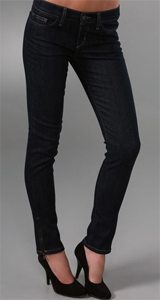 If you're under 21 and/or model thin, tight from top to bottom can work for you — but for the rest of us, we need a little leeway. A good rule of thumb is to balance a skinny bottom with a less structured top, but petite girls should skip the tunic/caftan/muumuu — unless you want to look like Lucille Ball carrying Little Ricky under those tents that passed for maternity wear in the 1950s (if you're under 35, look it up). Instead, think soft slub t-shirt, structured jacket, and/or a hip-skimming belted top to emphasize your waist and create length at the same time.
Watch the length.
With any jean style, length is key to looking put together. If your skinny jeans bunch up around your ankles or are threatening to engulf your stilettos altogether, you're bound to end up looking both sloppy and, well, shorter than you need to. If you find a pair of skinny jeans that fits everywhere but the length, invest a few bucks with your trusted tailor or local seamstress to make your skinny jeans suit you perfectly.
Heels are a (petite) girl's best friend.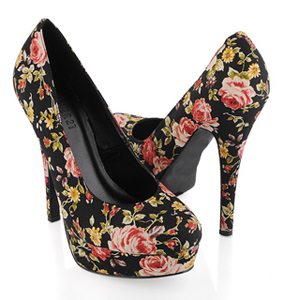 While some tiny petite girls can certainly get away with wearing a snug little pair of skinny jeans with a tank top and some ballet flats, many of us need a little length in the leg area to avoid looking, well, stubby. And what's wrong with having just another reason to wear a fabulous pair of heels, like these floral stilettos from Forever 21? Not a thing.
Click Here for More Petite Fashion Advice?