If I could, I' d look like Olivia Pope every day.
Like for most women recently, Olivia Pope has really caught my eye. Aside from the fact that she is beautiful, confident, and unforgettable—I'm totally coveting her wardrobe. But instead of spending big bucks on one piece in an attempt to dress like Olivia Pope once a week, I got creative and sleuthed up six ways you can dress like Olivia Pope without spending like it!
Strike a First Impression. There is an art to making your jacket look like part of your outfit and not just a "Oh I need a coat" last-minute decision. Olivia Pope is the master of the first glance – that is, no matter what she has "on the outside," it's absolutely memorable. Here is how to do that:
Steal the Olivia Pope Style Statement for Less
Photo credits: People.com, Zimbio
1. Get the coat. Olivia Pope likes the trench, and the trench loves everyone. My favorites are at Uniqlo – Clean lines, warm, and as affordable as functional jacket gets. Check out the this one for $99. Be gutsy – don't immediately settle on black or tan. Try the white or purple!
2. Boast the jacket. Sure, it's that cold – Or, it isn't – but a nice jacket doesn't have to be just for function. Try a hip-hitting top with a tad of flair. Try this embellished puffer coat for $69.99 at Gap.
One Word: Tweed. Olivia Pope wears a lot of it – and granted, she works in an office, but don't think that means you cant don the look in a more casual setting.
Photo credit: Zimbio
3. On Top. The jacket is a classic – and if you are concerned about it being too formal, try this one from Forever21. It's an atypical cut, so it would be great for an evening out or even brunch on Sunday (only $37.80).
4. On Bottom. The skirt is another favorite – again, you can dress this up or down depending on what you pair with it. Try this subtle-toned one from Loft for $34.88.
Another Two Words: Effortlessly Sexy. Olivia Pope does a fantastic job at choosing soft and luscious fabric which in turn allows her that relaxed and beautiful aura. Get her "air" by choosing tops and dresses made of touchable textures.
5. Blouse. Really, no matter what the fabric, if the top is loose and flows, you will feel more at peace already (and it will show)! Wear this blouse from Nordstrom (comes in a rainbow of colors) with any bottom and your're 50% of the way there!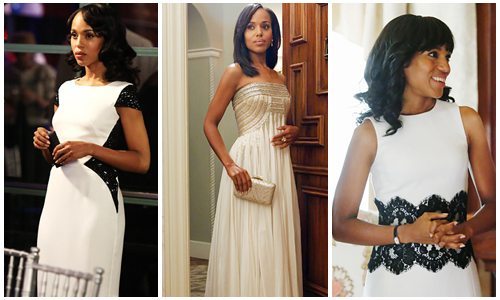 Photo credits: Instyle.com
6. Dress. Naturally womanly and effortless, opt for a long maxi and you'll evoke thoughts of a greek goddess. Try this from Old Navy – and for only $17.97, you'll have money left to buy shoes to match!