When you buy via links on this page, I may earn an affiliate commission. Learn more.
Your new schedule may find you rolling out of bed and making the commute to your home office — or kitchen table — instead of getting dressed in your finest corporate attire. Just when you had your office wardrobe dialed in, too! The remote work lifestyle has its advantages, but it brings up this important question: What to wear when you work from home?
Remote Work Style: Key Takeaways
You don't need the pencil skirt and heels, but you'll be more productive in something more than PJs or sweats.
Have an easy blouse on hand for video calls.
A blazer can quickly dress up a plain top (for impromptu video calls).
Slather on some moisturizer and pop on your best slippers to keep your feet soft.
Keep a pair of comfortable shoes handy for a lunchtime walk.
What to wear when you work from home?
It's tempting to stay in your PJs all day, but that won't help your productivity at all. Trust me on this one. It's way too easy to "rest your eyes" for a minute and wake up 30 later with 14 unread Slack messages.
A better strategy is to prepare for the day in much the same way that you would if you were actually going to the office. You don't need to wear a stuffy work suit, but get ready by putting on something different than you'd wear on Saturday. You'll feel more confident and prepared for everything that comes your way. Here are six must-have pieces you need when you work from home.
1. An easy blouse
You may have a few blouses that you consider your workplace essentials. You do not need to wear a silky blouse with a little bow at home. But in the event that there's a conference call on your schedule, it's a good idea to have something just a little bit dressier than your average T-shirt handy.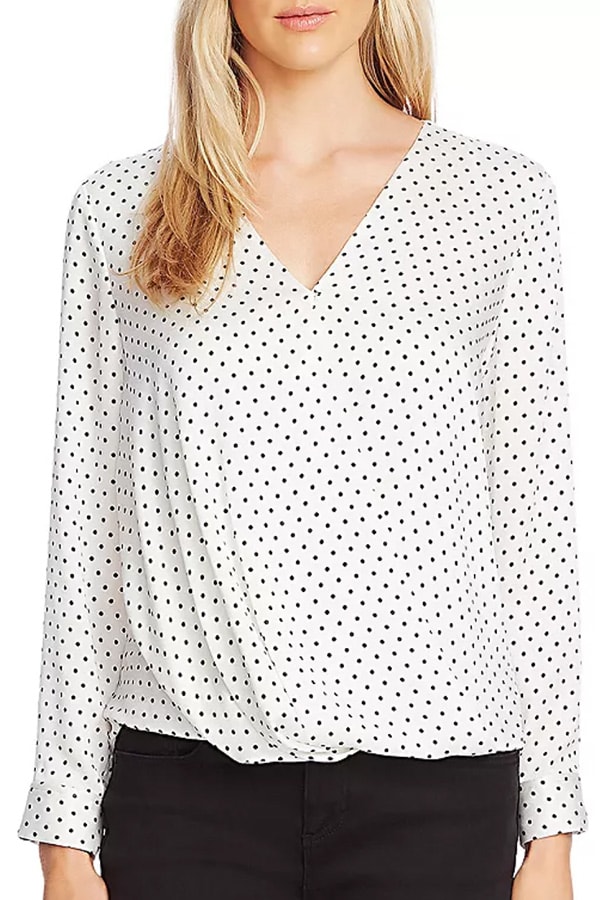 This Vince Camuto surplice top feels as soft as your casual basics, but offers a more polished look. Paired with any type of comfortable bottom, it'll be completely professional from the waist up.
2. A soft blazer
There will be days when you peek at the calendar, see no video calls, and don a T-shirt and jeans for work — just because you can. And of course those are the days your boss will ping you and ask for a quick video chat. Keep your personal brand on point by having a soft blazer on hand. Toss it on over your T and, voila, you're as professional as can be.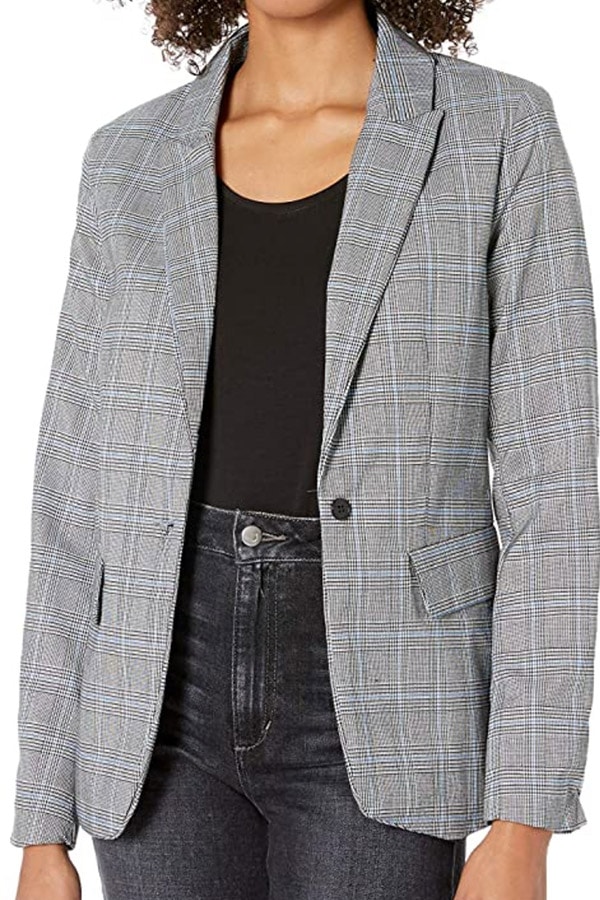 This check blazer from Amazon was made to wear over an otherwise simple outfit. It's mostly polyester too, which translates to low maintenance. Plus, it's only $35 — a wise investment that you can wear working from home and to the office when you return to your regular schedule.
3. A cozy legging
Soft and cozy is the way to go when you're working from home. Who wants to deal with too-snug bottoms that restrict movement? The idea is to dress in garments that are presentable, yet still relaxed.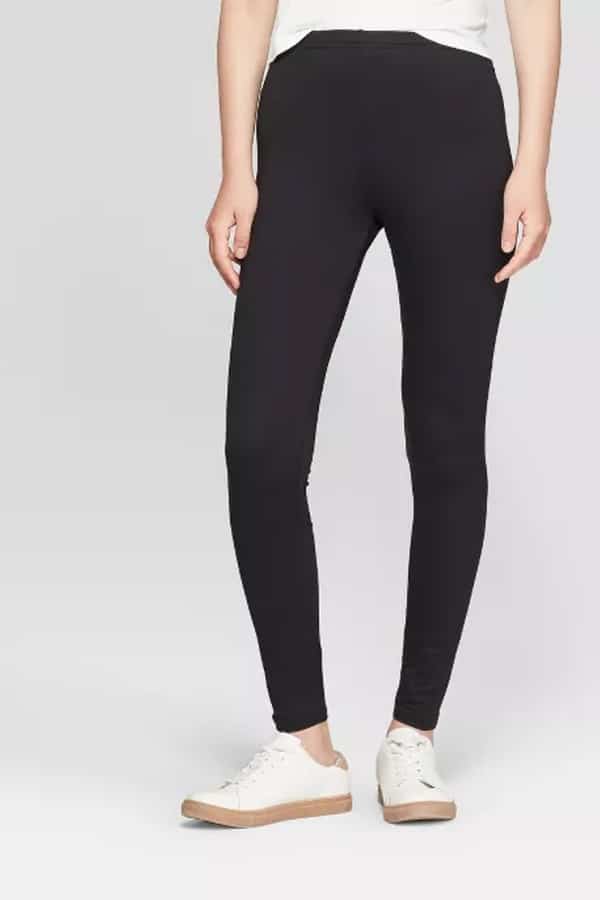 A pair of supple leggings, like these Xhilaration Super Softs, is perfect for your stint at home. They're great to wear with anything from the aforementioned blouse to loose-fit tees for comfort from waist to ankle.
4. A soft slipper
Now is the time to undo all the damage your office shoes have done to your feet. Ditch the heels for a soft pair of slippers to add a little luxury and self-care to your workday. The only downside is that you'll miss them when you have to go back to the office.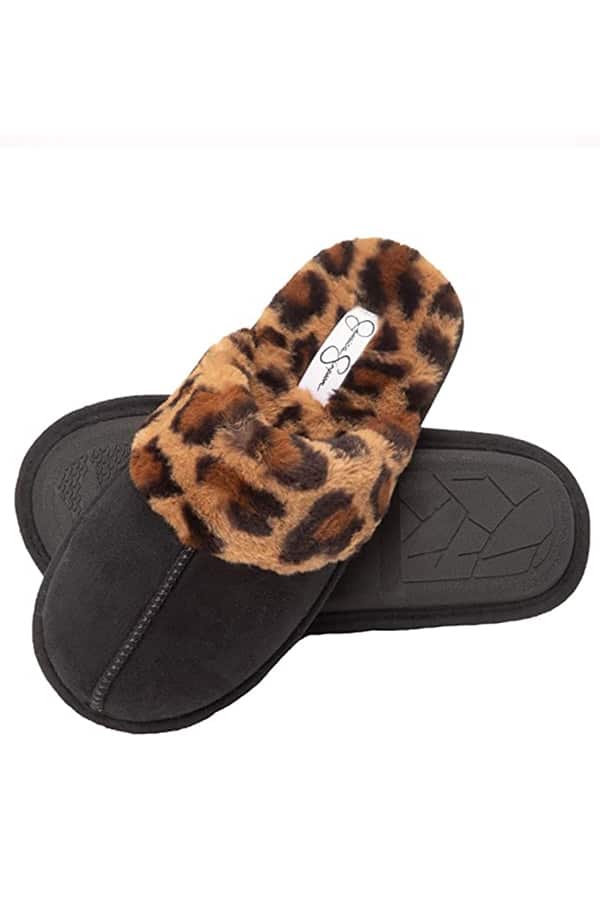 Any slipper will work, but why not add a little flair? These Jessica Simpson slippers have leopard print detail, which is basically a neutral, right? Or, they're also available in more traditional colors if you prefer something more muted. You can find them on Amazon, the king of online clothing stores.
5. A cute shoe
If you want to step outside and take a walk around the neighborhood for a little bit of fresh air (highly recommended if you're cooped up inside most of the day), don't minimize the value of super-cute shoes.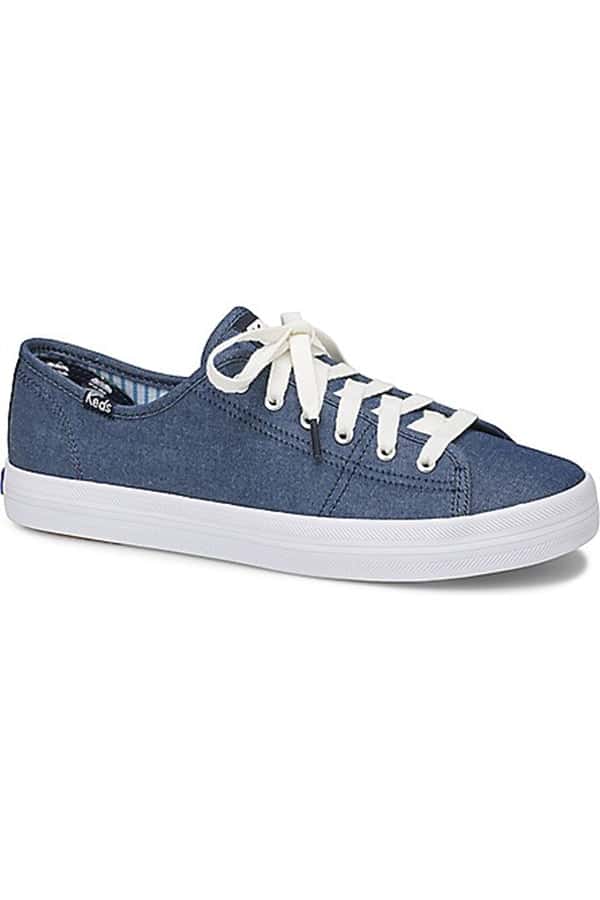 You don't need any type of high-intensity performance sneaker, unless you want to go for a run. Otherwise, try something that you can quickly slip into, like these Keds x Draper James Kickstart Chambray kicks. The rubber sole is highly supportive, and they'll help you work out the kinks in your legs while you power walk around the block.
6. A pretty accessory
The addition of a cute statement accessory or two can help you dress up your look just enough to give you a pulled together feel. You'll also feel a little more polished during those video calls with higher-ups and clients.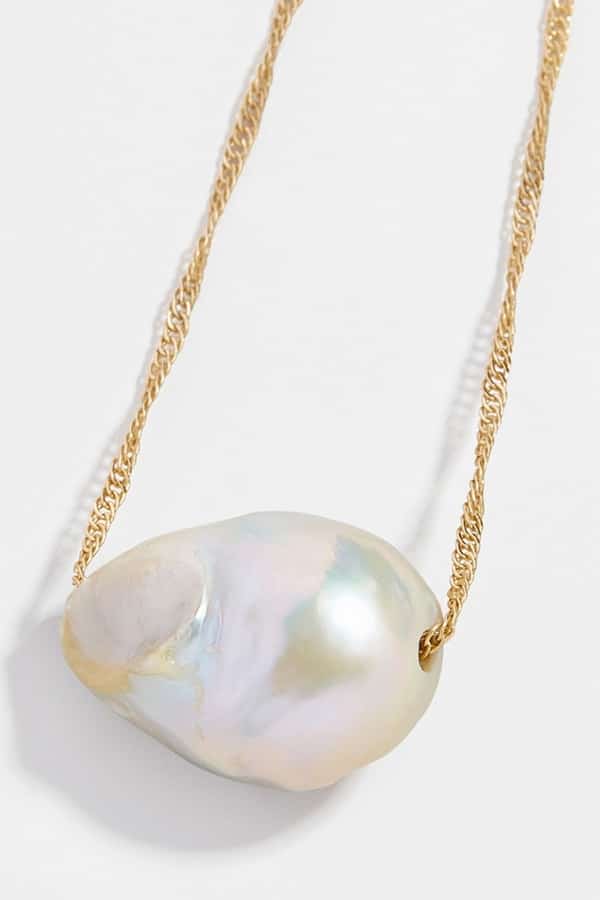 This BaubleBar Aprille Pearl Pendant Necklace is a chic choice that adds a little hint of dressiness to any outfit.