Kerry Washington is one exceptionally fashionable woman. When she steps out, you know you're going to get a look that is innovative, glamorous and fashion forward. Kerry has an innate ability to perfectly blend her makeup, accessories, hair and ensembles so that they are always so cohesive, so fresh and oh so stylish!
This post may contain affiliate links. See our privacy policy.
Kerry is definitely fearless when it comes to her personal style which makes her the perfect inspiration. Why not follow her lead and add a little more oomph to your outfits? It's not as hard as you might think…
1. Backless-Ness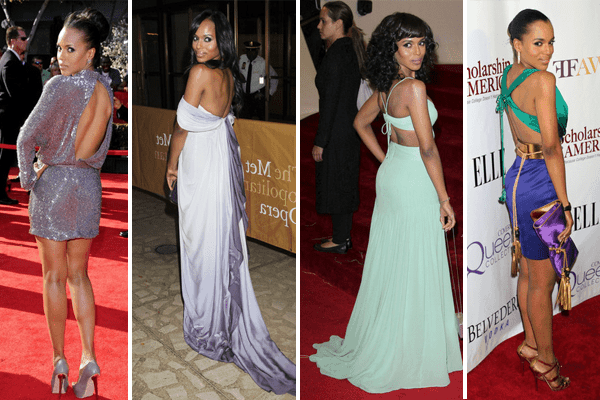 Credit: Bauer Griffin, PacificCoastNews.com, PacificCoastNews.com, FlynetPictures.com
Kerry likes to put her best foot forward, er backward, and often opts for showing off her beautiful back on the red carpet. It's a look that definitely works for her so it's one she has chosen on more than one occasion. Wearing a backless dress is often overlooked as one of the sexiest ways to reveal a little skin, without risking overexposure.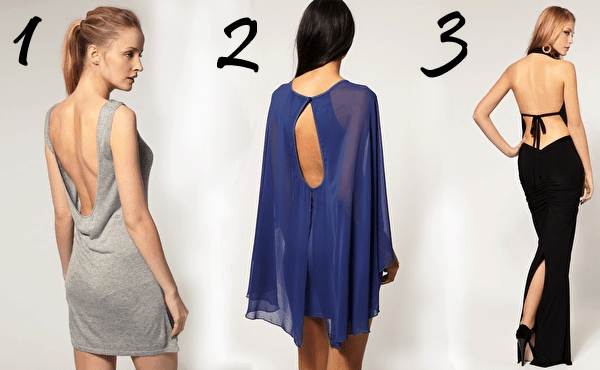 1. Cashmere backless dress $104.23 from Asos
2. Open back dress $43.13 from Asos
3. Open back maxi dress $80.86 from Asos
2. Statement Rings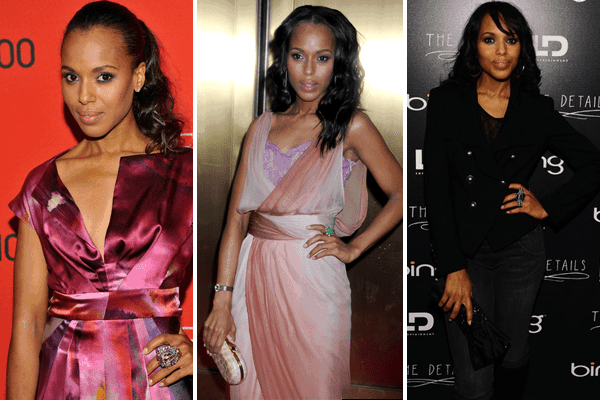 Credit: Stephen Lovekin/Getty Images North America, PacificCoastNews.com, Michael Buckner/Getty Images North America
Kerry knows one of the greatest ways to add a little punch to your outfit is with accessories and there's no more of-the-moment item than the statement ring. Lucky for us, there's no shortage of them out there right now, so we can all have our pick when it comes to color and size, though it should be noted that bigger is better in this case!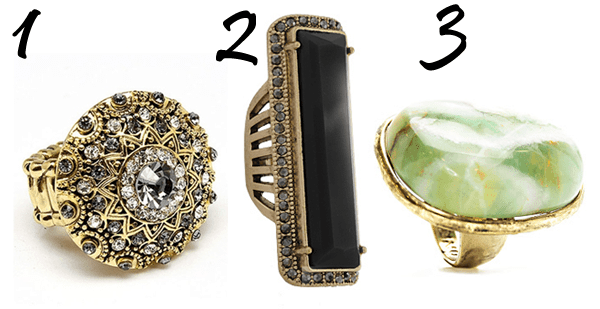 1. Zoey ring $18.00 from Pink Mascara
2. Black oblong ring $5.80 from Forever 21
3. Cocktail ring $34.90 from Mango
3. The LWD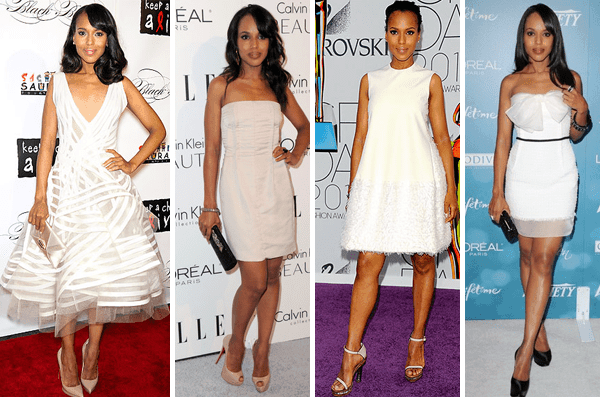 Credit: Gilbert Carrasquillo/Filmagic, Alberto E. Rodriguez/Getty Images North America, Andrew H. Walker/Getty, Bauer Griffin
White dresses aren't just for tying the knot anymore! Instead of a classic LDB, Kerry often dons it's lighter, more feminine cousin, the little white dress. The effect is just as glamorous and since Kerry's taste is so refined and she often opts for shorter lengths, there's no mistaking these LWDs for a wedding gown!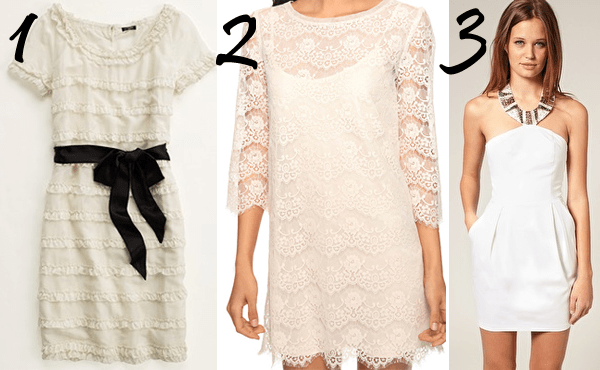 1. White ruffle dress $122.00 from J. Crew Factory
2. Chantilly Lace dress $20.99 from Forever 21
3. White dress with embellished neck $50.32 from Asos
4. Blue Crush, I mean Clutch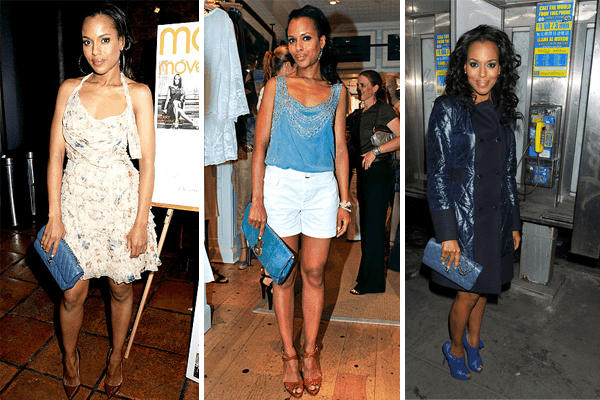 Credit: Johns Pkl/Splash News Online, Courtesy Ralph Lauren, PacificCoastNews.com
A blue clutch could be key when putting together your next outfit. It is a great pop of color and, let's face it, blue is complimentary on everyone! Treat the color like it's a neutral and you'll be able to pair it with pretty much anything! Once you find one you love, don't be afraid to pair it with multiple outfits like Kerry does, that way you'll get the most for your money.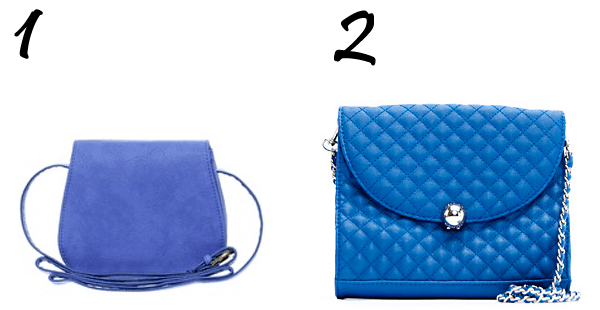 1. Baby blue mini bag $25.16 from Asos
2. Blue quilted bag $59.90 from Mango
5. Totally Textured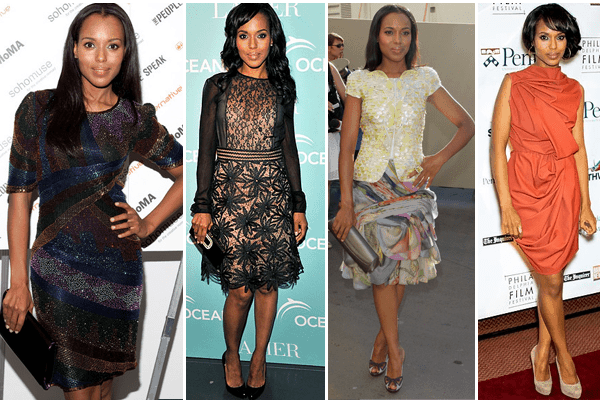 Credit: Scott Wintrow/Getty North America, Henry S. Dziekan III/Getty, Francois Durand/Getty Images Europe, Ouzounova/Splash News Online
Kerry loves to keep us guessing by mixing up textures. Whether it's multi colored sequins, layers upon layers of pleated silk or combining chiffon and paillettes, she always looks wonderfully modern and effortlessly chic. If you want to replicate Kerry's look here, check out the options below. They're the perfect way to add a whole new dimension to your closet!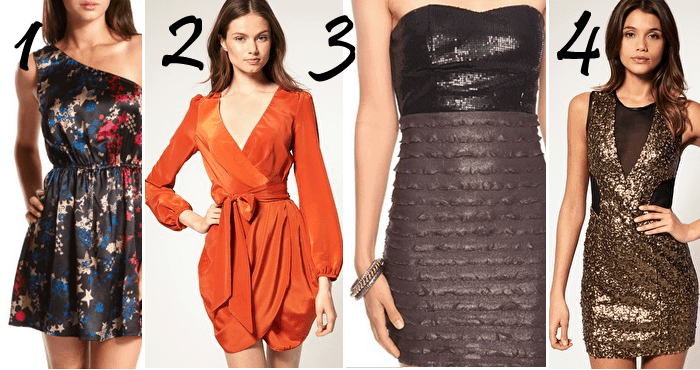 1. One shoulder charmeuse dress $28.99 from Charlotte Russe
2. Tulip dress with wrap waist $62.90 from Asos
3. Ruffle tiered strapless dress $22.80 from Forever 21
4. Black and gold mesh and sequin dress $80.86 from Asos
Kerry is on the precipice of becoming a bonafide style icon. Her ascent has been slightly under the radar but, let it be known, you heard it here first! Kerry Washington is a burgeoning fashionista to be reckoned with and if you're wise, you'll keep your eye on her.