This post may contain affiliate links. See our privacy policy.
The old saying goes that a woman can never have too many shoes. But then reality sets in — the money in your wallet and the space in your closet are limited. What's a girl to do?
Well, here's one strategy. Stock up on these 10 staple shoes and you won't need more space or more money. You'll have options for any outfit, right there waiting for you.
Classic Riding Boots
Riding boots are as classy as they are practical. You'll wear them throughout fall and winter. Flat riding boots pair especially well with skinny jeans and sweaters, or shorter skirts and fun tights — they are the perfect accessory for stepping up a casual ensemble.
Casual Sneakers
With the right pair of sneakers, you can be comfortable and stylish at the same time. These are your go-to for running errands, taking the kids to the park, or tackling whatever weekend adventure comes your way.
A classic canvas sneaker in white or black is always fashionable. If you like something bolder, choose a fun color or even a platform sneaker.
Black Pumps
Black pumps are a classic, and for good reason. They instantly add class to any outfit, and you can wear them both to the office or for a fancy night out. The most universal style is the pointed toe, but you can also mix things up with cutouts or subtle embellishments.
Flat Sandals
Just call these your favorite sandals of the summer. Flat sandals are perfect for showcasing that cute pedicure and for keeping your feet cool and comfortable in warm weather. The strappy, gladiator style is particularly trendy and fun right now, but they may feel a little 'last season' next year. Keep your spend low on these, so you don't feel guilty about replacing them as styles change.
Short Block Heels
The short block heel is yet another throwback to the 90s, and certainly worthy of a comeback. A low block heel gives you height without instability, and works very nicely with short or long dresses and skirts. You can go for classic, simple styling or mix things up with ties and buckles.
Oxfords
Oxfords give any outfit a preppy and quirky twist — wear them with skinny jeans to dress up a casual outfit or pair them with a short skirt for a modern twist on an old classic.
Ballet Flats
These classic little shoes can be worn with just about anything from a dress to jeans or leggings. The beauty of ballet flats is that they come in just about every pattern and color available, so you can show your personality while you're giving your arches a break from high heels. If you don't know where to start, find a fun red or cheetah print pair.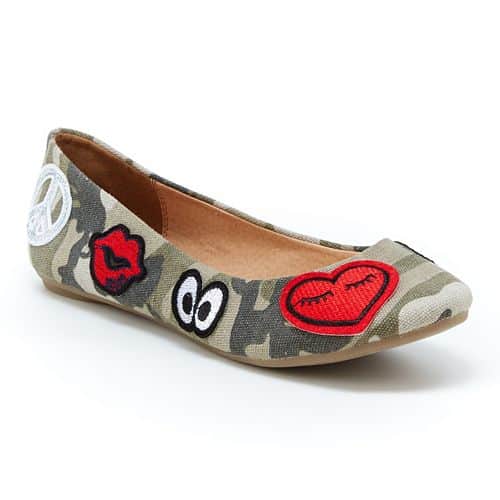 Ankle Boots
From edgy to classic, ankle boots come in a number of styles to match your outfit and personality. They look great when worn with skinny jeans or with tights and a skirt during the colder months.
Ankle-strap Sandals
Reached for these heeled sandals to add a bit of sophistication to any outfit. The barely-there style won't overwhelm an outfit, so have fun wearing them with brighter colors and prints, like a fun sun dress or even a summer outfit for the office.
Statement Heels
Everyone needs a fun pair of attention-grabbing heels. Think metallic, animal print, or the old standby, hot pink. These shoes can stand on their own with a basic outfit. Statement heels can be whatever makes you happy and confident — don't be afraid to splurge on a quality pair.
About the author
Jennifer Monahan is a freelance writer and a mom of 2 fantastic kids out of Jackson Hole, Wyoming. When she's not working around the horse and cleaning up after her husband, she likes to keep up and write about the newest fashion trends. You can follow her on twitter @Jenmonahan76
Are you a shoe lover too? Read our recent article about How to Style Saddle Shoes in 2018.