I'd venture to say most of us have felt a pang of hair envy here and there. You see a lush mane on the head of, say, Jessica Alba and compare it to your own problem hair — which may be slightly less shiny, less thick, more damaged, or whatever.
This post may contain affiliate links. See our privacy policy.
My own hair is thin and easily prone to damage. I'm also in the process of growing out my natural color which is now a mix of brown and gray. So I know hair envy, and I'm very interested in the latest and greatest of problem hair solutions.
But here's the thing. There's no product or treatment at any price point that will give me Alba's hair. And that means the hair envy is not productive. Better to spend the brainpower on achieving a better version — healthier, more balanced, more vibrant — of my own locks. And that is a possibility.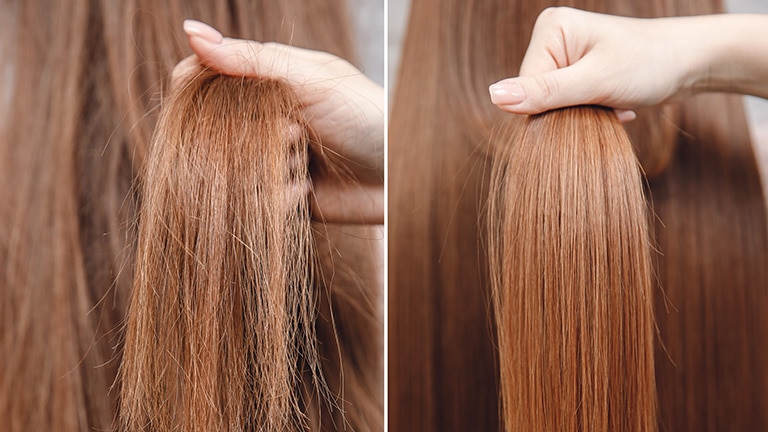 As long as you're willing to commit to a few new hair habits, you can work towards healthier, bouncier, more beautiful hair — sometimes you can seven see results within just a few weeks. Here are seven problem hair solutions to kick off your journey to better hair.
1. Fight the frizz right
Naturally, when your hair is frizzy, you want to comb it. But that can make the frizz worse. Instead, try combing wet fingers through your hair to detangle any knots.
You can also combat frizz with protein treatments. Protein fortifies your hair, giving it a smoother look. You can buy a protein shampoo and protein conditioner and even leave-in keratin treatments for at-home use. Redken and OGX both make a protein shampoo and conditioner set and CHI has a leave-in keratin spray. These and similar treatments are available at Amazon or even Walmart.com.
If you prefer an immediate fix, you can head to the salon for a professional keratin treatment. That will smooth out your frizzy hair in no time.
2. Wash your hair properly
Washing your hair too often can strip natural oils and make your hair more prone to damage. That's especially true if your hair is dry, one of the most common hair problems. But washing your hair too infrequently also has a downside. Every day your hair is faced with pollutants, oil, and other particles from that could damage your hair and your scalp.
Thus, it's vital that you wash your hair more than occasionally. I wash two or three times weekly, but the right cadence for you may be different. Experiment with shampooing frequency to get your timing right. If your scalp is greasy, you waited too long. If your hair seems very dry and brittle, you didn't wait long enough.
3. Eat a balanced diet
Eating a nutrient-rich diet not only enhances your skin, but it helps your hair too. One sign that your problem hair is related to your diet is that your hair seems brittle even at the root.
According to Good Housekeeping, a plant-based, Mediterranean-style diet is loaded with the nutrients your hair needs. Those nutrients include omega-3 fatty acids, lean proteins, fat-soluble vitamins E, C and A, iron, and B-complex vitamins.
Also, avoid eating excessive amounts of artificial sweeteners, as these can hinder your hair's absorption of protein.
4. Use hair oil
To keep your hair polished and smooth on those no-wash days, apply a few drops of hair oil to your fingers and use it to massage your scalp. Some hair oils best for dry scalp include coconut oil, olive oil, almond oil, and avocado oil. Applying hair oil will help treat scalp dryness and can help reduce hair loss.
It's best to apply hair oil when your hair is dry so you don't overdo it. A little goes a long way!
5. Avoid over-brushing your hair
Brushing your hair helps distribute your scalp oils to your strands, but you can overdo it. Too much brushing can thin your hair and damage your strands.
Your hair is most delicate when it is wet, which is why hair experts say you shouldn't brush wet hair. That's not very practical, though, right? How are you to style your hair if you can't brush it?!
The next best thing is to comb wet hair first with a wide-toothed comb and use a detangling spray. Also, get your hair as dry as possible with a towel before you pull out the blow dryer and flat brush.
6. Work with your stylist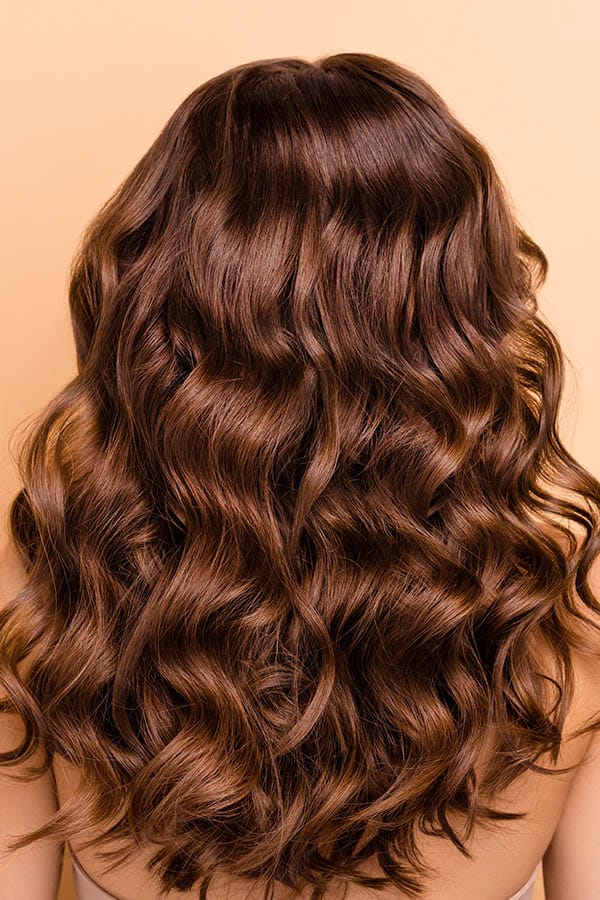 If you routinely have issues styling your hair to your liking, the problem might be your actual cut. The wrong haircut works against you, particularly if your hair is damaged.
The right cut works with how your hair falls on its own, and that helps reduce your dependence on heat styling. Ask your stylist to recommend a cut that works with your hair's natural texture and thickness. If he or she has no recommendation, find a new stylist.
7. Have a go-to, no-heat style
Experiment with different styles that don't require heat styling until you find one you like. Maybe it's a low ponytail, a hair scarf, a bun, or a braid. Make that your signature style. If you can skip the blow dryer two days a week, your hair will thank you.
Get rid of that problem hair
Use these problem hair solutions to work towards healthier, shinier, and smoother hair. And remember to consult with your stylist for help choosing a cut that works with your hair's texture, a product line that address your hair's needs, and a care regimen that's appropriate for your lifestyle.