Scarves are this summer's hottest accessory — whether it is worn on your head or around your neck. However, many fashionistas have a hard time figuring out exactly how to wear a scarf. Look, the mechanics of wearing a scarf is actually pretty easy. Below we breakdown five simple ways to tie a scarf.
5 Ways to Wear a Scarf
The Turban
Twisting up a turban is a ballsy way to wear a scarf. It shows confidence and a unique fashion sense. We love the look; it looks great with a matching shirt and bold jewelry — when you're wearing a turban don't be afraid to add other accessories.
It's hard for jewelry, shoes and purses to compete, no matter how big or bright. So how on Earth do you turn a scarf into a turban? It's actually easy to do.
Flip your head upside down and drape the scarf over your head as if you're going to wrap your hair like you would with a towel. Gather the front, twist it into a circle at your hairline and tuck the ends in. Voila!
The Shawl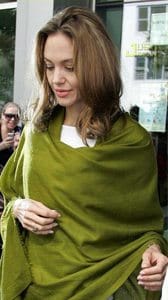 Summer nights aren't always warm. When a breeze hits, don't reach for a light cardigan — grab a cute scarf instead. A patterned scarf/shawl looks especially cute draped over your shoulders with a simple, one-color dress.
Or, take your cue from Angelina and wrap it all the way around. When it's early in the night and you're not ready for that extra coverage, tie it around a strap on your purse and let it dangle.
With a Tank Top or T-shirt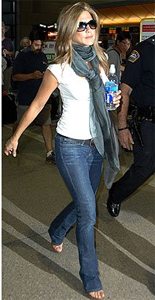 Even in the summer heat, you can still wear a scarf around your neck. A lightweight scarf brings a new layer to a simple tank top or t-shirt.
Try complimentary colors like Jennifer Aniston or pair one printed piece with one solid. Either way, jeans and sandals anchor a flowing scarf well. But avoid other flowing items — like a breezy dress — or you won't look polished.
The Cowl Neck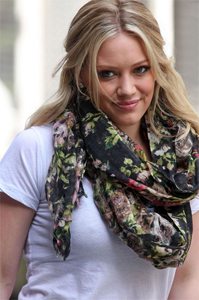 Wearing a lightweight summer scarf as a cowl neck is like creating a brand new shirt! Just drape your scarf in a circle around your neck and you've got a cute summer look that is distinctly different from a long, flowing scarf.
We love this look with big hoop earrings that mimic the circular shape of the scarf. The cowl neck look will also work when the colder seasons arrive.
The key to getting the draped look is to keep the scarf loose around your necklace.
The Belt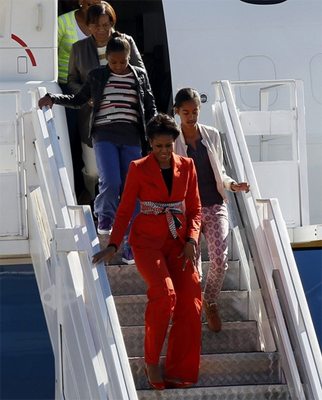 We're also BIG fans of this video by Wendy's Lookbook, that gives a solid step by step guide to 25 different ways to tie a scarf.