Editor's Note: One of our TBF readers, M.H., asks:
I'm a twenty-something who worked for the past two-years in a job that required daily fairly strict business attire . Now I am in a job where the wardrobe requirements barely exist but I still own and paid for high quality business clothes (Banana, JCrew, etc.) I have been searching relentlessly all over the internet trying to find ways to dress these over the top clothes down but haven't been able to find anything. I don't want to buy a new wardrobe and cannot afford to. Help!
When you buy via links on this page, I may earn an affiliate commission. Learn more.
My most favorite wardrobe feat is when I can manage to wear every single item in my closet on a regular basis. Sure, I love my slouchy Gap v-neck sweater and totally covet the navy-green Citizens for Humanity skinny jeans I got on super-sale for $45 and yes, they tend to get worn more than say, that dark-pink blouse that requires dry-cleaning – BUT – no matter what, I think it's important to wear what you have. There are items that simply cannot get a good share of attention, but they are event pieces such as cocktail dresses, high-heels, and..winter coats.
So last year, when I began a new job at an online start-up company, I was presented with an entirely new challenge: In a new climate of casual (and not business casual, I mean "flip flops, jeans, and t-shirts"-casual) WHAT to do with my entire closet that I had spent the past two years packing and organizing with daily "strict business" looks. The ratio of business to weekend laid-back looks were about two to five. I felt screwed, wished on the regular that I could swap my closet for a whole new look, and even considered taking the entire lot to the thrift store and swapping it out for things 1/8 of the price.
But one Saturday after a week of frustrating attempts to dress down clothes that simply were intended to hang out with similar likes, I decided that I was done trying to wear my old college clothes. Instead, I would make a new look, one that felt mature, integrated my "old" wardrobe, but still fit in with the fashion tone of my new workplace. Here's what I did.
How to Dress Down Your Fancier Labels
1. Shabby-Chic: This is what I called my new style. I planned to combine shabby (or "vintage") pieces from the past and a few thrift-store shopping sprees with my current chic and "business-level" items.
2. Thrift-Store: Yes, my JCrew's, Banana's, Nordstrom, and Ann Taylor pieces cringed and judged me at first, but being in LA I knew that I could go "thrift shopping" and return with some sightly used (or new, but just the "run off" from a manufacturer who made too much) shoes, shirts, scarves, sweaters, pants, and jewelry that could pair down my class-act without spending more than a few bucks an item.
3. The 70-30 Rule: Every look I made sure had 70% "shabby"/casual and 30% chic. This means that a silk blouse gets paired with jeans and flats, a sheath dress gets sandals and a droopy cardigan, and heels are for shorts or casual pants and a t-shirt.
Here are some of my favorite looks:
1. Jeans and Heels: Notice how she pairs a casual top/blouse with her jeans and heels, while still managing to look casual and professional. Great way to use those proper tops and heels without feeling like you're overdressed.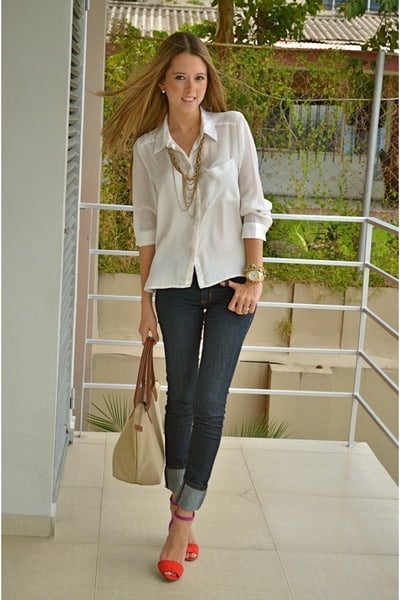 2. Dresses and Flats: Sheath dresses always feel like the epitome of work. But, if you slip on some flip fops or flats, and add a slumpy-but-cute sweater (and maybe a belt), you can truly take this classic look from suit-and-tie to kicked-back and relaxed: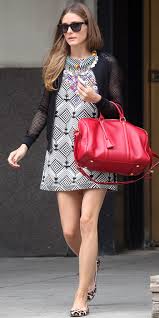 3. Slacks and Shirts: Take the most tricky and hated item in your collection (dress pants!) and turn them in to a look of comfort. Match any color slacs with cotton shirts and wedges, and you have a useful way to not leave those pants hanging: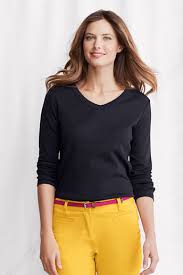 At the end of the day, the moral for any look is to be confident and own it. Sure, you won't be like everyone else, but when you take the time to mix-and-match so that you have accents of your past with clear dedication to the present – people will notice.