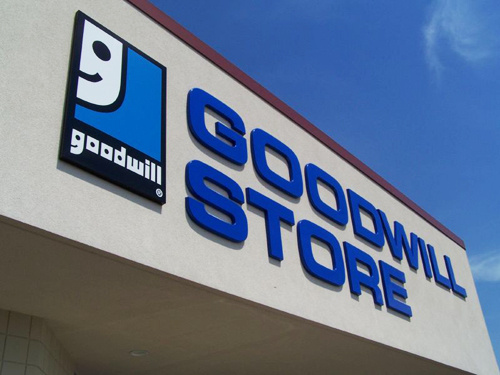 One of my favorite childhood memories is shopping my local Salvation Army Thrift Store with my seamstress grandmother. We would search for designer pieces and/or unique finds that we could alter or transform into unique styles (this was during the time when it was considered a major social stigma to shop thrift stores). Fast forward a few decades later, and shopping your local thrift store has become as common as shopping your local target. As a seasoned thrifter, I put together a few of my favorite thrift store shopping tips.
How to A Shop Thrift Store
1. Go to Where the Rich People Live. Head to a wealthy area, as you can often find awesome items donated by people who, for whatever reason, can't be seen in an item twice. Their excess is your treasure.
2. Wear tight fitting clothing. Many thrift stores do not have fitting rooms, so unless you want everyone looking at your goodies, wear tight fitting clothing like leggings and tank tops, so you can try on items quickly and somewhat modestly.
3. Start small. Purchase accessories and basic clothing items like jeans. Once you become a seasoned thrift store shopper, then you can go into coats, blazers, etc.
4. Do a smell test. It an item is musty and has strange odor in the shop, it will probably be very difficult to get the smell out. Note: it's nearly impossible to get musty smells out of synthetic fabrics like rayon, and acrylic.
5. Make Friends with the Sales Associate. Ask thrift store sales staff when they put their new stuff out and/or the best day to shop. The early bird really does get the worm (or.. prada) when it comes to shopping a thrift store.
6. Clean Your Purchases. Clean the item when you get home. Donated items aren't always cleaned before they are donated. I know this has sparked alot of controversy, but I disinfect my thrift store purchases before wearing them. Remember that clothes are sometime donated via outside donation boxes (which can often be damp and moldy places) and also stored in places with items that may have been exposed to bed bugs.
7. Shop on Tuesdays. According to our friend DC Goodwill Fashionista, most donations come in during the weekend and it takes about 25-36 hours to process everything and get it on the sales floor.
8. Several thrift store chains like Goodwill and Salvation Army, offer frequent shopper cards that give you an additional discount off purchases and access to special offers. Check with your local store to see if they have a program.