When you buy via links on this page, I may earn an affiliate commission. Learn more.
There's nothing quite like that niggling doubt that tickles the back of your brain when you purchase a pair of shoes without trying them on. It's an unfortunate reality that buying footwear online is usually a bit of a risk, but sometimes those deals are just too amazing to pass up.
So what happens when you try them on, only to discover that they don't quite fit just right? That they just…well, they only kind of fit. But you don't really want to return them because you just love them? Don't go printing a return slip just yet. Here are some tricks that may help you make the most of your purchase and avoid buyer's remorse at the same time.
How to Break in New Shoes — 5 Ways
1. Wear Them Inside
A solid trial run is often an effective way to break in a new pair of shoes. This is particularly important if you're planning to wear them to a special event. Pull on a pair of thick white cotton athletic socks and slip into the shoes. Give them a good workout by wearing them on different household surfaces and climbing the stairs. It's not unusual for new shoes to be a bit slippery, so be sure to scuff the bottoms with sandpaper to make them safer.
2. Heat Things Up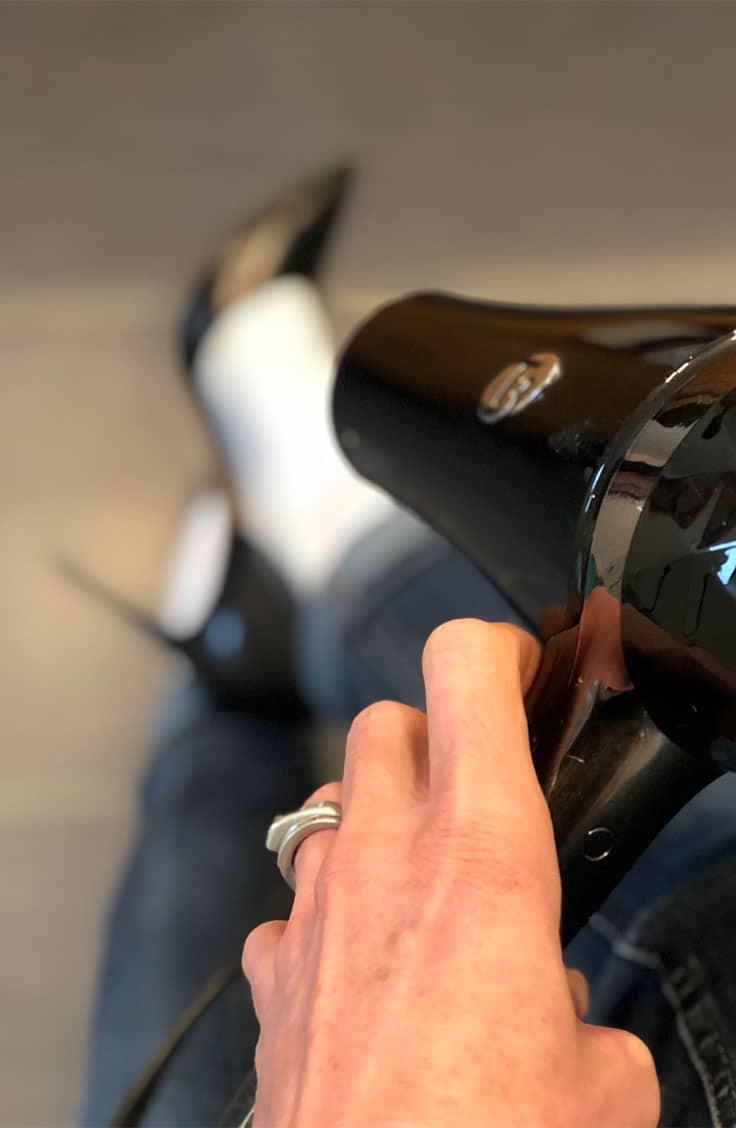 Heat should soften the material of your new shoes, which makes them more malleable and easy to stretch out. To accomplish this, slip into a pair of your fuzziest, thickest socks and step into your shoes. Then aim your hair dryer directly at your shoes and blast them with high heat. Move the dryer back and forth so that every section is evenly heated, then walk around for a bit. The combination of heat and the socks should help relax and stretch the material.
3. Or Get Chilly
Sometimes you actually need a little cool air to make your shoes more comfortable. Clear some space in the freezer for this trick! Fill freezer bags with water and place them inside the shoes. Then put your footwear in the freezer and allow them to freeze. Remove them after they're completely frozen and let the ice thaw. Once you remove the bags, you should notice the shoes are easier to wear.
4. Try Some Water
We don't normally recommend getting your new shoes all wet, but there's an exception to be made for new leather footwear that doesn't fit just right. Warning: don't try this with a pair of costly, high-end shoes, or anything that is light-hued.
First use a waterproofing product to protect the material. Then soak the shoes underwater for a couple of minutes. Wear a pair of thick white socks and walk around your house until the shoes dry. This should allow just enough time for the shoes to mold to your feet.
5. Use a Stretcher
When all else fails, purchase a shoe stretcher. These handy devices are designed to make your snug shoes far more comfortable. Bear in mind that you'll usually need to leave the stretcher inside the shoe for up to two full days to feel true results.