Our content contains affiliate links, so know that we might earn a buck or two if you click and buy :) !
Halloween Costume Ideas for Groups
The Seven Deadly Sins.  This costume is cheap and easy. Get six friends to go as the other deadly sins: greed, envy, wrath, gluttony, pride and lust. Choose sloth because it's the cheapest costume of the seven sins. All you have to do is not wash your hair for two days, roll out of bed in your PJs and you're are set!
Total cost: $0, depending on how sinful you're are willing to get.
1970s Television Family. There are so many great ones to choose from: the Partridge Family, Brady Bunch, Evan's family (from "Good Times"), Donny and Marie Osmond, and the Jefferson's. The family you choose depends on the make-up of your group of friends, but putting together the outfits is almost as much fun as the actual Halloween event itself. Make a date and head straight to your local thrift store, or your parent's closet.
Total cost: $20.00 and up, depending on how dy-no-mite you want to be.
Halloween Costume Ideas TheBudgetFashionista.com readers: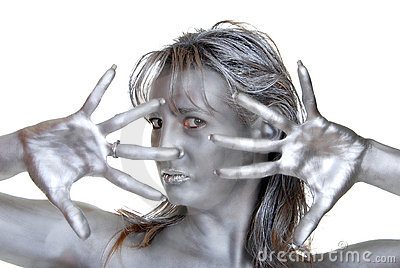 Silver Screen actress. Take your sexiest black dress, paint the your uncovered skin that would show in it silver (silver- colored hairspray works great), spray your hair black, and only wear only black and white accessories. Definitely stand out in a crowd, while still looking FABULOUS!!
From Evil Diva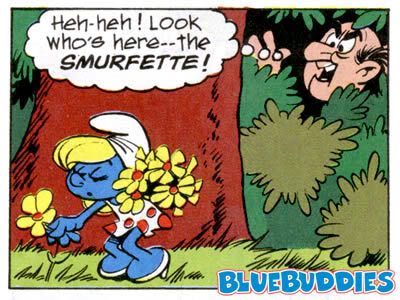 Smurfette and Gargamelle. Last year my boyfriend and I were the "budget" Smurfette and Gargamelle. I wore a plain white dress (Job Lot or nurse uniform store for $3) and wore a blue turtleneck and blue tights under it. Then I cut a sleeve from an old white turtleneck, tied the end, stuffed it with toilet paper, and it that was my hat. I painted my face blue. and the only expensive thing was the blond wig, because I have dark hair. My beau wore a long black dress, put pulled red soccer socks over his sneakers, got a cat stuffed animal toy and a net, and we was were good to go!
From Kate
At least one of these ideas will help you to make a true entrance at the party. If all else fails, at least you will have had a great time putting the outfit together.
Got a great budget Halloweeen costume idea? Post it in the comment section below.