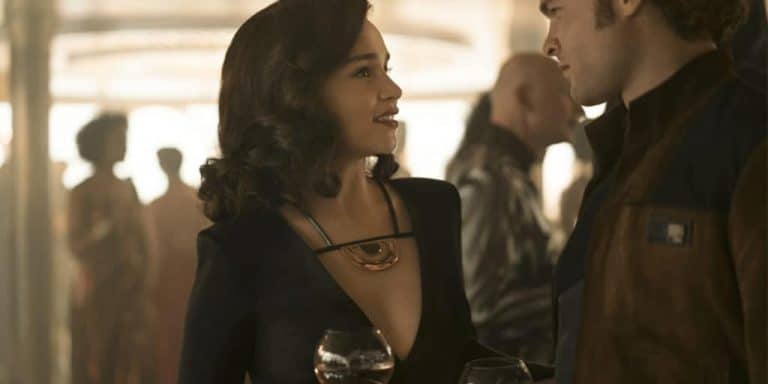 This post may contain affiliate links, which means I earn a small commission if you click and buy something (at no cost to you). See our privacy policy.
If you're looking for the "wow" factor this Halloween — while still showing off your savvy style sense — try a costume inspired by pop culture. Pop-inspired Halloween costumes are super fun and (bonus!) fairly affordable to put together.
Ready to get your creative juices flowing? Try these ideas on for size. Whether you are flying solo, going with a group, or pairing up with your beloved bae, here are the best pop culture Halloween costume ideas for 2018.
Solo Halloween Costumes
Ariana Grande in "God Is a Woman"
Can't choose between a pop star or a goddess? Then be both! To transform yourself into Ariana Grande in "God Is a Woman," all you need is a purple leotard, and some purple and pink body paint.
Paint your lips soft purple and add a few swipes of pink on your face. Part your hair down the middle and tie it into a side braid. Slide into that purple leotard, grab an olive branch and you're ready to go.
Fake News
Interested in making a political statement this year? Be the fake news! Write fake on a plain white tee and use newspapers to make a skirt. Try hole-punching the corners of folded newspapers and stringing them together around a skirt you already have.
Social Media Influencer

When it comes to 2018 costumes, this one is the aesthetic. Urban Outfitters is slaying the costume game with its new costume, simply called "Influencer." The best part? The costume is simply a pair of leggings and a sports bra. Seems like you might have those pieces in your closet already.
If you want to go all in on your Influencer look, Urban Outfitters also sells a Long Blonde Wig, baseball hat, and FILA sneakers to complete the look. Talk about massive Kim K vibes!
Some of these pieces can get a little pricey, so check influencer sites like Dealspotr to find Urban Outfitters discount codes.
Thanos
Become the baddest character of 2018 — Thanos from "Avengers: Infinity War." Paint your face (and your entire body if you're up for it) purple, and swipe on metallic purple lipstick. Add in a necklace and a few rings adorned with chunky color stones. You could even glue fake gems to a headband and wear it like a crown.
Fifty Shades of Grey
What will be the sexiest costume of 2018? "Fifty Shades of Grey." This look involves a whole mess of gray paint chips from your local hardware store. Glue them to a cami to create a "shades of grey" bodice. Finish things off with a black skirt and a masquerade mask.
Cardi B
There are several ways to channel Cardi B, because she is always rocking a new costume herself. One option is to wear a colorful pink-and-green headpiece inspired by Cardi's "I Like It" video. Add red lipstick and a red dress or robe, and you're done.
Or, be "Invasion of Privacy" Cardi with white sunglasses, a yellow wig, and black-and-white checkers. Head to the thrift shop for a cheap white blazer, then pull out the old black Sharpie to create the checkers.
Meghan Markle
I'm pretty sure every girl wants to be Meghan Markle this year. Markle, a true style icon, is also the epitome of class — so it's a treat to step into her shoes for a day.
Recreate Markle's wedding day look with a long-sleeve white gown and veil. Grab a bouquet of white flowers and a large cubic zirconia ring. Oh, and if you can, wrap a handsome Prince Harry around your arm.
Queen Elizabeth II from The Crown
If Meghan Markle's too modern for you, a classic choice is Queen Elizabeth II from "The Crown." Find a white gown and pair it with a blue sash and tiara. Wear a chunky necklace and then hold your chin high.
Olivia Pope from Scandal
If you're a "Scandal" fan, you probably have Olivia Pope's famous wine glass in your cabinet, and of course you own a posh trench coat. So why not be her this Halloween?
Wrap up in that trench coat with wide-leg pants and a sleek wig. Don't forget the heels, wine glass and some popcorn.
Group Halloween Costumes
The Fab 5 from Queer Eye
Grab your buds (or besties) because this Queer Eye ensemble is a guys or gals costume idea you can create with your friends.
The Bobby in your group will wear a patterned button-down, short-sleeved shirt with the sleeves rolled. Karamo dons white jeans, chambray shirt and a bomber jacket. Tan can put on a sleek, long-sleeved, button-down with slightly distressed jeans — all anchored by a pair of boots. Antoni can combine dark jeans or joggers with fresh sneakers and a graphic tee. Add an apron for that extra touch. And lastly, Jonathon should wear a tee, skinny jeans and flip-flops — don't forget the top-half man bun.
Handmaid's Tale
Addicted to "Handmaid's Tale"? Grab some of your girlfriends to wear the costume along with you for an even bigger statement. Everyone will need a short-sleeved red dress and a bonnet, which can be easily made from poster board.
TV- and Film-Inspired Couples Costumes
Dressing up with your SO? Try these costume ideas!
Daenerys and Jon From Game of Thrones
There's really no need to suffer through the cold this Halloween if you're a "Game of Thrones" fan. For Daenerys, find a platinum blonde, braided wig at a costume store or thrift store. A long-sleeved, black dress and silver chain draped over your shoulder completes the look.
Jon will wear a faux fur coat over a black tee and jeans, anchored by heavy boots. Ideally, your guy will grow some stubble and pull his hair back into a ponytail or mini man bun. If his hair isn't quite long enough for that, at least ask him to brood.
Ant-Man and the Wasp
Are you and your beau athletic, adventurous and heroic? Any Marvel superhero couple will do, but "Ant-Man and The Wasp" is a fun choice.
For Ant-Man, pull together a red-and-black outfit with black shin guards and gloves. If you want to go all out, add a black helmet with red sunglasses. The Wasp can wear a black jumpsuit with black shin guards and gloves, and rock that helmet too — but with yellow sunglasses.
Nakia and T'Challa from Black Panther
Speaking of Marvel characters, there's no hotter pair than Nakia and T'Challa from "Black Panther." For T'Challa, definitely go with the Black Panther suit. Wear all black and add a silver necklace — props to you if you can get one that looks just like Black Panther's necklace.
For Nakia, strut her warrior look. Wear a gold-and-red dress or bodysuit with green, knee-high boots. Shop thrift stores or discount stores for those boots — and don't be afraid to paint them to get the color you need. Be sure to bring ring blades to finish off that costume!
Rachel and Nick from Crazy Rich Asians
This costume from "Crazy Rich Asians" could not be easier, or more popular. To pull off Rachel, get a dark, shoulder-length bob wig and add your best mini dress. Nick wears a sharp, tailored suit with a gorgeous grin.
Qi'ra and Han from Solo: A Star Wars Story
Every year, the Star Wars franchise seems to take over the costume scene, particularly for adults passing out candy. But we don't suggest you go the old Jedi route this year. Instead, be Qi'ra and Han Solo from "Solo: A Star Wars Story."
Qi'ra wears a knee-length black dress, black boots, a tan jacket and a gun holster. The Han Solo costume is simple — try a dark blue shirt, brown jacket, blue pants, black boots and a gun holster.
No matter what you decide to be this Halloween, it's time to get shopping! You can pick up many of these items on Amazon, or head to Dealspotr to explore more popular Halloween stores. Also, check out costume promo codes here!