Halloween's almost here (geez, can you believe it??) and we know how hard it can be to think of great and easy halloween costume ideas, without dipping into your Black Friday shopping fun. So we came up some awesome ideas for Halloween costumes that are virtually free and/or super cheap to make.
Looking for last minute costumes? Try this.
Halloween Costumes Ideas on the Cheap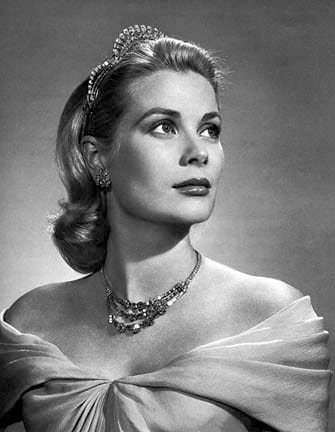 For the Single Girl

Queen of the World. This is my personal Halloween favorite. Head to the nearest Salvation Army or Goodwill for an old prom/evening dresses. Also look in the back of your closet for those "forgotten" bridesmaid dresses (the puffier and gaudier, the better). Go to Claire's Boutique and purchase a tiara (usually around $5 to $10), several "diamond" rings, and elbow-length, white gloves. Throw on the "diamond" jewelry, correct that posture, and purchase a copy of Hello (a.k.a. the British version of People Magazine) or British OK at your local Barnes and Noble to learn how to perfect the royal wave (remember: to – wave, wave, touch the pearls). Now, here is the piece de triumph: Have your male spouse/friend/partner dress in a tux and gloves and be your manservant, James, for the whole night.
Total cost: $10.00-$50.00, depending on the size of your kingdom.
Marathon Runner. Dig out that summer tank top, shorts, and tennis shoes. Since it's the end of October, go ahead and wear tights underneath those short shorts. Print out a race number on your computer, pin it to your tank, and you are ready to go.

Total cost: $0.00-$40.00, depending on the medal you are seeking.
Video Diva. All you need is a big blonde wig (channel RuPaul), black eyeliner, a plaid mini-skirt, a cropped top, and some thigh-high boots, and you're are set. It's helpful to bring an iPhone and have "Superbass" playing in the background.
Total cost: $10.00-$50.00, depending on the size of your record contract.
Tabloid Queen. Throw on a short trench coat, big sunglasses (think Mary Kate Olsen), gather one or two tabloid newspapers, and pretend "like your trying hide, while secretly wanting to be noticed." You can turn this into a couple costume by having your partner act as a member of the paparazzi or your publicist.
Total cost: $0.00-$10.00, depending on the size of your headline.
Sports Mom or Dad. The prep for this costume is fairly easy. Attend one of your local little league events and study the parent pacing the sidelines wearing the team colors from head to toe. Then head to your nearest Salvation Army or call up a friend to borrow a Booster club t-shirt. Spend the entire night yelling at others to "suck it up", "run faster", and "stop being a cry baby".
Total cost: $0.00, depending on your child's therapy bills.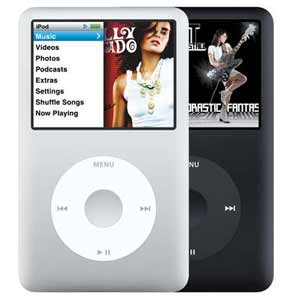 iPod.Find a large piece of white cardboard (you can ask your local grocery store for any extras they might have) and cut it into a rectangular square that is at least 40 inches long. Then, cut out a small "window" at the top of the cardboard for your head. Using silver paint, draw on the buttons.
Total cost: $0.00, depending on your playlist.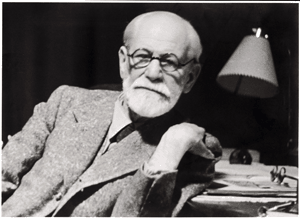 Freudian Slip. This one is pretty easy. Head to your lingerie drawer or to the nearest Target or Wal-Mart for a full slip (you know the kind your mother told you to wear underneath thin dresses). Using fabric paint, write the words "ego","id", etc all over the slip.
Total cost: $10.00-$15.00, depending on the size of your ego.
Halloween Costume Ideas for Couples
Ward & June Cleaver. Head out to your local department store or thrift shop and find fifties-inspired, A-line dresses for a fraction of their normal price. Add a simple strand of pearls, pearl earrings, a waist apron, sensible pumps and you're are ready to go. Have your significant other dress as Ward. Have him add a pipe and you'll be in the running for best costume.
Total cost: $40.00- $80.00, depending on whether "the Beav" needs braces.
Game Show Host and Pretty Assistant. This is a perfect costume for couples. Go to your nearest thrift store and find the cheesiest, late '70s/early '80s polyester, double knit suit ensemble for men, and an '80s deranged-bridesmaid dress for women. Purchase a children's play microphone (Target has some for super- cheap prices). Buy the cheapest hair spray you can find (All Net is good) and tease your hair like you're are from the Jersey shore. Get a piece of cardboard, cut out a star about 8 inches in diameter and glue on gold glitter. Write the word "Grand Prize" in silver. To keep you smiling for the entire night, use this beauty pageant trick: put Vaseline on the gums underneath your upper lip.
Total cost: $20.00-$70.00 for both costumes, depending on whether or not your show is picked up for another season.
Tacky Tourists. Think the National Lampoon's Family Vacation Series. Pair loud, floral printed camp shirts with hideous khaki or bermuda shorts. Wear white tube socks pulled up to your knees with those plastic sandals from Wal-Mart. Add a camera/camcorder, fanny pack, and flip sunglasses to finish off the outfit.
Total cost: $0.00-$20.00 for both costumes, depending on how much vacation time you've accumulated.
Halloween Costume Ideas for Groups
The Seven Deadly Sins. This costume is cheap and easy. Get six friends to go as the other deadly sins: greed, envy, wrath, gluttony, pride and lust. Choose sloth because it's the cheapest costume of the seven sins. All you have to do is not wash your hair for two days, roll out of bed in your PJs and you're are set!
Total cost: $0, depending on how sinful you're are willing to get.
1970s Television Family. There are so many great ones to choose from: the Partridge Family, Brady Bunch, Evan's family (from "Good Times"), Donny and Marie Osmond, and the Jefferson's. The family you choose depends on the make-up of your group of friends, but putting together the outfits is almost as much fun as the actual Halloween event itself. Make a date and head straight to your local thrift store, or your parent's closet.
Total cost: $20.00 and up, depending on how dy-no-mite you want to be.
Halloween Costume Ideas TheBudgetFashionista.com readers: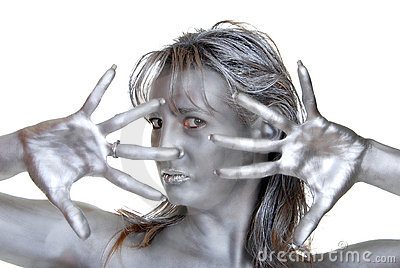 Silver Screen actress. Take your sexiest black dress, paint the your uncovered skin that would show in it silver (silver- colored hairspray works great), spray your hair black, and only wear only black and white accessories. Definitely stand out in a crowd, while still looking FABULOUS!!
From Evil Diva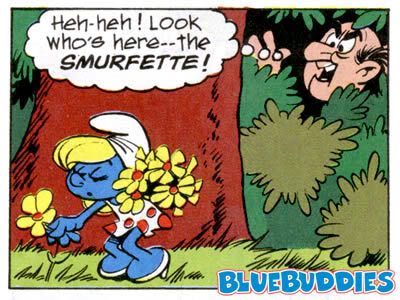 Smurfette and Gargamelle. Last year my boyfriend and I were the "budget" Smurfette and Gargamelle. I wore a plain white dress (Job Lot or nurse uniform store for $3) and wore a blue turtleneck and blue tights under it. Then I cut a sleeve from an old white turtleneck, tied the end, stuffed it with toilet paper, and it that was my hat. I painted my face blue. and the only expensive thing was the blond wig, because I have dark hair. My beau wore a long black dress, put pulled red soccer socks over his sneakers, got a cat stuffed animal toy and a net, and we was were good to go!
From Kate
At least one of these ideas will help you to make a true entrance at the party. If all else fails, at least you will have had a great time putting the outfit together.
Got a great budget Halloweeen costume idea? Post it in the comment section below.