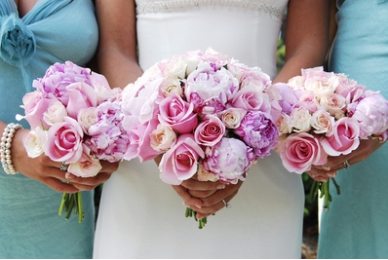 Do you remember when wedding favors were nearly always those little bags of icky pistachios coated in candy? Are we dating ourselves here? Either way, we've all been to weddings in which the favor went in the garbage right at the reception or at least when we got back to our rooms. How about going with some fun wedding favor ideas you've never considered? Read this to get some wonderfully unique wedding favor ideas.
For Fans of Philanthropy
Because a lot of people – ahem – consume alcohol at weddings, some guests might appreciate not having to remember to bring home another item in their wallets and/or purses. Think of a cause you are passionate about or that is perhaps big in the area of your wedding, and leave each guest a simple card saying that a donation has been made to this organization in his or her name. It's easy. It's touching. It helps. Take a look at CharityNavigator.org to find a cause that you'd love to support, and spread the love on this wonderful day.
Poppin' Bubbly
When you think wedding, you likely think champagne. Bubbly is such a celebratory beverage, so these mini champagne bottle wedding favors from Etching Expressions are perfect for your big day. Personalized with the date and location of the wedding, your favorite quote, song lyrics, or whatever you want, these are a great way to reflect your personality as a couple in your gift to everyone.
Flip-Flops
Every female wedding guest knows that, when it comes time to boogie down on the dance floor, those 3-inch pumps are not your friend. This is why we love this adorable idea so much. Buy a bunch of inexpensive yet nice pairs of slippers (yes, this is possible) and pop them in a decorated basket for people to grab as they come into the reception. Having fun should be mandatory. Blisters should definitely be optional. Your guests will surely thank you for your thoughtfulness!
Itty Bitty Succulents
Succulents are so hot right now, and there's a good reason for this plant's popularity. They're nearly impossible to kill! Your wedding guests who are DIYers when it comes to their homes will love that these add ambience to any abode without requiring a lot of care. If they really enjoy this token of your appreciation, they might consider making their own terrarium or even a succulent wall! Either way, they'll definitely think of you and smile every time they see it.
Candles
Have you ever met anyone who dislikes candles? Yeah, we didn't think so. They are universally loved, so you can imagine the delighted look on your guests' faces when they see something like adorable, tiny soy candles. Buy them or make them, but be sure to personalize them with the name of the couple and date of the wedding. Guests can burn them that night (with caution, of course!), or save them for later. Either way, they will think of your big day each time they light them.
Koozies
Again, weddings and drinking go hand in hand (open bar, anyone?). This is why gifts like personalized beer koozies are just so perfect as wedding favors. For those who don't know, koozies are sleeves for your drinks to help keep them cool. They're especially perfect for the boaters and/or sailors in your life. This is a gift that will undoubtedly get used. How can you argue with that?
Seasonal Somethings
Consider the time of year you're having your wedding and plan your wedding favors around this. If you're having a wedding close to the holidays, consider a tree ornament. Or even an origami ornament they can make on their own. Have friends who love house projects? They'll be over the moon for a favor like that. Having a summer wedding? Put out a table filled with sunglasses in either solid black or a bunch of fun colors. These will not only be used, but they'll also make for great wedding photos!
Pistachios are so 1990s, and personalized M&Ms have a certain "been there, seen that" vibe. Follow these tips for finding wedding favor ideas you've likely never considered before. Your guests will appreciate the uniqueness!
Check out our latest article: 5 Steps to Designing your Wedding Ring on a Budget.
Get more Budget Fashionista