ModCloth may not be our top source for cute dresses anymore, but the once-cool retro retailer still has some stylish bargains if you're willing to wait for a sale.
The sale that's on now, for example, gets you 30% off sitewide and 40% off sale items — plus free shipping when you spend more than $60. So that put me in shopping mode to find pretty ModCloth dresses for under $75. And boy, did I find some. I listed my top picks below along with the sale price and the regular price.
This post may contain affiliate links. See our privacy policy.
If you happen to land on this price after the sale is over, though, wait for the next sale to roll around. I don't see any good reason to pay full price for a single one of these dresses. They're cute, sure. But they're also replaceable. Sadly, ModCloth has lost much of the distinctive style that made the retailer so much fun to shop several years ago.
I'd venture to say the evolution of ModCloth from quirky and fun to not-always-that-interesting relates to the retailer's changing ownership. Walmart bought ModCloth in 2017 and then sold the brand to Go Global Retail in 2019. Through those changes, ModCloth has held on to a few things we loved: Diverse models that look like regular (but still beautiful) people, lots of floral, tie-neck blouses, A-line skirts and dresses, and an upbeat vibe. But the store has lost…something. When I browse the collection at regular pricing, I'm just not blown away.
Things do get more interesting, though, when a flash sale cuts the price points by 30% or 40%. Read on to see what I mean.
Modcloth dresses under $75
Red ModCloth dresses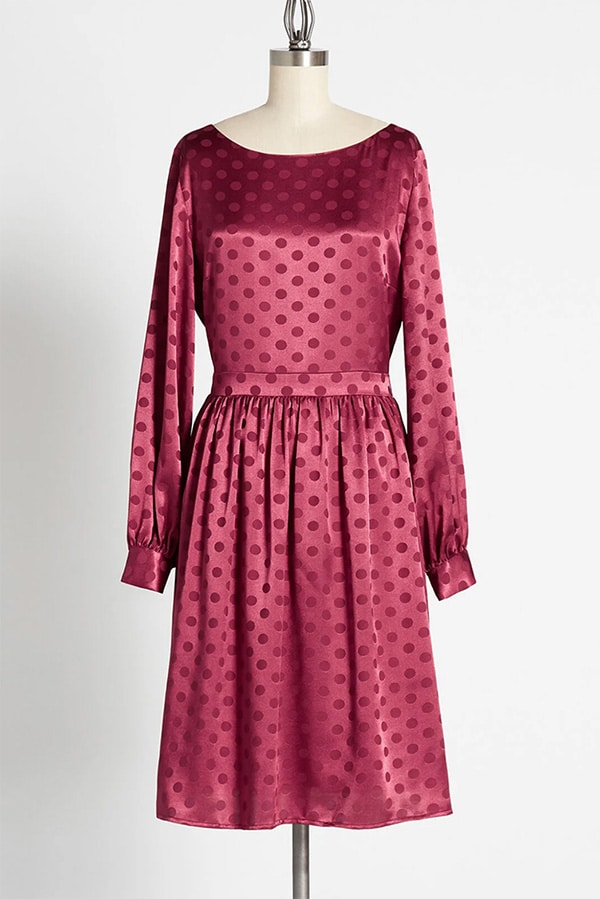 Meet ModCloth Rose-Colored Romance Dress. The regular price is $99, but you can snag it for $75 right now. I like the sweetness and silhouette of this dress. The waist band and pleated skirt will flatter many figures, and the cloth-covered buttons up the back plus a bow are the pretty details that'll make you want to wear this piece. Knee-length with a boat neckline, it only shows a little skin at the back, which dips down ever-so-slightly.
Pair this dress with gold or nude heels, a set of sparkly stud earrings, a nude lip, and a smokey eye.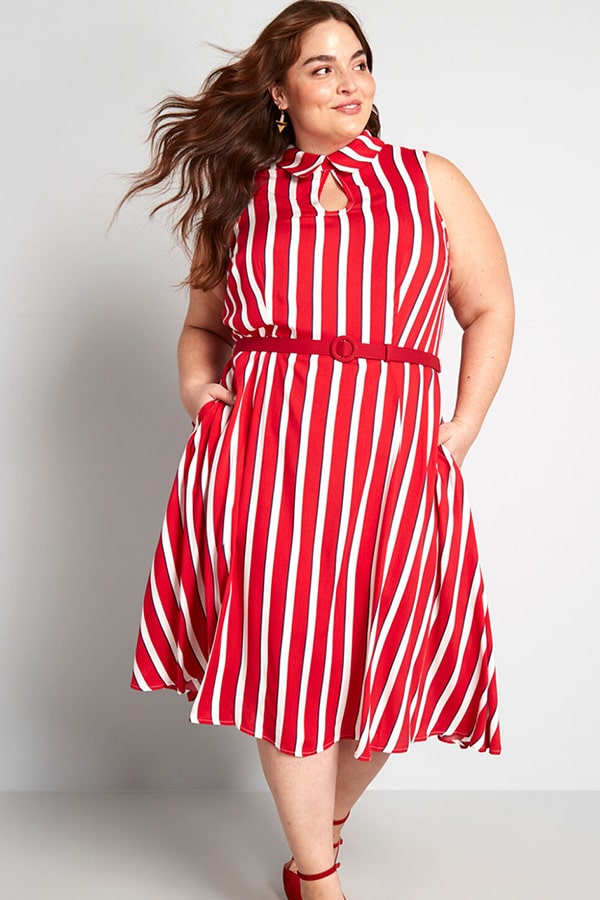 My next pick has a similar shape, albeit without sleeves, but an entirely different flavor. ModCloth x Collectif Posh Your Luck A-Line Dress is bold and sassy, with those bright red, vertical stripes and the keyhole at the collar. The regular price is $99 and the current sale price is $70. It is available in regular and plus sizes.
Reach for this dress when you want to everyone to know you're in the room. You might try it with black or dark brown block heels. And though I adore the sneaker-and-dress look normally, don't try that with this one. You don't want to be mistaken for a hospital volunteer.
Black ModCloth dresses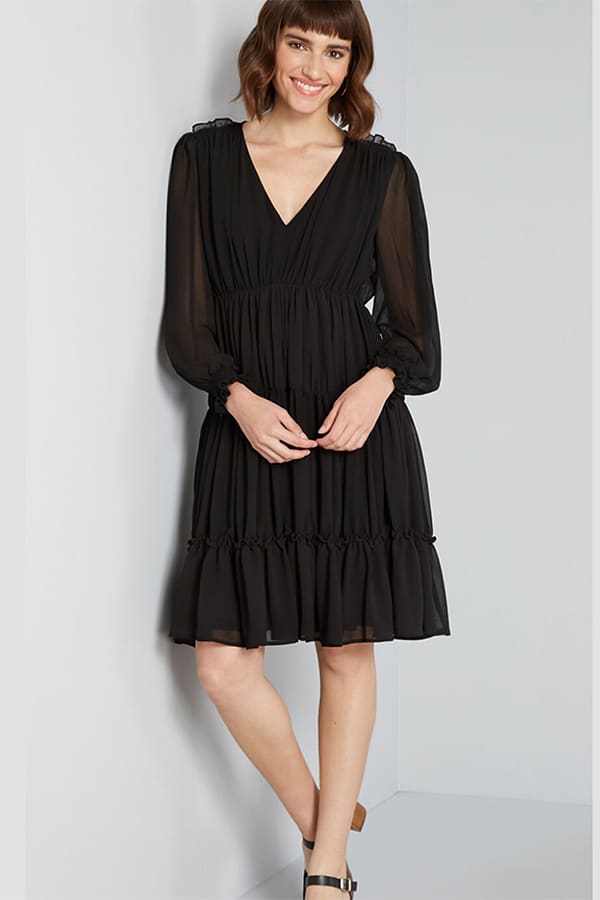 An LBD that's not short and tight — this is a striking option for the modest fashionista of any age. The gathers and tiers make for a beautiful, feminine statement that you can dress up or down. Add fine or midrange jewelry and delicate heels for special occasions. Or swap out the precious metals for more colorful, costume pieces (think BaubleBar) and sandals on more casual days.
The Cheers for Tiers Dress is regularly priced at $99 and on sale for $70.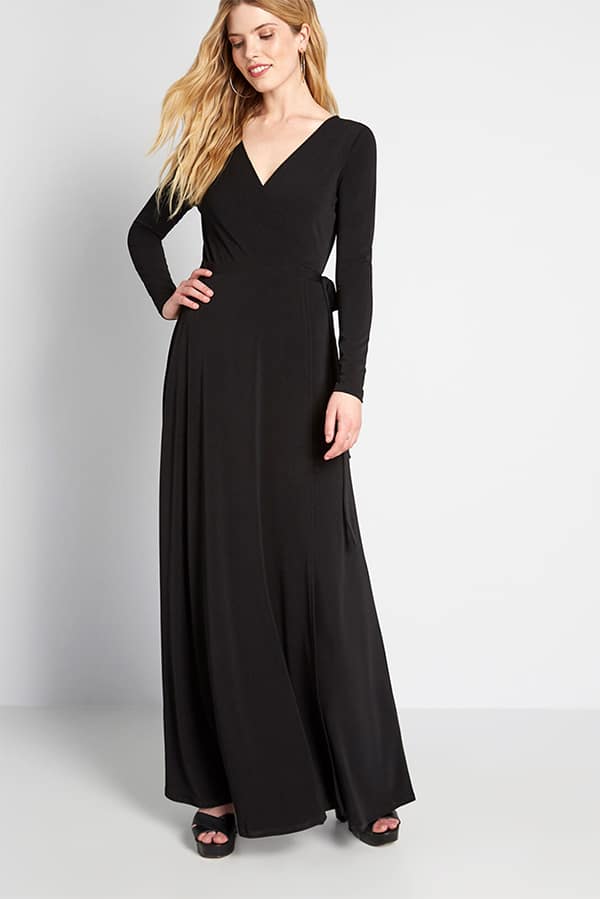 The Say Yes to Timeless Maxi Dress is aptly named. Normally you'd pay $99, and you can get it on sale for $50. This is a great value if you don't already have this classic silhouette hanging in your closet today.
Wear it anytime you get a last-minute invite that demands class with a bit of seduction. The floor-length hem provides the class, while the v-neckline and high leg slit add the seduction. It's made of a soft, stretchy polyester/spandex blend that should drape wonderfully over your frame.
More ModCloth dresses to love
Here are a few classic ModCloth pieces. They're flouncy and floral and all priced at $75 or less.