We pair wine with food, dessert, and music, so why not pair it with a fabulous dress? We tasted and shopped around to find three delicious pairings that will give you the perfect recipe for a night in or out.
Wonderful Wine and Dress Pairings
1. Beaujolais + Sexy Cutout Dress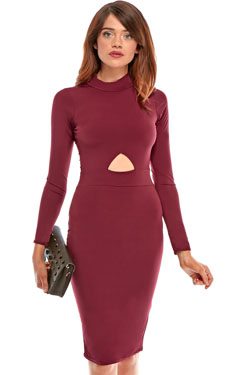 Zaina Cut Out High Neck Bodycon Dress in Wine, $21.56 at Fashion Union
Tis the season for Beaujolais, the young fruity red wine that debuts the third Thursday in November. We love the Louis Jadot Beaujolais, which for a young wine, still tastes like a million bucks. Speaking of a million bucks, you'll look like it with this wine pairing's dress: the super sexy Zaina Cut Out Dress in Wine for $21.56. Both the wine and the dress are light, fun, and make for a perfect pair.
2. Rosé Champagne + Bubbly Jeweled Dress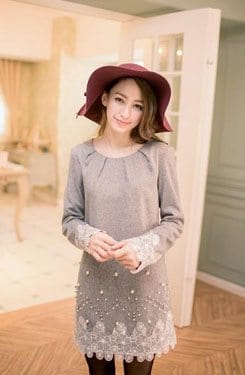 Tokyo Fashion Long-Sleeve Lace-Trim Beaded Dress, $67.90 at YesStyle
When it comes to celebrating je ne sais quoi, the Laurent Perrier Rosé champagne instantly makes life better. This is life in rose colored glasses to the max. And why wait for something to celebrate, just toast to life and pour yourself a bubbly now. The perfect little number to do it in? This adorable dress whose beads look like the champagne's bubbles!
3. Ice Wine + Cable Knit Sweater Dress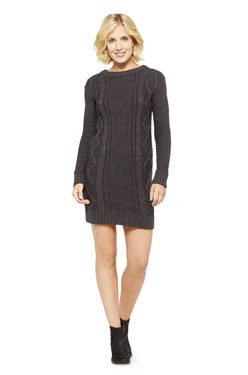 Chunky Cable Knit Sweater Dress, $34.99 from Target
Produced from grapes that freeze on the wine, ice wine is a delectable dessert wine that tastes like pears and honey. We love Wollersheim's Ice Wine, which is best tasted in a sweater dress like this cozy one from Target. All you need now is a fireplace, some jazz and a someone to snuggle with!