This post may contain affiliate links. See our privacy policy.
Ladies, this post is sponsored by DiscountGlasses.com. All opinions are my own.
We talk a lot about proportions here at Budget Fashionista. Having balance in your outfit, makeup or your eyewear lets your style take center stage without distractions. Said another way, if you're under 5-feet tall and you wear a patterned maxi dress with a high neckline, two things will result. One, you'll look shorter and bulkier than you actually are. And two, no one will notice your amazing shoes.
To achieve balance in your outfits, you need to know your body shape. In the same way, to achieve balance with your eyeglass frames, you should always consider your face shape.
So, we've tapped the insider knowledge from the folks at DiscountGlasses.com to deliver our most in-depth discussion of face shapes yet. DiscountGlasses.com recently published their own face shape guide just for the style-conscious shopper. What we love about the guide is that it links right to customized selections of eyeglass frames for each face shape. And that makes for very easy shopping!
6 Different Face Shapes
Here's the toughest thing about understanding face shapes. You can know all about different face shapes, and still not know what your face shape is (or is that just me?)! Try grabbing two recent photos of yourself, and print out six versions of each on a piece of paper. Below we'll go through six different face shapes, and you'll use a pencil to draw each shape over your picture. One of them will be the closest match to your features, and that's your face shape!
1. Oval-Shaped Face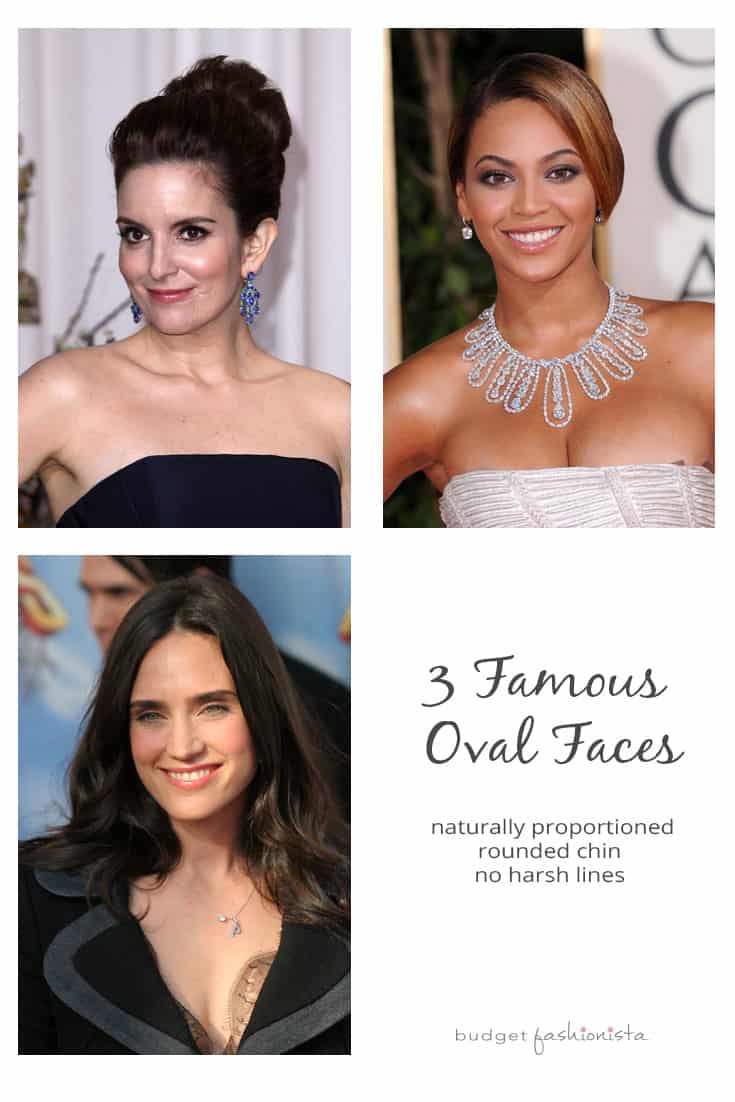 Queen B, Jessica Alba, Tina Fey, Julianne Moore and Jennifer Connelly are all oval-faced beauties. These lucky ladies can wear almost any style frame because their faces are naturally well proportioned. The only misstep would be a frame that's overpowering enough to unbalance a balanced face.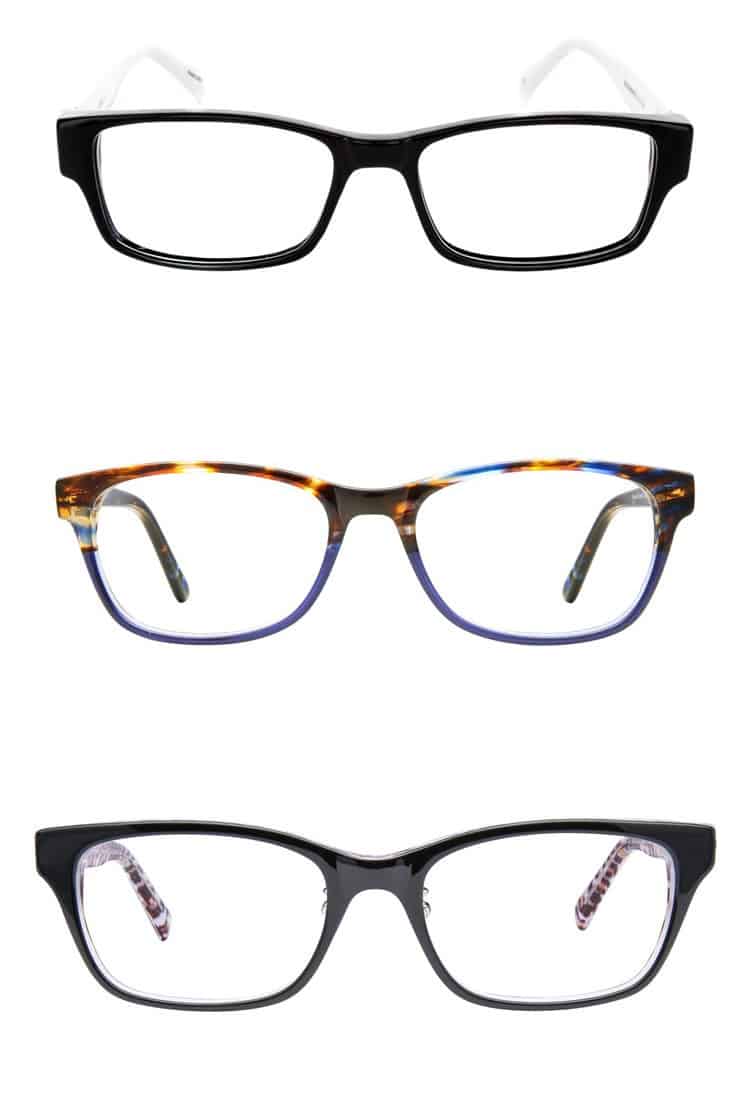 Three of my picks from the DiscountGlasses.com Oval Face Frames collection are (from top to bottom above) Lunettos Clark (from $20.30), Paws N Claws B 901 (from $144) and Red Lotus 220Z (from $97.97).
2. Round Face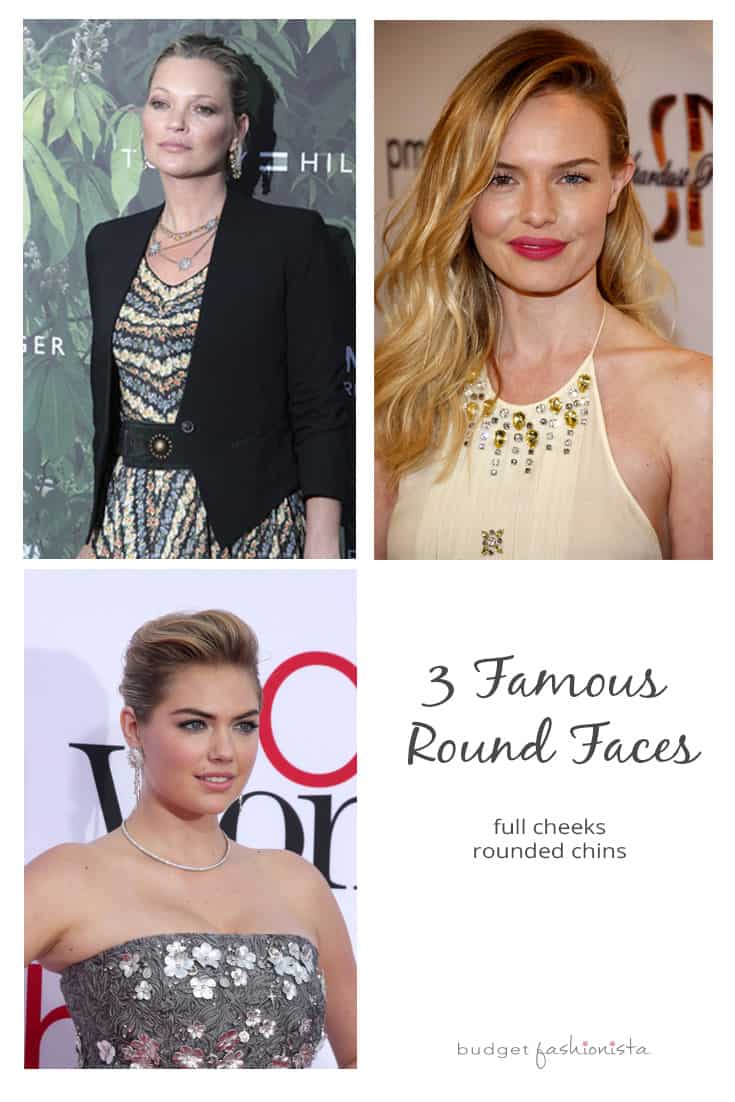 At least three famous Kates have round faces: Kate Moss, Kate Upton and Kate Bosworth. (Kirsten Dunst and Michelle Williams are in this group, as well.) If you're like the Kates, your best frames are the ones that add length to your face. Straight lines and angles tend to work best.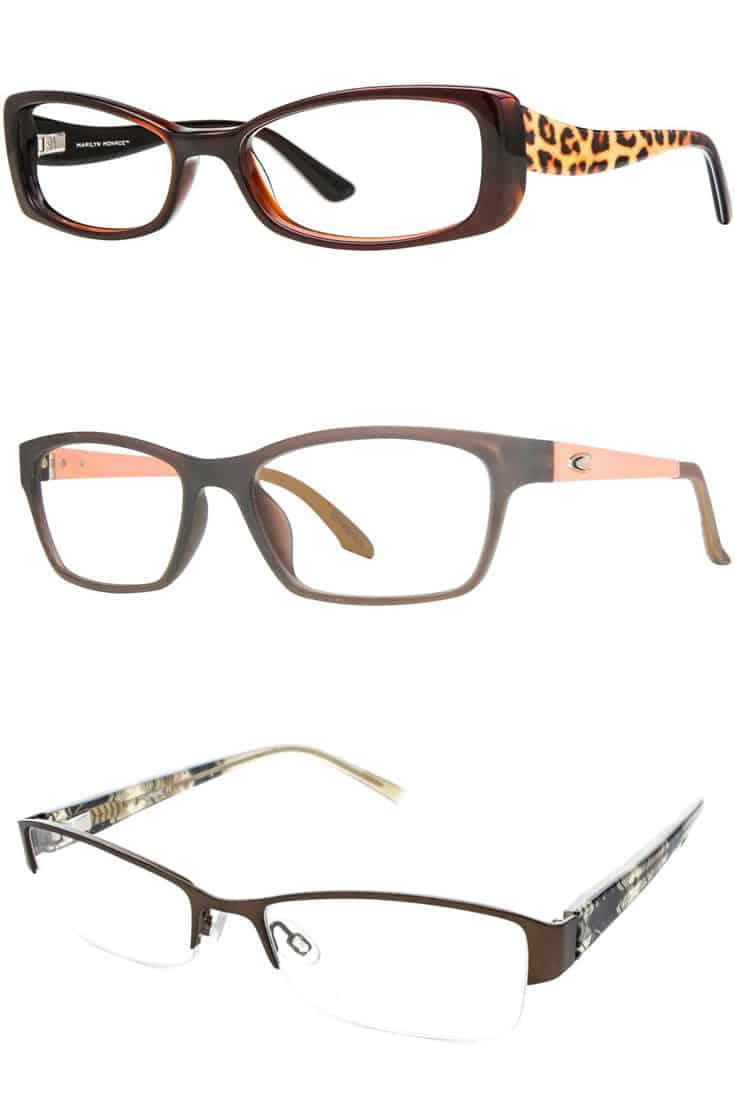 For round faces, I love these stylish looks (from top to bottom above): Marilyn Monroe MMO 105 (from $79.95), O'Neill Juno (from $90.97), and CoverGirl CGO432 (from $97.97).
3. Square Face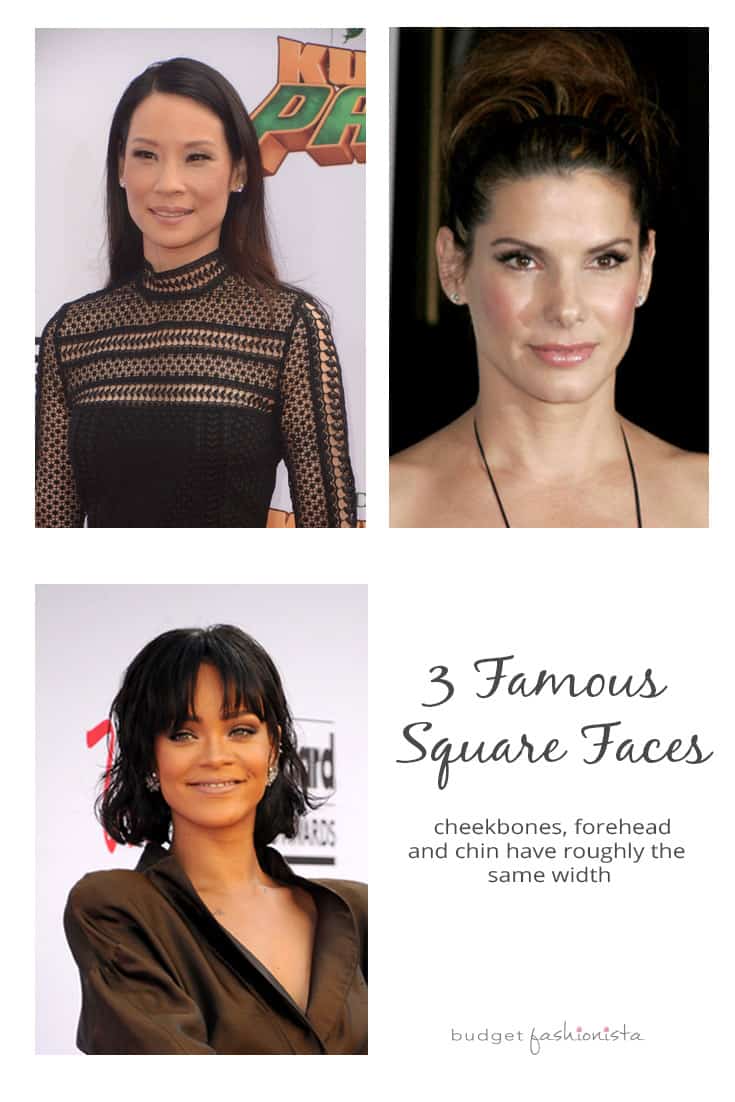 Sandra Bullock, Demi Moore, Lucy Liu and Rihanna are a few square-faced ladies you know. When your cheekbones, forehead and jaw have roughly the same width, you can add softness with a thin and curved frame. Stay away from thick plastic frames, as they'll exaggerate the appearance of boxiness.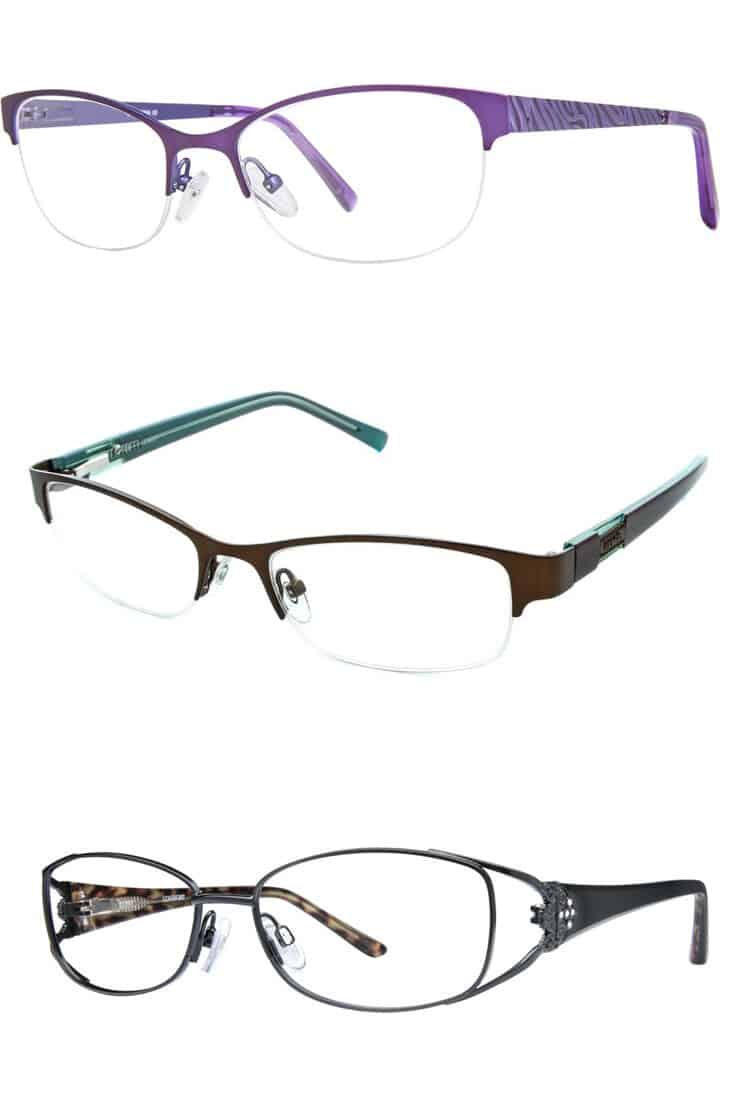 These picks for square faces feature rounded edges and thin frames. Although you should keep the frame itself on the lighter side (visually anyway), you can still have fun with color! From top to bottom above, these are: Serafina Loretta (from $41.97), Bongo B Fresh (from $55.97) and Covergirl CG0448 (from $69.97).
4. Heart-Shaped Face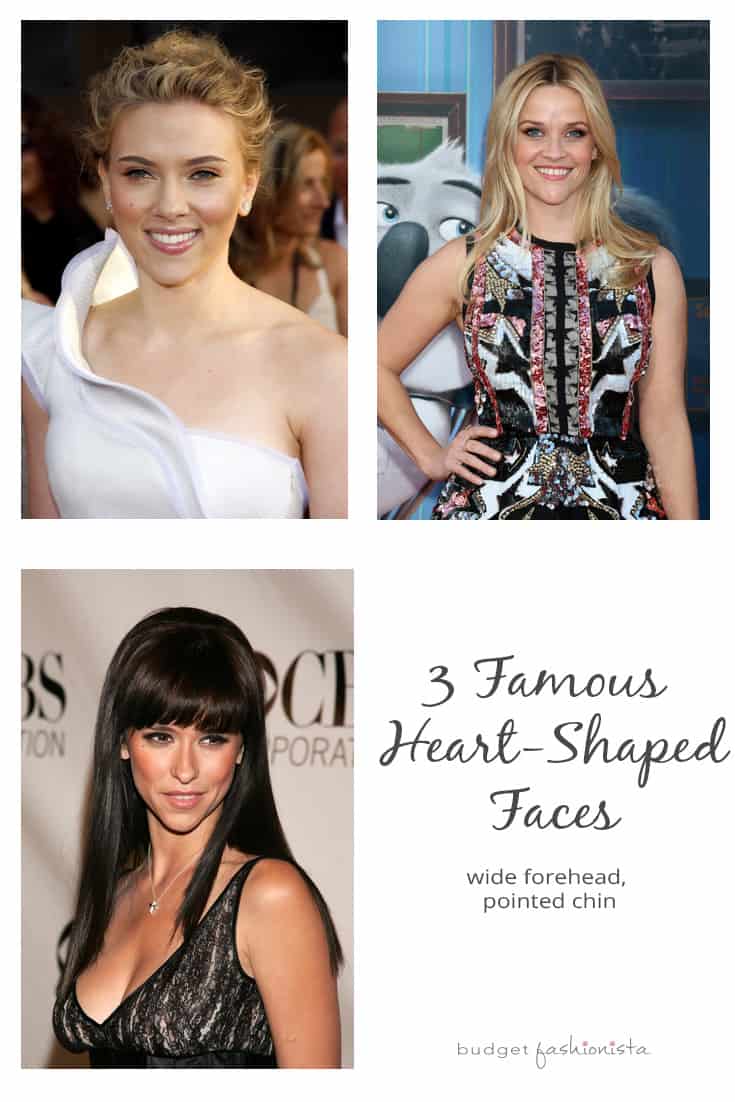 The heart-shaped face is one of the most dramatic. Picture Reese Witherspoon or Jennifer Love-Hewitt — narrow, pointed chins and wide foreheads are the defining features here. Other famous heart-shaped women are Scarlett Johannson, Zoey Deschanel and Taylor Swift.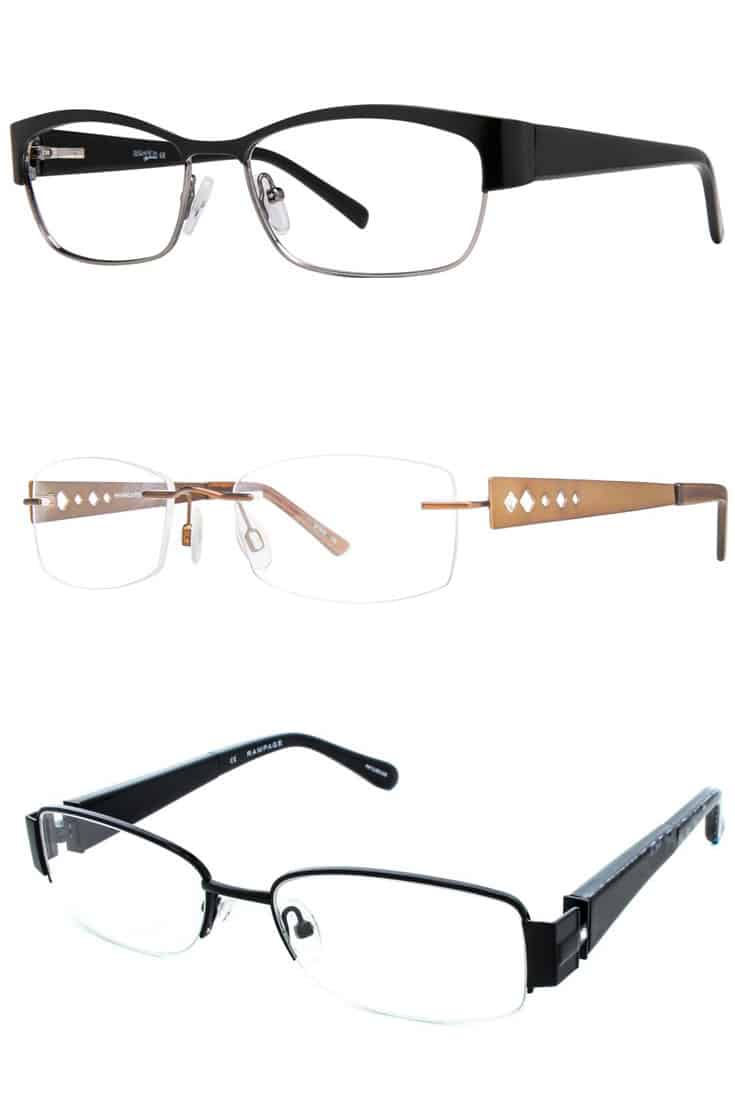 Wide oval frames add a nice balance to the heart-shaped face, by making the chin look broader. One of these cute options should do the trick! From top to bottom above, these are: Serafina Marisa (from $41.97), Invincilites Zeta D (from $48.97) and Rampage R 189T (from $69.97).
5. Diamond-Shaped Face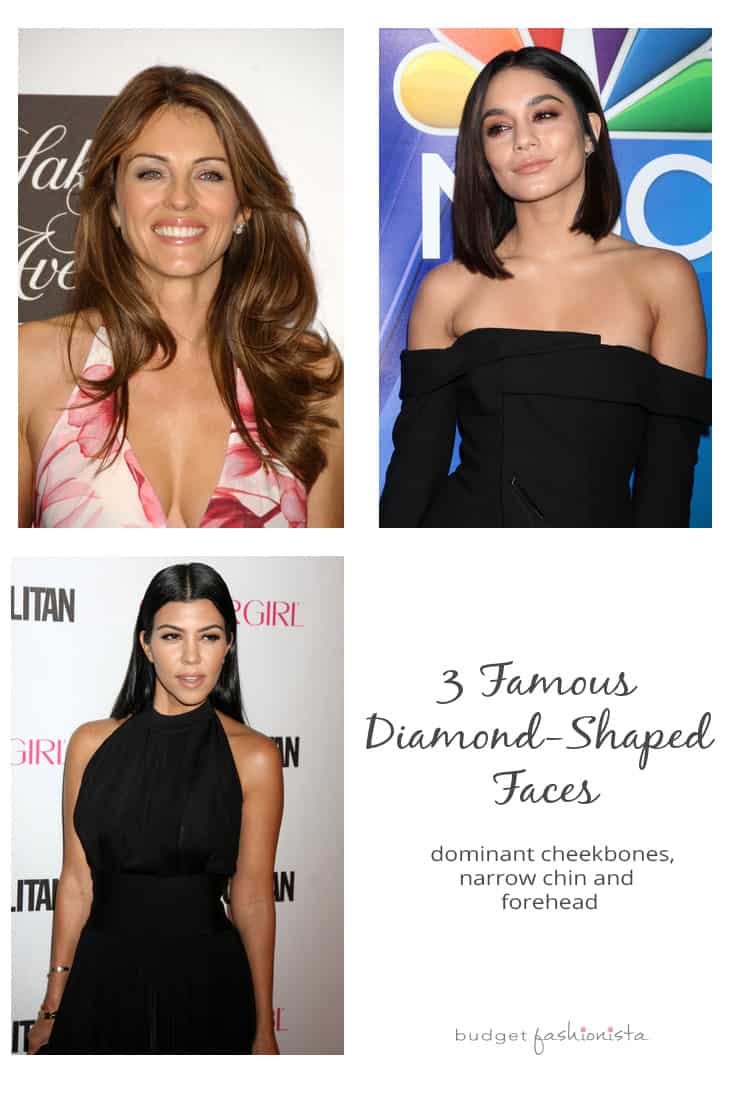 Elizabeth Hurley, Kourtney Kardashian and Vanessa Hudgens have the diamond shape, which is defined by dominant cheekbones, plus a narrow jawline and forehead. This shape is similar to the heart, just without the wider forehead.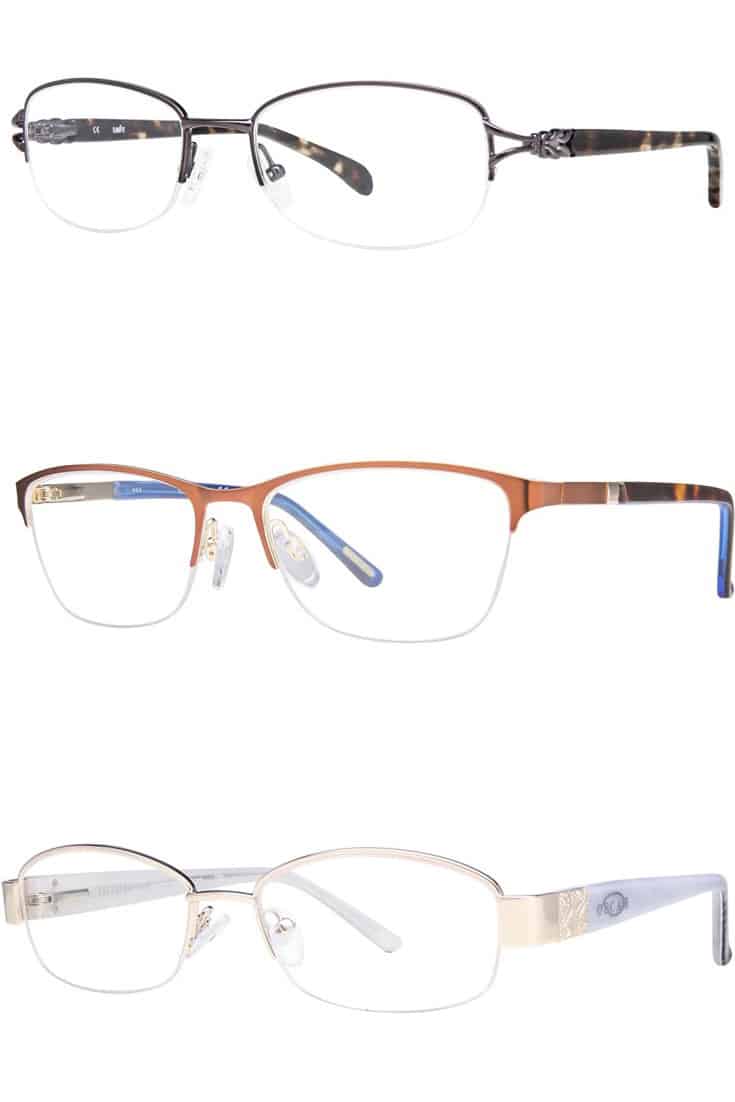 A diamond shape is versatile — you can wear almost any frame, but there are some styles that will give you an overly angular look. Try curved and rimless options, which show off your natural proportions. From top to bottom above, these are: Savvy 371 (from $39), Covergirl CG0533 (from $69.97) and O by Oscar De La Renta OSL510 (from $99).
6. Oblong Face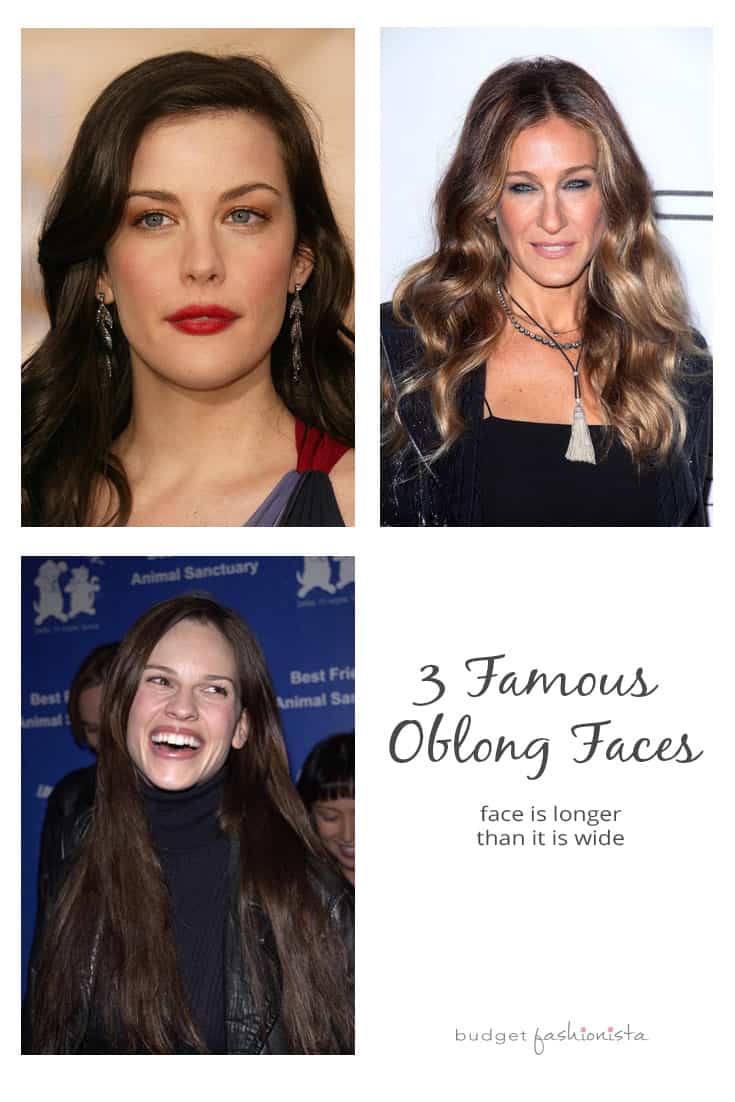 Liv Tyler, Teri Hatcher, Hillary Swank and Sarah Jessica Parker have distinctively oblong faces. With this shape, the face length is the focus. You can hit the wrong note by wearing delicate, angular frames that make your oblong face look longer than it really is. That's the bad news. And the good news? You can wear have a lot of fun with your frame choice, because big, bold frames generally look amazing on you.
My top frame picks from DiscountGlasses.com's oblong face collection are (from top to bottom above): Baby Phat B0252 (from $20.30), Rampage R 195 (from $62.97) and Marilyn Monroe MMO 149 (from $79.95).
Are you ready to go buy some eyeglass frames? Let us know in the comments!
About DiscountGlasses.com
Shout out to DiscountGlasses.com for partnering on this post to provide the insider's info on different face shapes. DiscountGlasses.com features a full catalog of frames and prescription lenses, starting at $29. More than half of the styles are available for overnight shipping and all lenses are made in the U.S. Returns are always free, and you have a full year to send back your eyewear. To start shopping, visit DiscountGlasses.com.