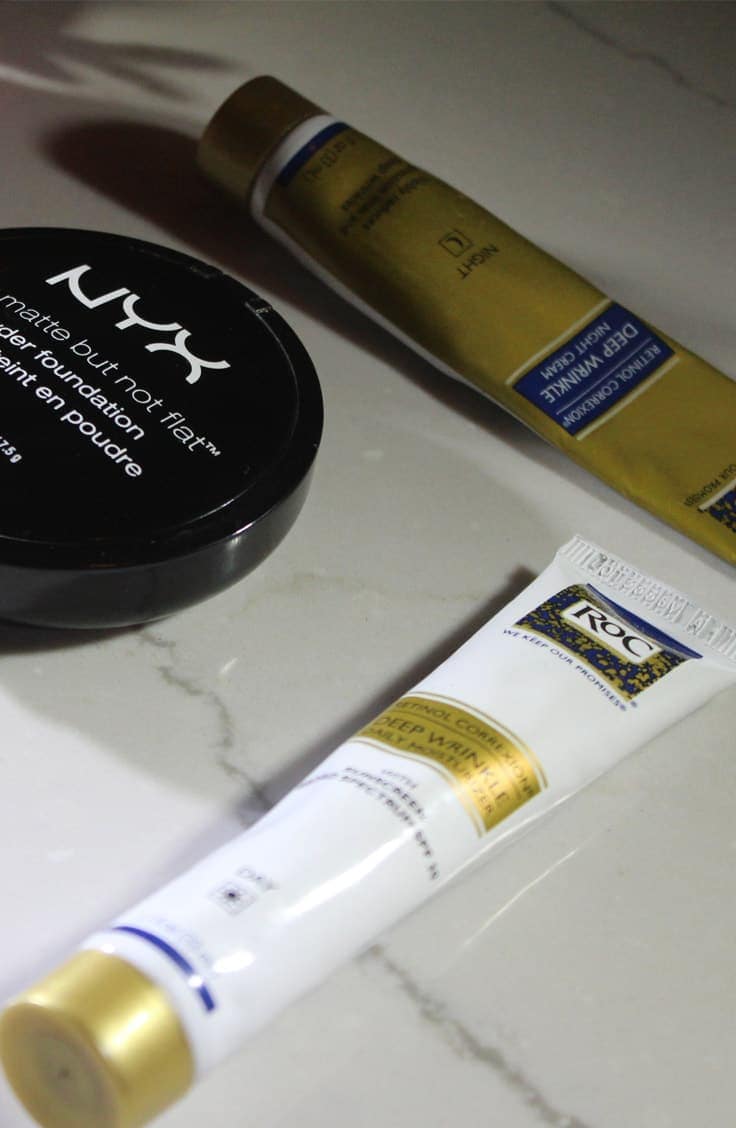 This post may contain affiliate links, which means I earn a small commission if you click and buy something (at no cost to you). See our privacy policy.
Thanks to RoC Skincare for collaborating on this post about budget beauty products. All opinions are my own.
My bathroom is currently in a state of disaster — sadly, a sloppy contractor botched our remodel and now we're paying someone else a lot to fix it. Ugh. There is a bright side, though. These rough financial moments are when I most appreciate the perks of being a budget fashionista and chronic saver.
When I feel that pull of intrigue over Lancer's $150 Lash Serume Intense, for example, I can shut it down pretty quickly by recalling that last big, unexpected expense to hit my household. Seems like the twice-paid-for bathroom remodel will be the reigning champ in that category for a while yet.
So, I'll keep skipping the fancy stuff in favor of the value-rich products I've come to know and love. Read on for my current skincare and beauty favorites!
Cleanse
Garnier SkinActive Micellar Cleansing Water removes makeup and cleanses your skin in one easy step. The thing I appreciate most about this product is there's no water required. I don't have to choose between splashing icy cold water on my face or watching cold water run down the drain as I wait for 3 minutes for it to heat up.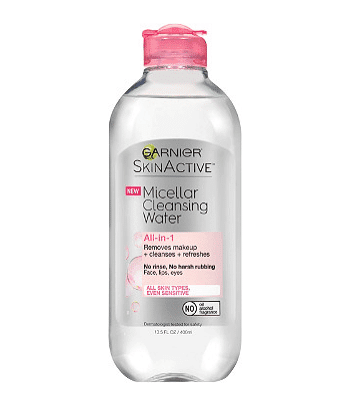 Instead, I simply drip a bit of the product on a generic cotton beauty round from Target and wipe it on. Boom. Makeup removed and face cleaned in one step.
Moisturize
I recently switched from the RoC MULTI CORREXION 5-in-1 line to RoC RETINOL CORREXION products. I do really love the MULTI CORREXION products, and I only made the switch after using the Build a Routine feature on RoC's website. It's a short quiz that results in a personalized skincare routine based on your top anti-aging concerns.
Based on how I answered the questions, the site recommended the RoC RETINOL CORREXION products. I figured, OK, why not? So I made the switch. Now, I'm using the RoC RETINOL CORREXION day, night and eye products, and they're really nice. I love, love, love the eye cream in particular. As with other RoC products, they go on nicely and absorb quickly. I love the Deep Wrinkle Daily Moisturizer with SPF too — since RoC has put SPF into my daily routine, I never leave the house with sun protection on my face.
Coverage
I prefer a lighter foundation that delivers a more natural look. For years, I've swapped back and forth between bareMinerals original powder foundation and various CoverGirl and Revlon liquid formulations.
The thing is, I love that bareMinerals has SPF, but I hate that it's a loose powder. It generally ends up all over the place, and the powder sticks to your bathroom countertop as well as it sticks to your face. When I start feeling like I have to use my Micellar Cleansing Water to get makeup off my vanity, I'm out.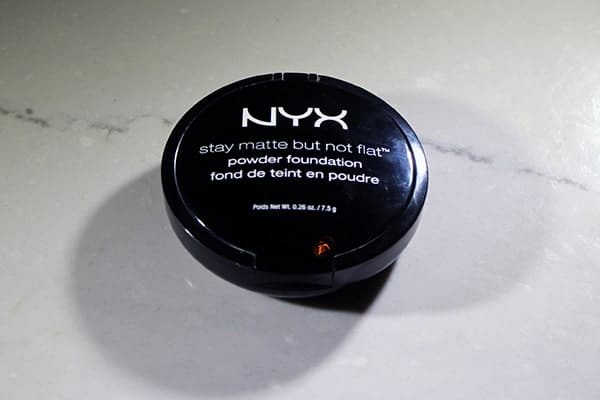 After perusing Target's beauty shelves, I recently decided to give NYX Stay Matte But Not Flat Powder foundation a go. I have to say, I'm pleasantly surprised with its performance. The product goes on nicely, blends well and stays put with no primer. I prefer to apply it dry for lighter coverage, but you can get a pseudo-porcelain look by applying it with a wet sponge. No SPF in this one, but my RoC moisturizer has me covered there anyway.
Eyes
Shadow
I like a compact kit of coordinated shadow colors — you get a few different looks from the same product, and they're easy to pack for travel. Plus, they generally have small amounts of each color. There's nothing worse than being sick of something, but having so much left that you feel guilty replacing it.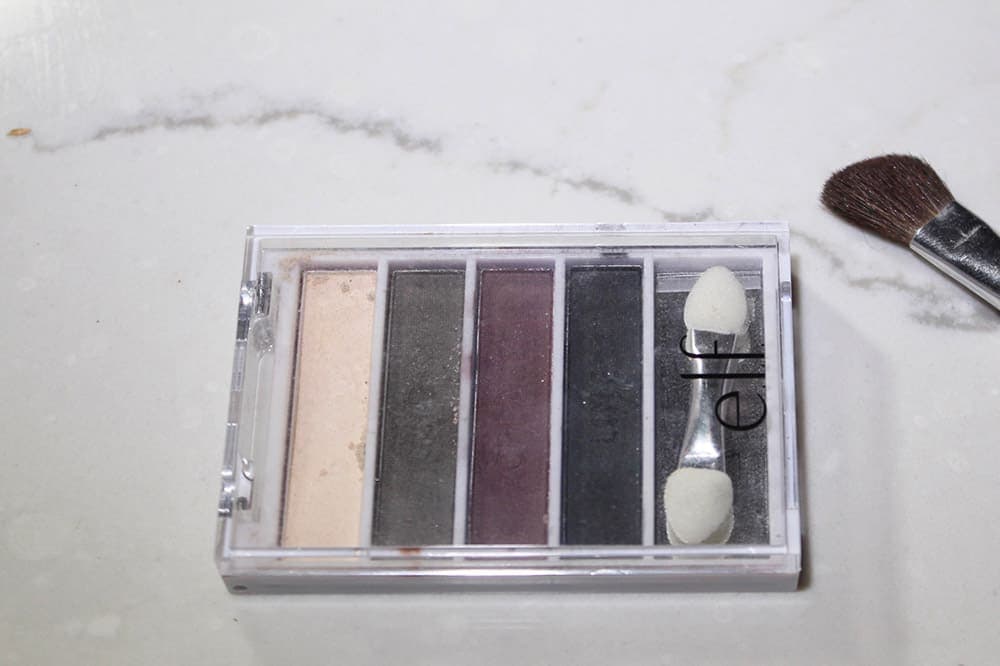 That's not an issue with e.l.f. Flawless Eyeshadow kits. They're ultra compact, which also means cheap. I like the Rich Plum collection, which has a nice set of jewel tones: olive, plum and a very dark, cool gray.
Liner
Right now, my go-to for eyeliner is the Swimmables Eye Pencil by CARGO in Shelly Beach. I don't swim, but I do ride horses — and after a hot 40 minutes on horseback, any old eye make-up will be all over my face. This pencil glides on like a very sharp crayon, leaving a smooth, rich line of pigment that sticks around all day. And an unexpected bonus, the dark green color of this liner works perfectly with my e.l.f. Rich Plum colors!
Eyebrows and Lashes
On rushed mornings or lazy days, I'll dash out of the house without eyeliner — but I'll rarely go anywhere without a little color on my eyebrows and lashes. For brows, the Maybelline Brow Drama pencil with pomade works perfectly. It adds color and texture in one swipe.
The lashes get a coat of NYX Pin-Up Tease Mascara. I may have tried every bargain mascara out there and they're mostly interchangeable. This one has the budget price point, but lasts longer and doesn't get clumpy. If you're buying your mascara at Target, this is your best option.
Lips
On a whim, I picked up an e.l.f. Gotta Glow lip color in Perfect Berry at TJMaxx for about $3. Visually, this stuff is deep purple in color, like Halloween make-up. But the package described it as a self-adjusting tint, which sounded fun to try.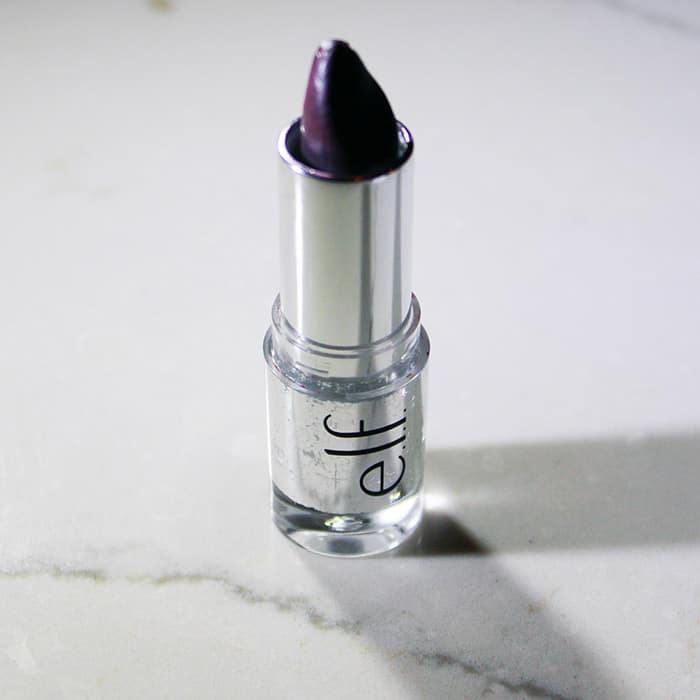 Now I take this soft lip tint everywhere and use it daily. It's ideal for daytime looks, and works well over a lip pencil at night.
Those are my beauty go-tos! For more ideas on affordable drugstore products, see this list by our friends at MetDaan.com.
Oh, and about that botched bathroom remodel, call me before you hire a contractor in the St. Louis area. I can tell you which company not to hire!