Our content contains affiliate links, so know that we might earn a buck or two if you click and buy :) !
This '20s-mod hairstyle is fabulously chic, is it not? The best part is that with some practice, it can be relatively easy to recreate at home. You'll need the gel, mousse or hair cream of your choice, a lot of bobby pins, decorative clips and a comb. This look is far from messy or carefree, so be sure to keep all the stragglers tucked in while you work. Here's how:

Rock out a 1920s Mod Hairstyle!
Make Two Distinct Sections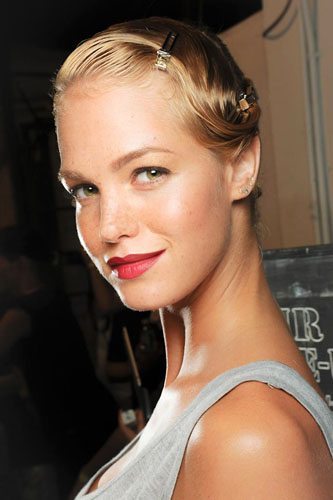 Begin with towel dried hair that is still damp. Use a generous amount of gel, mousse or cream to provide a hold, but make sure it isn't a quick-setting or drying kind. Comb the product through your hair from the scalp to the ends. Using your comb, make a part from your left ear to your right and secure the front section out of the way. Comb the back section down your neck and make sure your hair is free of tangles.