Our content contains affiliate links, so know that we might earn a buck or two if you click and buy :) !
Outside – There's nothing quite like gearing up for a full day of shopping, is there? You're up early, properly caffeinated and nourished, and dressed appropriately for a day in the fashion trenches; slip on shoes, a sold tank and leggings (layering is key). So, after all this preparation, why not get some major deals while you're at it?
Outlets are a great place to start when looking for smart deals on brand names. Plus, it can be a fun adventure if you grab some friends and make a day trip out of it. The good 'ol US of A boasts some of the best outlet malls in the world with the top three in New York (Woobury Common), Texas (San Marcos) and Las Vegas (Las Vegas Premium Outlets). Here you can find brands like Gucci, Prada, and Michael Kors, not to mention fab department store off shoots like Off the Fifth (Saks) and Nordstrom Rack.
If you'd rather venture closer to home, there are always sample sales of the old fashioned variety that you wait all year and line up for. Some of then are tres exclusive and pretty hard to get into, but they're not all like that, it just takes some forethought and planning (and, most likely, a very early setting on your morning alarm.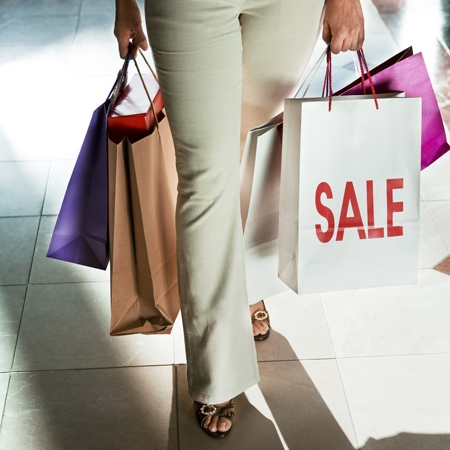 Department stores shouldn't be counted out either. Neimen Marcus and Bergdorf Goodman have semi-annual sales with discounts nearing the 75% mark. The key to the department store deal is patience; wait it out for what you want, even if it means shopping out of season i.e. buying a coat at the end of July or (ugh) a bikini in January.
Lastly, stores like TJ Maxx and its sister store Marshall's have lots of brand names for up to 60% off of regular store prices. Their strategy is to buy up goods that have either been over produced at the source by the designers or to nab up extra department store inventory.