Apartment decorating is both exciting and overwhelming. When I move into a new place, I'm always compelled to "make it my own" — as quickly as possible. I rearrange furniture repeatedly, get obsessed about what to put on the blank walls, how many throw pillows are just right for the couch, deliberate over what color the bathroom towels should be, along with whether I really need new scented candles to liven up the bedroom.
This post may contain affiliate links. See our privacy policy.
But as I'm scrolling through Pinterest for inspo, there's that little voice going off in the back of my head. It's warning me that I don't have the budget to implement every last one of my apartment décor ideas. Because decorating a home of any size — from studio apartment to mansion — is expensive. Heck, even scented candles set you back $15 a piece. And wall artwork? Yikes, you could spend more than your rent buying up prints from Etsy.
The good news is that decorating your place is, in many ways, like buying clothes. Yes, the mainstream options are pricey. But you can decorate on a budget, just as you can dress well on a budget. So let's talk about how.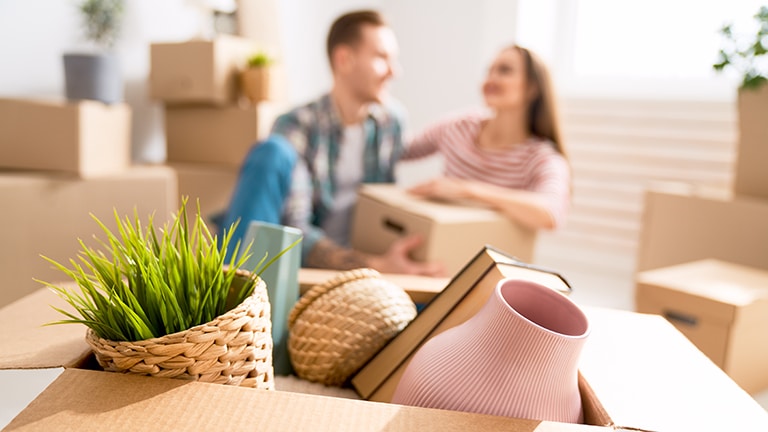 1. DIY apartment decorating ideas
When decorating on a budget, DIY projects are your bestie. Making things yourself will save you a ton of money, and — even better — you can customize the end result. Plus, in this era of staying home, DIY décor is a fun way to pass the time. Plus, there is something rewarding about having an apartment filled with things you made yourself.
Here are a few DIY apartment decorating ideas:
DIY sweater pillows. Repurpose old sweaters you don't wear anymore into pillow covers.
DIY wall décor. Use your own photos or your own artwork. Those pics you snapped last summer hiking in Colorado? Or your digital diary of that trip you took to Paris? I'd bet they'd look stunning, blown up and printed on canvas. Use Canvas People's canvas discount and it'll cost you $50-80, depending on the size you want.
Recover old furniture. Hit up your folks or grandparents for old furniture and recover it yourself. Look for pieces that have fully removable pillows — those are the easiest to recover.
DIY table. Make yourself a funky, inexpensive table with a serving tray and planter.
DIY headboard. Build it out of wood and then paint it to your style or cover it with batting and fabric. Lean it up against the wall if you don't want to affix anything to your rented apartment walls.
2. Go thrifting
You know we love thrifting for clothes and for home decor. Thrift stores have unique items and the pricing is always on point.
If you're not an experienced thrifter, here's my best advice. Never, ever walk into a thrift store when you're in a hurry. Give yourself enough time to dig and explore, because there are vastly more junky things than hidden gems. Oh, but once you find that gem — it's a sense of satisfaction that's hard to replicate.
In lieu of an actual thrift store, you can also browse Facebook Marketplace deals, Mercari, and apps like LetGo to find amazing secondhand finds. Or, look for estate sales in your area. Those can be treasure chests of fun décor pieces — especially if you want your apartment to have a retro vibe.
3. Add color with accessories
Here's another budget decorating tip we're borrowing from fashion: Keep your big-ticket items neutral and classically styled. Add color and personality with cheaper pieces.
In décor, that means your furniture pieces are hopefully designed to remain in style for many years. But the smaller, less expensive décor items can carry the weight of your style. We're talking lamps, indoor plants, throw pillows, blankets, and yes, scented candles. Use these items to add color, pattern, and texture to your place. That way, if your tastes change, you only have to spend a little (not a lot) to update the look.
These smaller, portable decorating pieces are also perfect for rented apartments. You don't have to affix them to walls — or if you do, you can use Command strips instead of nails and screws.
4. Go minimalist
A minimalist décor can be quite striking and also super affordable. If you're worried about overspending, remind yourself that less is more when it comes to décor. You don't have to fill up your apartment with tons of furniture and artwork. Especially if you have a tiny apartment, too much stuff will only make things feel cramped.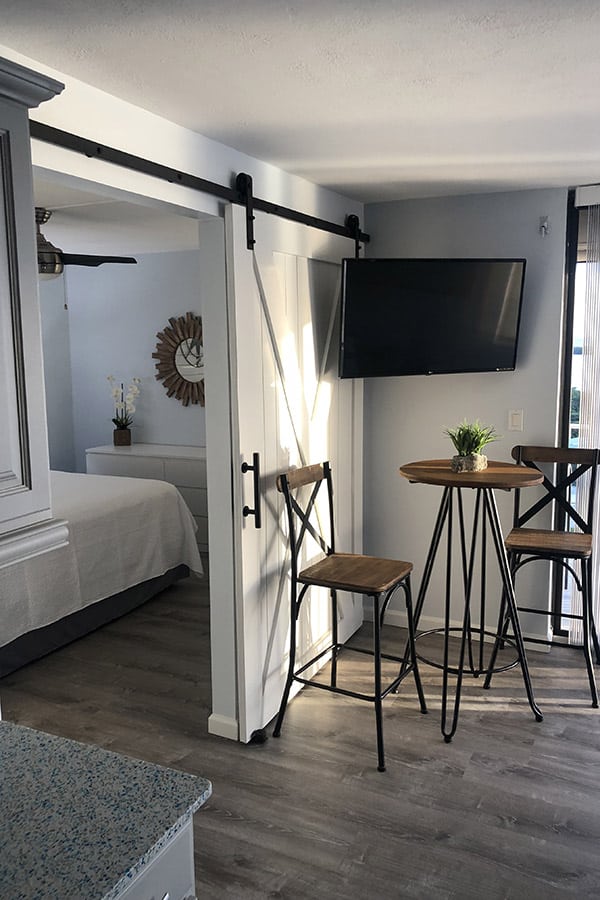 One way to keep over-buying in check is to keep purchases limited to items that have a function. You need a couch to sit on and a bedside table to hold your sleep mask, for example. You may not need the pretty coat stand, especially if there's a closet right by your front door. Stick to that approach and then fill in the bare spaces later, as your budget allows. That slow-and-steady approach may keep you from making decisions you'll later regret, too.
I'm of the mind that you're never really finished home or apartment decorating. Think about that if you start to feel rushed about "getting it all done." Decorating is a process, not a destination. Enjoy it!