Weddings are ridiculously expensive and have been for ages. Unfortunately, there's a whole huge industry whispering in your ear from a young age, about what the perfect wedding entails. But this isn't a post about the big, bad wedding industry — it's a post about how to plan a budget wedding that's elegant and memorable.
The trick to controlling your wedding budget is identifying early on what you need and what you don't. In truth, there are only a few things your wedding needs: a prospective spouse you love, an officiant, and witnesses. The rest, from the dress to the flowers to the food is all optional. Your job is to categorize all that other wedding stuff as a must-have, nice-to-have, or a don't-need. If you have your heart set on a dove release, that's fine — but know that you'll have to compromise somewhere to make that work financially.
To help you kick off that thought process, here is a list of 12 things your wedding probably doesn't need.
1. In-person guests
Wait…what? Thanks to the coronavirus pandemic, crowded events are taboo at the moment. That trend is likely to continue for a long time. And while you definitely didn't dream of a virtual wedding as a little girl, think of the positives now. You don't have to serve food. Heck, you don't even have to print invites or buy table decorations or party favors. No one's going to get drunk and make a scene.
The general environment is also far more controllable, which lowers the chances of anything weird happening. (At my own wedding, one of my bridesmaids passed out in the middle of the ceremony and had to be dragged away in front of my confused guests.) And finally, you and your partner can enjoy a more intimate setting on your special day.
For some direction on how to pull off a virtual budget wedding, see this Brides guide.
2. Printed save-the-dates
Skip the postcard and use digital invites or the old-fashioned phone call to let your guests know when you're getting married. It's not like the printed card improves the chances someone will show or not show anyway.
3. A professional wedding planner
If you're organized, you can plan even an elaborate budget wedding without the help of a professional. Lean on your reliable bestie, your mom, or your maids to help you with the list of to-dos. Use technology too. There are a bunch of wedding planning apps that can keep you and your crew on point.
4. Relatives twice removed
If you must have guests, keep the list tidy. Every extra name is another mouth to feed, another invite to send, etc.
5. Professional hair and makeup
This might be one of those non-negotiable items (like the doves). But before you pay top-dollar for a stylist, consider your circle of friends as options. You probably have a girlfriend who's great a makeup and another who's masterful with updos. Call on those girls or guys to help you. Or, if you're comfortable with it, do your own wedding makeup and fashion your hair in a simple, elegant ponytail. Ask your wedding party to do the same.
6. Veil/extravagant headpiece
Try a floral headpiece, headband, or wreath instead of a pricey veil. See our post on wedding veil alternatives for more ideas.
7. Formal wear
A dress you feel gorgeous in is a must-have, but you don't need a pricey, formal, white, beaded gown. Wear a floaty summer dress and sandals if you want — it's your day after all. By the same token, the guys in your ceremony don't have to wear tuxes. Let them wear suits or even shorts for that matter. Set the dress code based on the experience you want to create.
8. Department-store wedding registry
When I got married, Aaron and I walked around Macy's with a sales associate and pointed out all the stuff we'd like to have. It was fairly time-consuming and a touch overwhelming. We were worried about dumb stuff like how our choices would reflect on us. Were we picking out things that were too expensive or not expensive enough? And at the end of it all, the most useful gift we received was cold, hard cash.
You could skip the registry entirely or go with a modern wedding registry like Zola that supports cash gifts, experiences, as well as that espresso maker you really want.
9. Dinner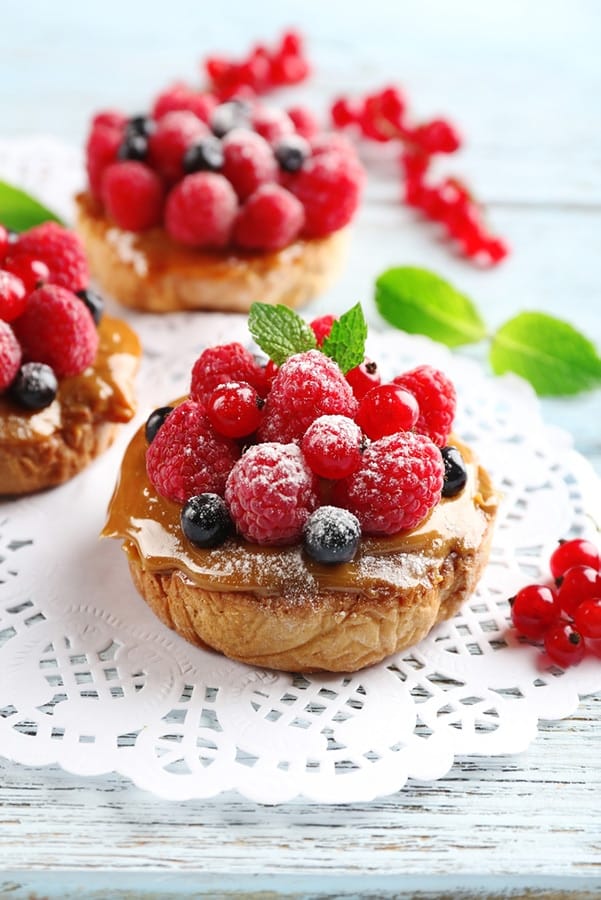 If you have in-person guests, you do need to provide food — but it doesn't have to be dinner. Try a light brunch for a morning reception or a dessert bar in the afternoon. No one will miss the mass-produced baked chicken breast, trust me.
10. Booze
If your non-negotiable but also impractical thing is the dove release, mine was a hosted bar. We spent a fair amount of dough serving our guests drinks and I don't regret it. But this is definitely an opportunity for cost-savings. I've been to many a budget wedding where I had to pay for my own drinks, and I still had a great time.
11. A wedding cake
Go ahead and get a professionally made cake, but don't tell the baker it's for a wedding. Order a tiered "birthday" cake instead. The difference is that bakers make wedding cakes with four layers and cake and three layers of filling. Birthday cakes have two layers of cake and one layer of filling. Your guests won't notice.
12. Party favors
Unless you can pull this off for cheap and in a non-tacky way, I wouldn't sweat the wedding favors. Instead, sprinkle your tables with Hershey's Kisses, or provide little treat bags to fill at a candy station on the way out. A votive candle with your wedding date on it is not going to last long in anyone's house, except for your mother-in-law's. And even that's questionable.