So, about our budget fashion and style advice: We sometimes use affiliate links, so we might earn a buck or two if you click and buy :) !
My grandma Doonie has been a seamstress for over 70 years. Every time I go home to Minneapolis, she drops little pearls of fashion/garment/shopping related wisdom. On a recent trip home, Doonie gave me these simple instructions on finding your natural waist. Most people think they're natural waist is the mid point of their torso, which isn't true. If you have a high waist, your "natural waist" will be closer to your breast, while if you have a low waist your "natural" waist will be closer to your hip.
How to Find Your Natural Waist
1. Place a tape measure around your middle torso
2. Bend your body to the side (left or right, doesn't matter).
3. Feel for a crease/indentation/fold below your breast, but above the top of your hips (for those of us with love handles, the fold closest to the the top of your hips).
4.  Move to the tape measure to where this fold occurs.
5. This is your natural waist
Here's a video that gives you a bit more detail on how to measure your natural waist
And a Word on Finding  Your Lower Waist
Thanks to the wonderful (or not so wonderful) invention of low waist jeans, you might wonder how to find your "lower waist".  Don't fret, your lower waist is simply the point 2 or inches below your natural waist. The easiest way to find your lower waist is to put your pointy finger on your natural waist, then add your middle finger and index finger. The point where your index finger lands is your lower waist. Most jeans (sad, I know) hit at your lower waist, which is problematic if you have a love pouch.
About Jeans…
99% of waist questions are in regards to jeans. For the most part, if you've got a pouchy middle, a larger backside, etc stick with the higher rise jeans. If you have a smaller backside, flatter stomach, stick with the lower rise. We found this awesome infographic on jean rises from the site joy of clothes.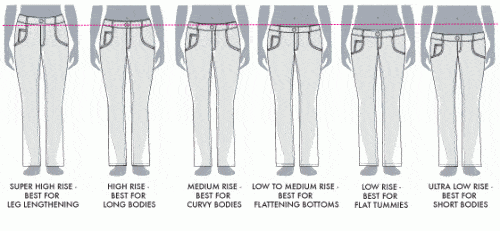 Looking for more great tips? Check these out…
How to Wear Skinny Jeans: If You Have Large Thighs
How to Wear Skinny Jeans: If You're Petite