Let's thank Kanye West for bringing neutrals on the radar with his Spring 2017 collection. Although Kanye's outdoor fashion show had mixed reviews and plenty of haters, the beige, off-white and black outfits inspired us to go back to the basics when the weather gets warm. And the best part? You can mimic a Yeezy look for under $50 — here are our best picks for Yeezy Season 4, budget fashionista style!
4 Picks for Yeezy Season 4 on a Budget
High Neck and Lace
Love Triangle High Neck Lace Dress With Plunge, $21, ASOS
The detail on this lace dress from ASOS is not something you usually get for $21 (editor's note: it's on sale as of this writing and the normal price is $72). The tie-up center front gives the dress mystery and sex appeal, and the sheer sleeves and pointed hem solidify this as a stand-out piece — a great choice if you don't mind showing a little skin in the front. You can tone things down by wearing a leather jacket, which will mask some of the detail.
Ruching and a Little Leg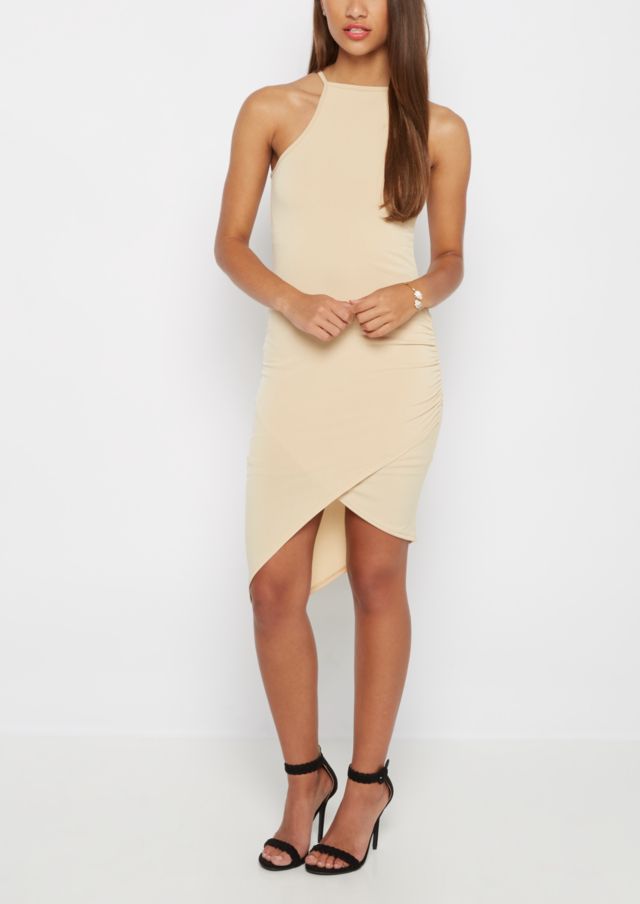 Stone Ruched Side High Neck Dress, $22.00, Rue21
There're few things to hate about this dress: it's simple and flattering on most skin tones, and the asymmetric hemline accentuates your curves. The dress gathers on the sides for a closer fit. Up top, you get full coverage for the chest and a chance to show off your shapely arms and shoulders. Make this dress an outfit with black pumps or a strappy black sandal. After that, all you'll need is a bracelet, and you're ready for date night or girls' night out. Add natural makeup and a bold lip color and you'll surely turn heads.
Romper with Attitude
Vivacity Romper, $12.97, Fashionnova
This little jumper is perfect to show off those legs! The criss-cross chest and thin straps add simple yet lovely detail to this romper. We love the simplicity; it almost looks like something you would wear under your clothes. If you want to play up this short romper, gladiator sandals or booties will work well. You can also treat this garment like a body suit and put pants or tight leggings over the lower half.
A Sweater for Spring
 Short Sleeve Oversized Sweater Dress Nude, $35.20, Misguided
Because spring can be hot or cold, there's no harm investing in pieces that keep you warm. This oversized sweater matches the simplicity showcased in Kanye's line. As you can see, the dress looks like a long t-shirt. Dress this up with heels and a small wallet, or a hat, sneakers and bookbag will do, too. You can even wear a scarf around your neck to dress up the outfit. With oversized sweaters, you can be creative! It's all about accessories.
The production of Kanye's show had its problems, yes, but we love the focus on those timeless neutrals! What did you think about Yeezy Season 4? Will neutrals be your go-to color this spring? Let us know below!
Martha-Raye is a senior at the University of Delaware, majoring in Environmental Studies. She loves fashion and music, especially eco-fashion. In her spare time, she sews, works out, and snuggles up with Netflix.
Latest posts by MarthaRaye (see all)