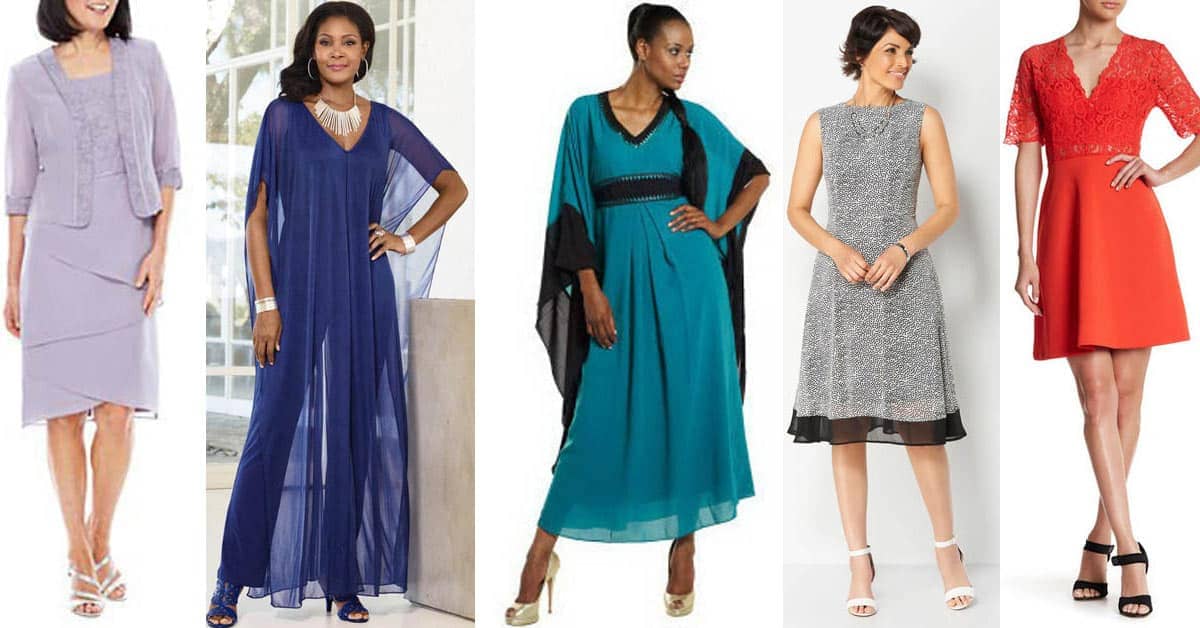 What should a 60-year-old woman wear to a wedding in 2017? You've asked, and we picked out some styles we know you'll love. Whether your style is fashion-forward, trendy or classic, there's something for everyone on this list. All are elegant without being frumpy, and fully guest-appropriate (meaning you won't look you're wishing you were the mother-of-the-bride). And most importantly, all selections are under $90. Enjoy!
5 Special Occasion Dresses for Women over 60
1. The New Jumpsuit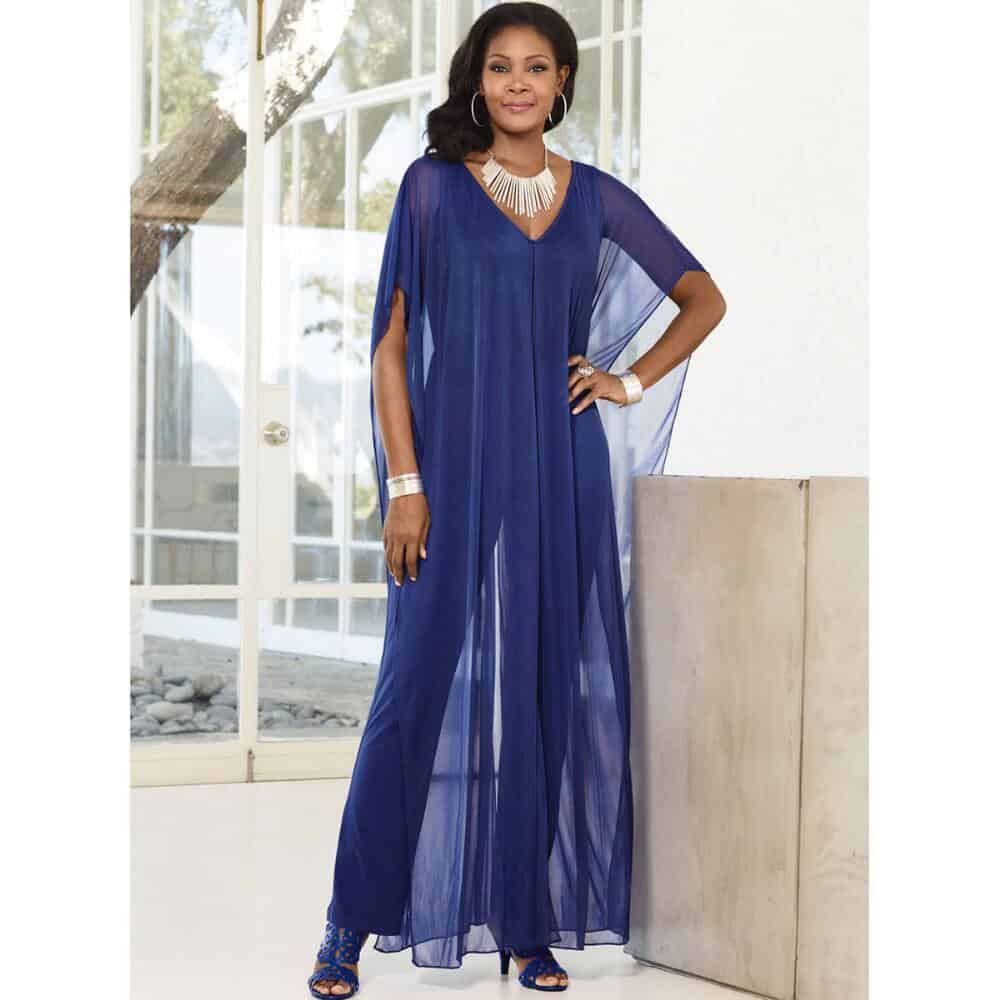 This sheer, covered jumpsuit is so classy and striking — an ideal choice for a wedding or special occasion outfit. Jumpsuits make for an eye-catching alternative to a dress, but they can be hard to wear (a nice way of saying they're unflattering). The sheer dress silhouette over the suit itself creates a more forgiving outfit. Add in the V neckline and three-quarter sleeves, and you will be the talk of the town. An outfit like this would be a lovely choice for a beach wedding — you'll enjoy the breeze without showing too much skin. Pair with heels and some bracelets and you're all set.
2. The V Neck LRD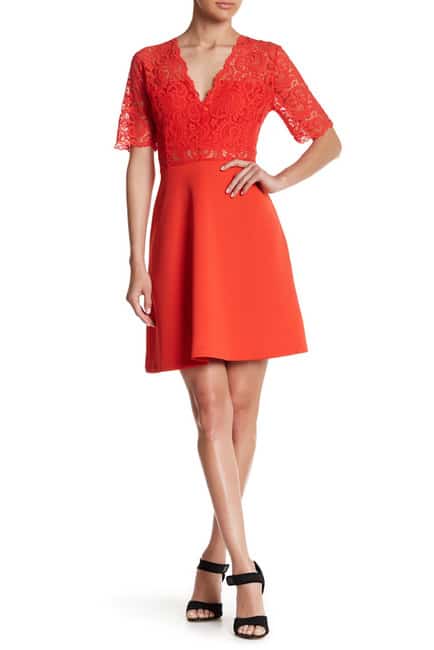 If you've read our fashion advice for women over 60, you know that showing off cleavage is A-OK. This sexy-but-age-appropriate number features a shorter hemline and lace detailing, plus the flattering deep V that adds length to your torso. If you like the dress, but still think it's too much skin, pair with a black shawl — you'll be ready to dance the night away.
3. The Caftan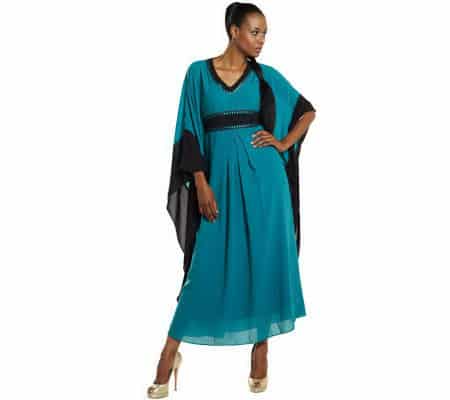 This caftan-style maxi dress will make you feel like a princess with its long sleeves and the black embroidery on the neckline and under the bust. It's made of a sheer, flowy polyester that's elegant and comfortable. Choose this piece in one of four colors — each has complementary color accents on the sleeves and neckline. This piece is currently discounted from $72 to $33, and has an Easy Pay option of $8.29 a month for four months. You can't beat a deal like that!
4. The Jacket Dress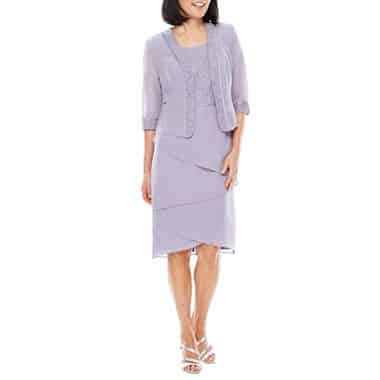 If you prefer a classic look, this ensemble from Maya Brooke is a beautiful choice. Thanks to the coordinating lightweight, three-quarter sleeve shawl, you can wear this to a church wedding or an outdoor beach ceremony. Lace details plus the georgette layers on the skirt create a soft, feminine style — you'll feel absolutely gorgeous in this outfit! Pair it with a simple heel or modest sandal in gray or silver.
5. Pleats and Polka Dots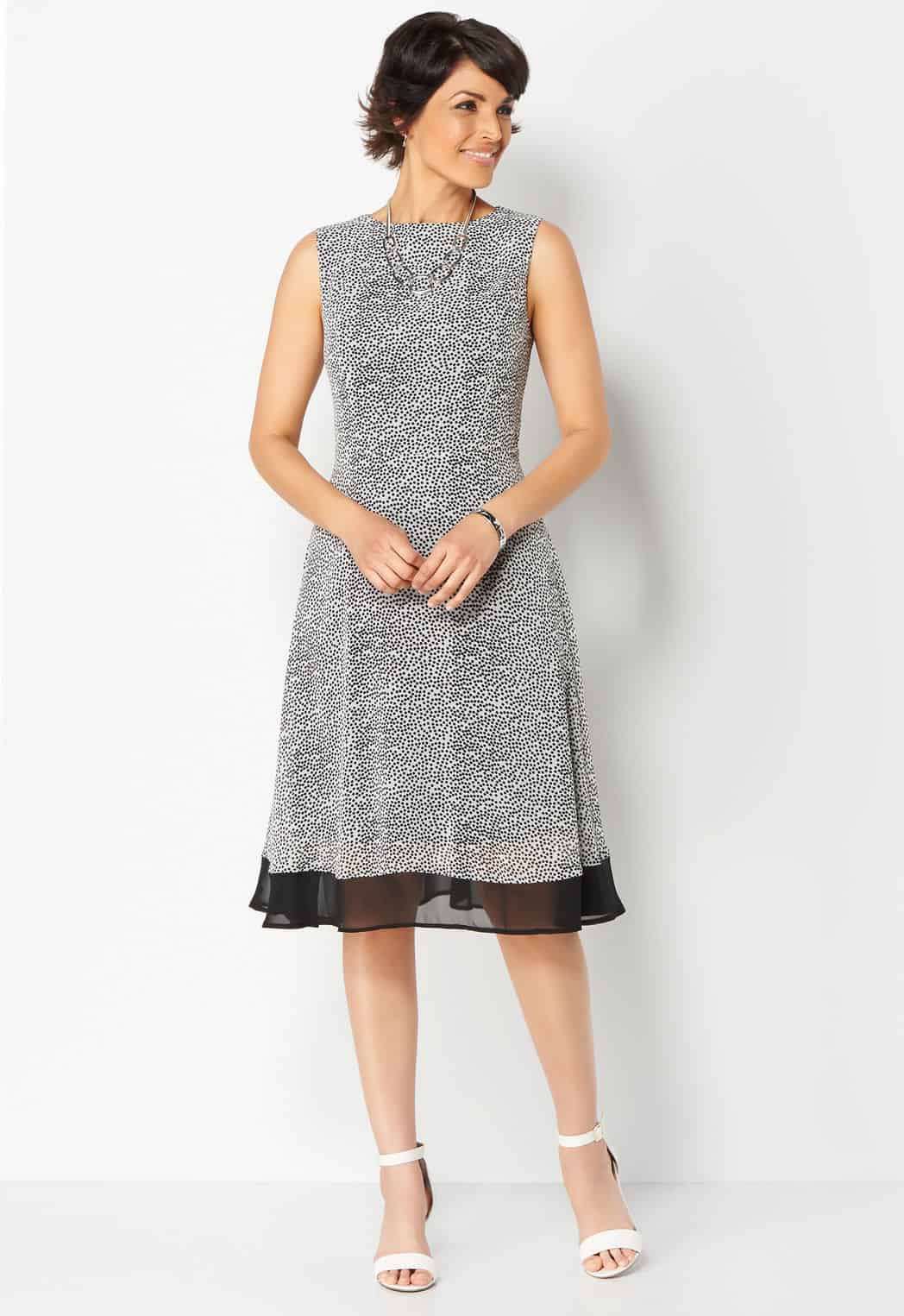 This is one of those rare special occasion dresses that's both modest and sexy. A cinched waist and sheer detail at the hem creates a modern, flattering silhouette. The length is perfect too — the polka dot pattern falls just above the knee, but the sheer panel keeps the knees covered. Your arms will go bare, but you have the option of adding a sheer wrap or shawl. Another plus is this piece is available in a wide range of sizes, missy and women's.
For more inspiration, see our guides for what to wear to a spring wedding and what to wear to a summer wedding.
Do you have a success story for what you wore to a wedding after 60? Let us know in the comments!
If you liked this post on what to wear to a wedding when you're over 60, you might like these too: