Dear Budget Fashionista:
I am a stylish soon to be mother-of-the-bride. I have been searching for something stylish, but all the dresses I've seen are for unfashionable ! What are some tips to help me find a hip mother of the bride dress without spending a fortune?
Answer:
Just because your kid is getting married, that doesn't mean you need to look like Whistler's Mother (you know the famous painting of the mom in the rocking chair). You can and should be as fashionable as you can be- you will be seeing folks that you haven't seen in years (including that one annoying cousin), so we put together a several mother of the bride options for the big day.
How to Find Mother of the Bride Dress
1. Shop Early – Since most weddings are planned well in advance of the actual date, moms of the bride should take advantage of the end of season clearance specials and discontinued dresses that are often offered for way less than you will find anywhere else.

2. Think of the Future – In most cases, wedding attire for the wedding party and parents of the bride and groom are bought simply for that one occasion. When shopping for a dress, consider a basic style that will be suitable for other occasions post-wedding. While you may be extending your budget a bit for the wedding, you could end up saving yourself top dollar down the road by having a nice, formal dress for other occasions. Skip beads and sparklers and go for basic but beautiful.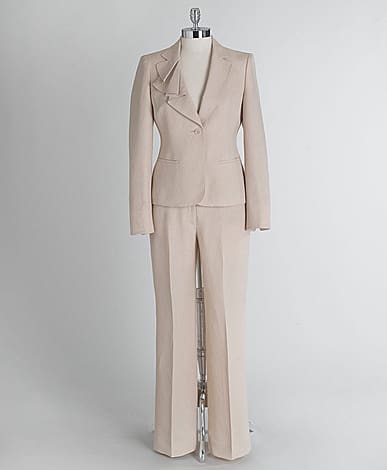 3. Think outside of the box. Unless it's a formal wedding, leaving the sequins at home. Try a different option like a nice pant suit. Bluefly has some classy evening suits by designers like Valentino and Escada, on sale.

4. Think Outside of the Wedding Store – Interestingly, you can often find dresses that are very similar to those found in a wedding shop but cost way less if they are bought in a non-wedding store. Try a nice, dressy pants suit from a store like Ann Taylor or check out the clearance racks of your local Macy's or Dillards for suits from brands like Tahari. Seems that putting the word "wedding" in front of another word, raises the price. Instead of shopping for mother of the bride gowns, try looking for shops that carry evening wear, cocktail dresses, or formal wear.

5. Get it made. This is great option if you know someone who can really sew. Also, try calling your local fashion design school and get your dress designed by an up and coming designer.

6. Bring your daughter or daughter-in-law. In an effort to be hip, make sure you are following the style that your daughter has set for the wedding.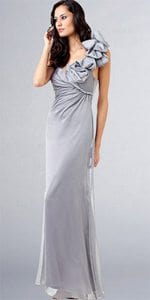 7. Avoid White. Unless it's a white themed wedding, avoid the color white. However colors like gray, beige, etc are great options for dress colors.

8. Expand Your Territory – Even if you live in the smallest town, the internet brings nationwide shopping right to your doorstep. Browse styles, colors, and designers online at different locations to compare prices. Many times there will be discounts available only to online shoppers. If you find something you love, go first to a dress store where you can have precise measurements taken before ordering. Also, it may be wise to have an alteration specialist on hand in the event you need some additional touch ups to the dress. Do not order online if you are in a hurry for a dress.

9. Go Consignment – Consignment shops are a great place to find an affordable mother of the bride dress. Shops typically are very particular about the merchandise they resell and since many mother dresses are only worn once, you can often find a basically brand new dress for a considerably less price.

10. Budget Borrowing – If you find yourself in a situation where you have a non-existent budget when it comes to a mother of the bride gown, perhaps there is a relative or friend that would be happy to lend you their own dress. But make sure they're a distance the relative or didn't wear the outfit to a wedding where they were photographed. You can also try online rental sites like RentTheRunway.com, that allow you to rent your dress/outfit for less than $50.