In the mid-2000s, TJ Maxx took a page from Loehmann's Back Room and rolled out designer boutiques to 40 stores around the country. Called The Runway, the store-in-a-store would feature garments from European and American designers priced up to 60% off retail.
Today, The Runway is still alive and well. It's likely you've shopped TJ Maxx's Runway without even knowing it — ever wondered why some TJ's are amazing and others are not? The answer is usually because the amazing store is a Runway store.
What designers are at The Runway by TJ Maxx?
As with TJ's normal selection of garments, the inventory is always changing. You might find a Vince jogger set at the Runway today, for example. But once that jogger's gone, it's probably gone forever.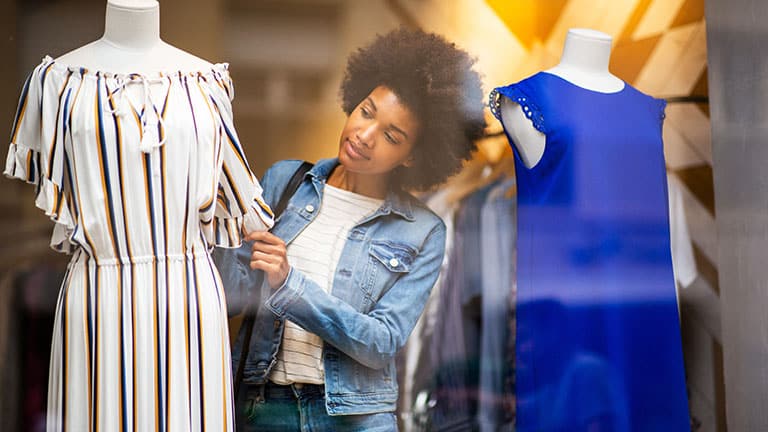 That means I can give you a list of designers that have been in TJ's Runway store, but those designers may not continue to be represented at TJ Maxx. As long as we're clear on that caveat, here are some designers that you *might* find in a TJ Maxx Runway store:
Akris
Balenciaga
Herve Leger
Givenchy
Gucci
Saint Laurent
Stuart Weitzman
Valentino
Vince
Jason Wu
That's just a taste. Some Runway designers are very big names. But as you might expect, you're likely to find last season's stuff or pieces that are a step below what you'd find at Last Call.
What are the prices at TJ Maxx Runway stores?
Budget Fashionista Tip: Get coupon codes now with Capital One shopping. Here's how.
To set expectations, the "discount" prices at Runway stores will feel astronomical if you're a regular TJ Maxx shopper. To give you an example, you might find a Gucci bag for $1,700 instead of the normal $2,200 price.
Can I shop TJ Maxx Runway online?
Yes, you can shop TJ Maxx Runway online here. Sizing in the online store can be limited. You're likely to find the same issue in the stores.
Does Runway have men's clothes?
Most of the Runway stores focus on women's pieces, but more than 40 of them have men's collections also.
Which TJ Maxx locations are Runway stores?
You can find TJ Maxx runway stores in the following states:
Alabama
Arizona
California
Colorado
Connecticut
Washington, D.C.
Florida
Georgia
Hawaii
Illinois
Kansas
Massachusetts
Michigan
Minnesota
Missouri
North Carolina
Nevada
New Jersey
New York
Ohio
Pennsylvania
Rhode Island
South Carolina
Texas
Tennessee
Virginia
Find your closest TJ Maxx Runway store here.
How should I shop TJ Maxx Runway?
Use the shopping expertise you've developed from following Budget Fashionista over the years! If you need a recap, try our best shopping tips here.
The most important thing is to assess a price tag by the value you'll get from that garment — not the name on the label. That sounds logical, but it's harder to do in practice. Something happens when you see your favorite designer, be it Chanel or Jimmy Choo, on a label. Your brain tells you in that moment that $349 is a good price for shoes.
You'll have to rein in that impulse while shopping at Runway stores. You might see big labels, but don't get attached to anything until you: check the fit, check the quality, and confirm you can make an outfit out of that piece with clothes you already own. If you have to buy a new bag on top of the $349 shoes, it's not a good deal.
Also, keep the return policy in mind when you shop — just in case you have buyer's remorse.
Basically, shopping TJ Maxx Runway isn't much different than shopping regular TJ Maxx stores or any other store. The prices might be higher, but the shopping fundamentals are the same.