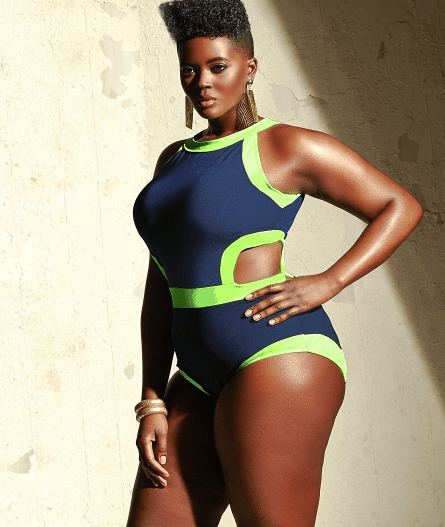 Yes, we love lying out at the beach and playing in the pool, but even the most enthusiastic shoppers dread the thought of searching for a swimsuit, and we don't blame them. Never is it more important to find the garment that flatters you best, and it must look perfect when you buy it– swimwear is tough to tailor.
Best Swimsuits for Large Breasts
If you have a larger chest, you're probably one of the ladies who loathe swimsuits. You're looking for some more coverage or support in a swimsuit top, but don't want to look like you're wearing a granny suit.
Our solution? Look for three things: underwire tops, suits that are sold as separates by cup size, and banded halter tops.
Underwire
Underwire tops have wiring under the bust to support you just like an underwire bra would. Victoria's Secret and other intimates retailers such as Soma and Bare Necessities are great places to look for these type of tops, since they've got "support" down to a science. Think of it like buying a bra. Many of the Victoria's Secret bra styles, like their "Very Sexy" and "Bombshell," come in swim tops too, so if you have a favorite bra style, there's a good chance you'll be able to find it as a swimsuit. One note: many underwire swimsuit tops come with padding. Since you clearly don't need that, make sure the padding is removable before purchasing.
Separates
Swim separates that come in cup sizes are another good option. Instead of sizing S-L, they come in cup sizes A-DD or larger. A great swim company who specializes in larger-cup-size swim separates is (Aerin Rose) and Monif C if you're plus size. . This swimsuit line is made especially for larger busted girls and goes up to cup size G. Remember, if you're big in the bust, but not in the booty, you'll need to buy your top and bottom separately, so one-piece suits are not for you. And make sure you try them on!
Halter
Finally, here's a little secret the girls at the store Everything But Water shared with us. Two words: banded halter. The banded halter top is a great shape that offers coverage and support without the sometimes more obvious outline of an underwire. Look for a thicker double-stitched band that goes around the body right under the bust. Stay away from the string halter and stick with this slightly thicker shape. Everything But Water has a great selection of banded-halter-top suits from tons of different swimsuit companies that range in price.