This post may contain affiliate links. See our privacy policy.
Just a few weeks ago we were still talking scarves, coats and sweaters. But somehow we've fast-forwarded past the long winter, head first, into warm and sunny days. And before I've even put the sweaters away, it's time to plan my swimsuit game for the season.
Fortunately, the swimsuit trends this year are fun, flirty and creative — without being teeny tiny. And that means there are so many, eh-hem, sensible options for an over-40 gal like me.
What's Trending by the Pool
1. Color Explosion
The swimsuit rack this year promises to be a full visual experience. Monochrome styles are taking a backseat to pattern explosions: florals, fun prints, polka dots and stripes. If you like to make a statement at the pool, have a shockingly bright, striped number at the ready. Or, play in the conservative waters with a muted colorblock style. When you must go monochrome, the trends will push you to saturated, primary hues — have fun with fire engine red, royal blue or sunshine yellow.
2. Creative Cuts
Once your eyes adjust to the color bomb of the bathing suit display, you'll have to get oriented to a giant selection of cuts. That's a good thing, because there's a little something for everyone:
Ruffles: wear them to add curves or hide trouble spots
High-waisted bottoms: perfect way to flaunt retro sexy style — no six-pack required
One-shoulder styles: hard to wear, but high five to you if you can pull it off
One-piece with cutouts: a more forgiving bikini, which is only the best thing ever
Belted styles: show off your waist and your sophistication
Lastly, remember to bring your patience with you to shop, because the cut-outs and creative one-shoulder designs are bound to get all tangled up with each other. Just saying.
Swimsuit Trends: Picks for the 40+ Crowd
1. The modern one-piece
2. Off Shoulder Fun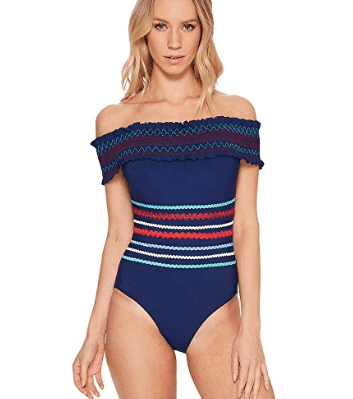 The Smocked Off Shoulder One-Piece Swimsuit ($88) by Red Carter visually slims the waist with brightly colored bands across a navy background. The flirty off-shoulder design coupled with a full-coverage bottom delivers sex appeal in a conservative kind of way.
3. Glam Girl's Pick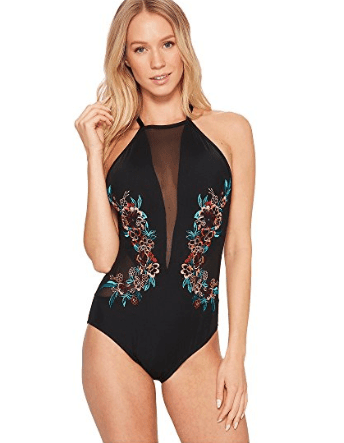 How about a one-piece swimsuit with an evening gown vibe? Try the Mesh Embroidery High Neck One-Piece Swimsuit ($61.50), featuring a lower-cut thigh and a deep v neckline adorned with a mesh panel. The mesh keeps you covered and holds your swimsuit in the right place — just in case you want to do more than lay in the sand. And, if you add a pair of denim shorts to this suit, it's an outfit!
4. The Retro Bikini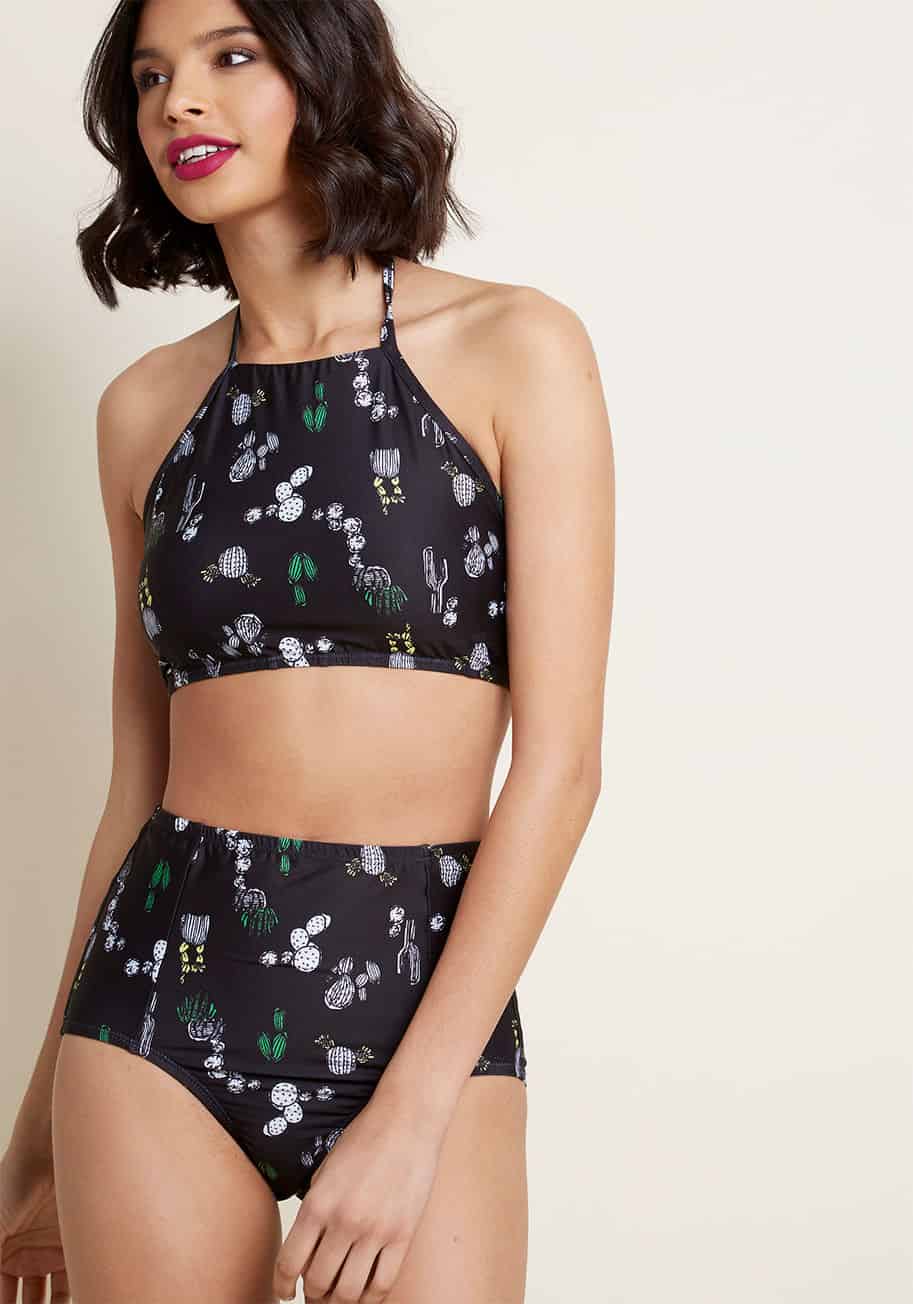 The Sunrise Swim Bikini Set ($94) from Modcloth strikes a perfect balance between modesty and style. A high-waisted bottom and high-neck top work together thanks to a fun print that doesn't take itself too seriously. And, bonus, you can wear the top as a bralette or crop top with your breezy summer ensembles.
5. The Tankini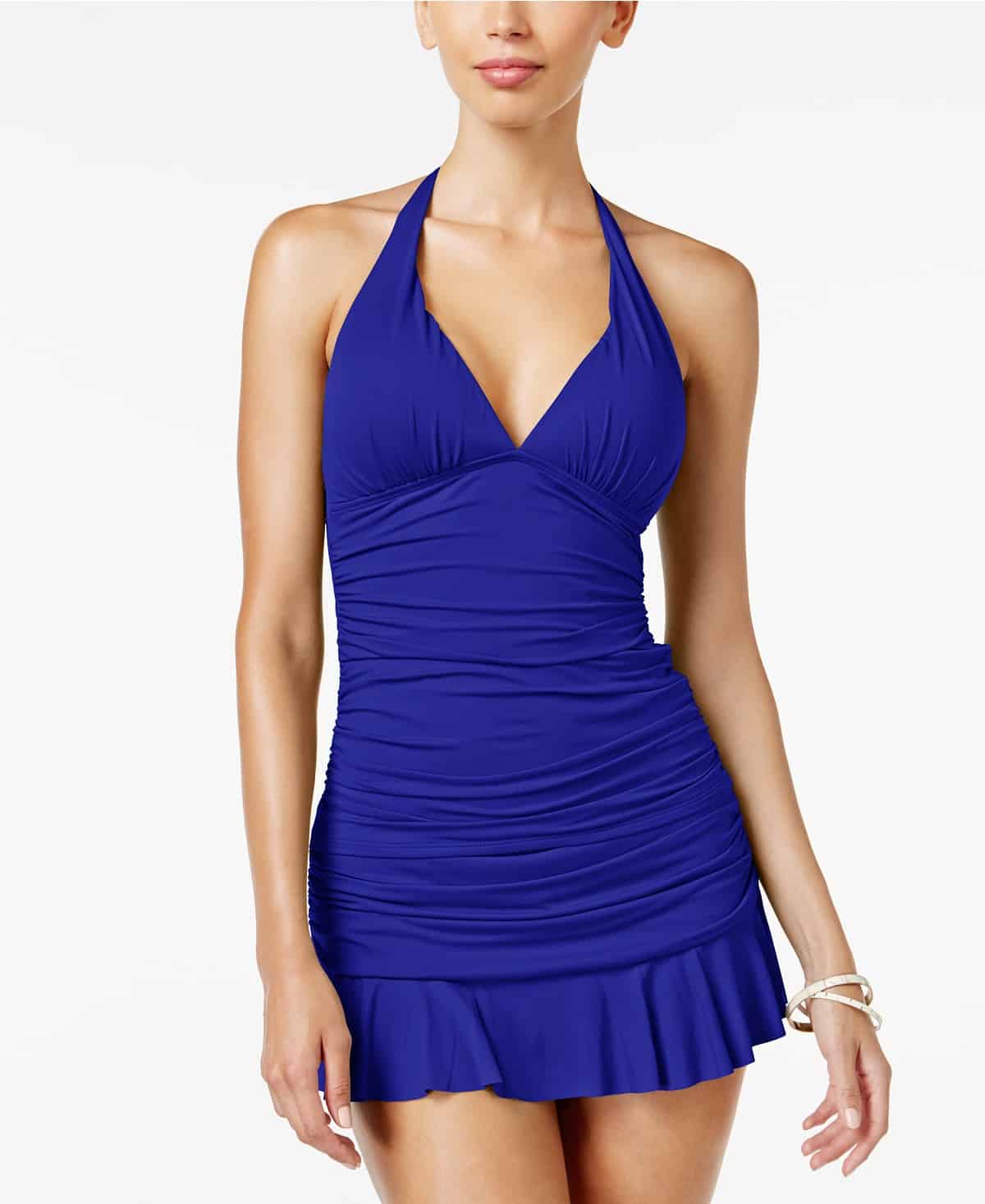 This royal blue swimsuit set ($166) consists of a ruched tankini top and skirted bottom. A flattering v-neck, halter style draws all eyes to your top half. You could rock the whole set with a pair of heeled sandals and drop earrings. Or, separate the pieces and wear the blue tankini with your favorite neutral-toned bottoms, for example. If you want to show off your curvy waistline or those killer abs, try the skirted bottom paired with a sexy triangle top.
6. Finished with a Bow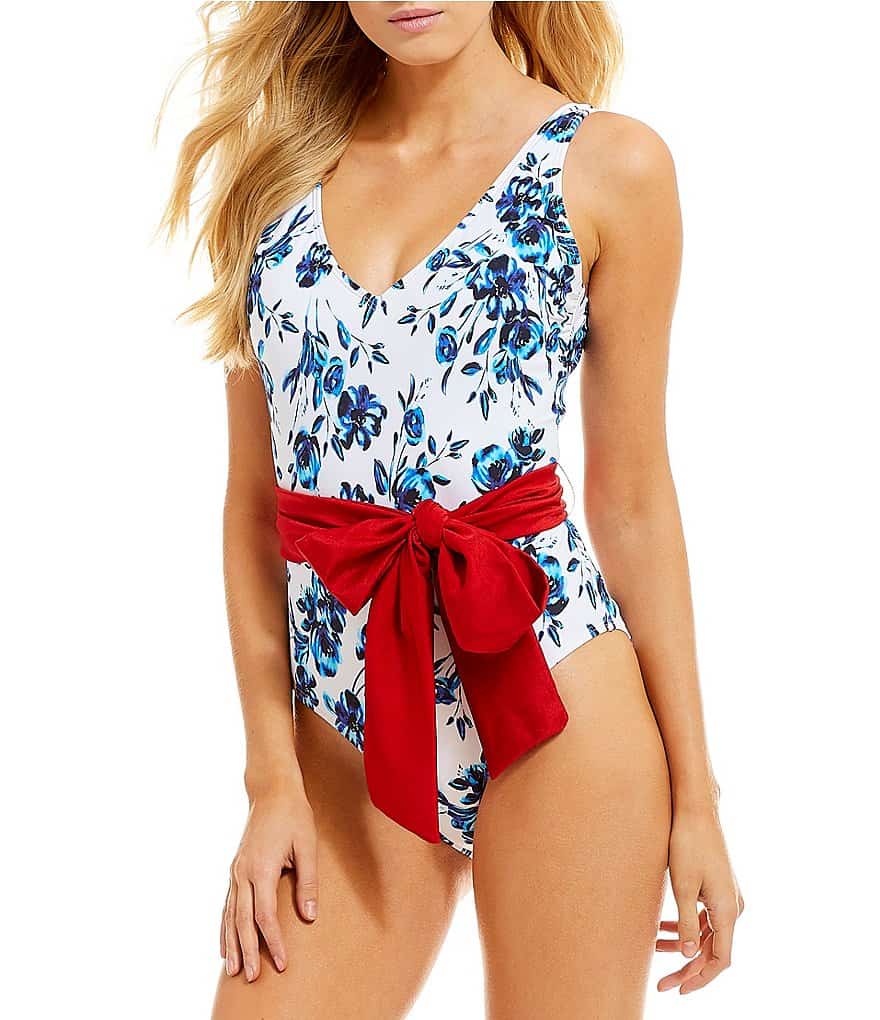 Antonio Melani Belted Bow Tie Knot Waist Swimsuit ($108) isn't practical for watersports, but if you're more into relaxing with a magazine by the pool, you might as well do it in style. A big red bow nods to the trends and adds definition to your waist. A low back will keep anyone's attention as you stroll on by wearing your floppy straw hat.
What's your favorite swimsuit trend this year? Let us know in the comments.