The Budget Fashionista's Annual "Being Broke Ain't Cute" Series features tips and advice to help you improve your personal financial health. For more personal finance information, please visit our Financial Health Series.
For this very special edition of celebrity style reconstructed, we break down the personal style of America's favorite personal finance advisor, the amazing Suze Orman.
There's no doubt that Suze Orman's style comes from, well, Suze Orman and nothing is more stylish than a woman who understands and develops a personal style that comes from within herself (versus some hired stylist). From her love of a good jacket to her stylish and easy to take care of short hair-do, Suze's style reflects her bright personality and the realities of being a financial advisor to millions, without drowning herself in traditional banking blue. While we want our financial peeps to be fiscally prudent, Suze shows that as financial person, you don't have to carry that prudence over to your wardrobe.
Here's how to get Suze Orman's style
The Suze Orman Jacket Strategy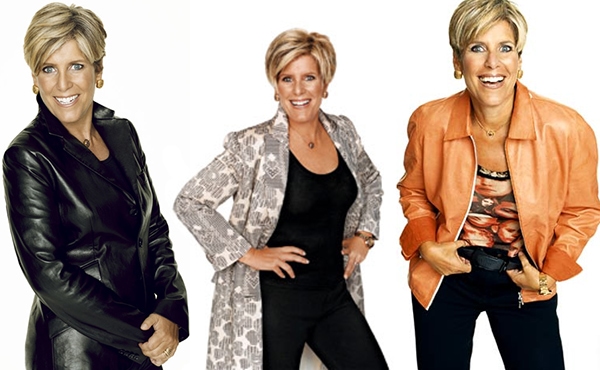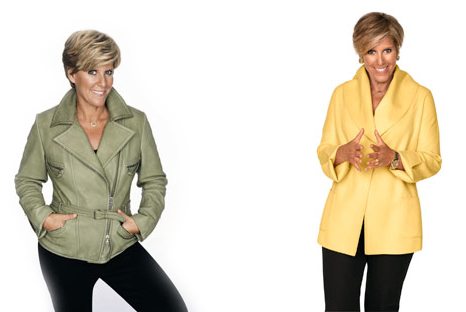 Suze's love of jackets is well documented (Saturday Night Live's Kristen Wiig does a HILARIOUS send up of Suze and her love of a good jacket). Jokes aside, Suze's strategy of focusing on colorful tops and simple bottoms is great for those who either don't like to shop or find styling themselves each morning to be one step above getting a root canal.
Here's How to Apply the Suze Orman Jacket Style Strategy to Your Closet:
Create Three Sections in Your Closet
Cut three pieces of cardboard in about 3 inches height by 4 inches wide.
Write "jackets", "tops", and "bottoms" each on a separate piece of cardboard
Cut a slit in each piece (big enough so they can fit snuggly on the bars/railings in your closet)
Divide your closet into each of these sections (ie. pants in "bottoms" section, shirts in "tops" section, etc).
When going shopping, focus on purchasing tops in colors that work for your coloring (Here's some tips for finding colors that work for you), but keep your bottoms (pants, skirts, etc) as basic as possible (meaning black, gray, dark brown).
Buy Pieces That You Can Wear Again (and Again)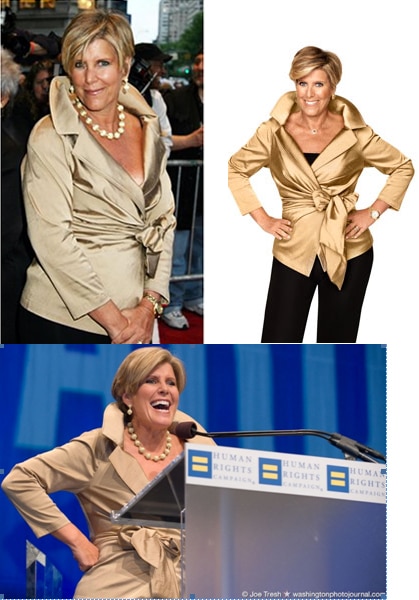 Take a page out of Suze's style book and buy pieces that you love and that can worn time and time again. I can imagine Suze applying the Cost Per Wear(TM symbol) to her purchases at the local Chicos and by the look of it, it seems like it's working. Now we're pretty sure that the bronze shaw collar jacket wasn't exactly budget, but as you can see Suze is working it on the red carpet, at a photoshoot (color change due to photo editing), at the Human Rights Campaign's Annual Dinner in 2008, and on the red carpet as one of TIME Magazine's 100 most influential people
Keep it Short, Keep it Highlighted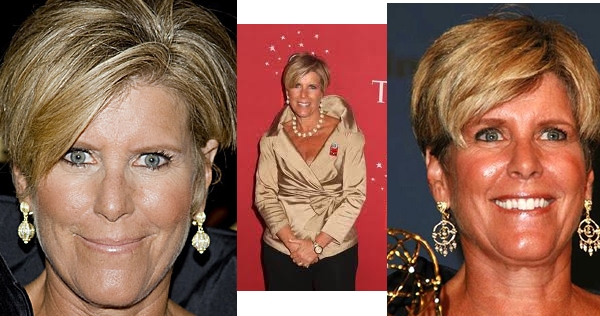 Busy, mature fashionistas should pay particular attention to Suze's easy, nonsense short hair do. Now, before you write a ton of comments about the length of women's hair, there are reason behind this advice- highlights reduce the contrast between your face and your hair (thus reducing the appearance of wrinkles) and long hair draw attention to a problem area for more fashionistas of a certain age (especially if you hate your neck like Nora Ephron).