Black may be the unofficial super-chic uniform of fashionable New Yorkers, but it can also get monotonous and, well, it reminds us of funerals. If you're looking for a new neutral to don once post Labor Day, consider navy as your go-to neutral for fall.
Why Navy? Well, Navy is dark like black, which means it can be worn as a black-like neutral. Also because of the deepness of the color, Navy clothing on a budget rarely goes into the "cheap-looking-fabric" territory, a problem that often befalls that other alternative to black, brown. Furthermore, we're kinda of sick of wearing black all the time, and love the idea of adding a new color base to our closet.
Why Navy is Fall 2011's New Neutral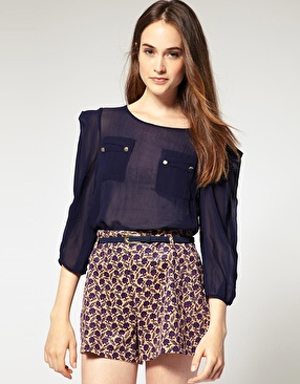 It's Easy to Match
We think navy works great as a neutral because, as any neutral should, it goes with almost anything. Whereas black paired with neon accessories has the ambiance of a bad 80s music video, navy with the same bright garnishes feels fresh. If bold trimmings aren't your thing, consider matching navy with shades of the same color family–think a eclectic navy blouse like River Island Two Pocket Chiffon Blouse (ASOS, $48) blouse tucked into your favorite pair of jeans (any wash will do). Other neutrals (black, white, khaki) and prints all work with our beloved navy as well.
Navy is Classic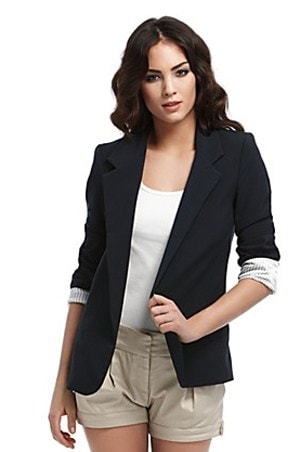 When we think of navy, we see visions of classic nautical stripes. Like the essential Little Black Dress and pearls, navy never goes out of style. This makes navy a great option for those investment pieces we are always preaching about. A cherry red blazer is more of a financial risk than the same blazer in navy. We're making room in our closet for this Fitted Girlfriend Blazer (Bloomingdale's, $88). A nice navy jacket or sweater will always have a place in your closet, no matter how often you may play fashion editor. What's more, navy works for the office, date night, or even outerwear (and sometimes all three at once).
It's Festive
We know you've got some fabulous parties to attend this fall and we want you to look the part. Pairing navy with metallics will lift your ensemble from daytime darling to party girl gorgeous. We love the thought of a LND (little navy dress for those of you not paying attention) with silver or gold shoes, clutch, and jewelry. Zara's Tiered Dress (Zara, $59.90) begs to be paired with the metallic–or metallics–of your choice. (And if you haven't heard, Zara.com will begin taking orders in the US on September 7.)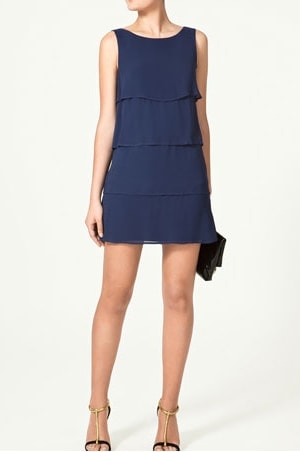 Thrift It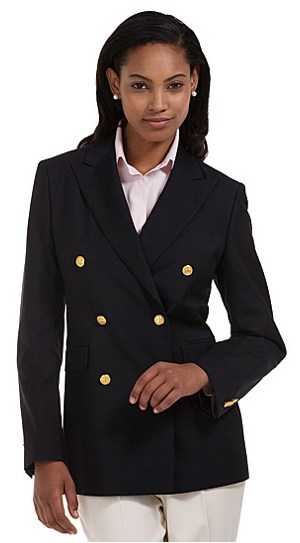 Your local thrift or consignment shops are great places to scout navy pieces, especially navy blazers. Search for blazers from fashion brands like Ralph Lauren, the king of the blue blazer, and from old school suiting brand like Brooks Brothers, Tahari and Kaiser. Also, check out the men's and boys sections for navy blazers you can have altered to fit your shape.