This post may contain affiliate links. See our privacy policy.
Crop tops are having another moment — and it's no surprise. The top has long been a favorite of stylish women who crave something cute, comfortable, and cool for balmy spring and summer days. In truth, the short top doesn't spend much time out of style. Well, except for a minute in the late-2000s when we all tired of seeing celebs wear crops with low-rise pants. Ick.
But every classic garment endures its low points and the crop is no different. Iterations of the look were popular back in the 1950s and '60s, and these tops have only gotten more versatile and wearable in the decades since.
There are many ways to wear crop tops, and most don't involve baring miles of your abs. Here are four inspiring crop top outfits, plus some styling hacks to make this look work for your body type.
4 Inspiring Crop Top Outfits
Layer under a blazer
Not everyone wants to wear a crop top that shows bare skin from all angles. One way around that is to top it off with a casual blazer to complement the top's low-key vibe. @ohhey_itsniko shows how to accomplish that by pairing hers with skinny jeans a pair of over-the-knee boots.
2. Pair it with high-waisted bottoms
If you want to bridge the gap between the top and the bottom, try a crop top that just skims the waist of a pair of high-waisted shorts or pants. Opt for something with a wider leg to add balance. @annmeiann wears her classy white crop top with chic red shorts for a look that's totally pulled together.
3. Opt for structured fabric
It's easy to get lost in the sea of great crop t-shirts when you're at the mall or shopping online. But those tops made with light, airy fabrics are likely to float away whenever you're in motion. Those are perfect to wear at the beach over a bikini top or bralette — but you'll appreciate something more solid when you're going about your everyday routine.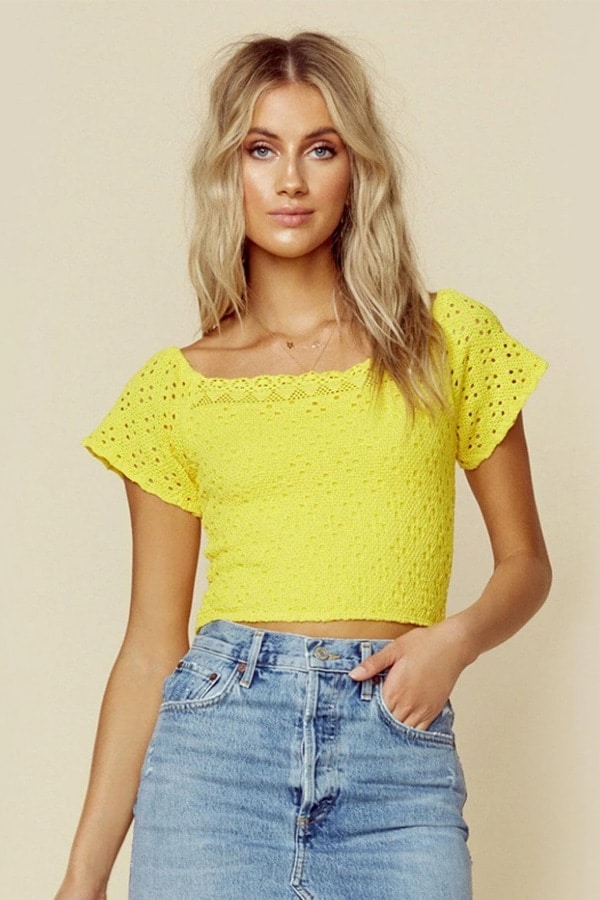 The bold Cabo Crop Top makes an outfit out of your favorite jeans with its eye-catching color and eyelet design. Cap sleeves and a stretchy, crochet fabric give this top a specific shape that you won't have to rearrange constantly. Close-fitting knit crop tops have the same effect, too.
4. Go for long sleeves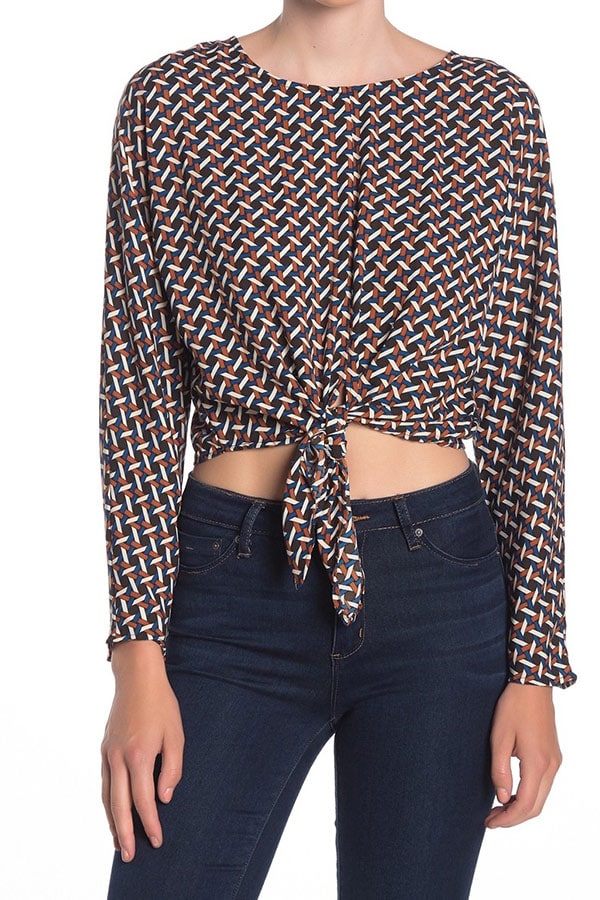 Long-sleeve crop tops are both flattering and chic. This tie-front style by Dress Forum features a lovely loose fit that knots in front for the right amount of shape. Plus it's dressy enough to convert your basic denim-and-top ensembles into something special.
Crop Tops by Body Type
Athletic
For the office, choose a crop that lands at the vertical center of your rib cage — the smallest part of your waist — and pair it with a high-waisted, knee-length skirt and heels. For more casual settings, go ahead show more skin. At night, you can pull this off without being trashy by choosing darker colors. During the day, try a cotton or linen crop top in a slouchier, boxier cut that hits above your belly button. Wear it with high-waisted denim, and finish the look with sandals or wedges.
Curvy
Curvy girls look fabulous in a crop that lands at the natural waist, just a bit longer than the athletic girl's optimal length. Lean towards more sophisticated materials like silk, but make sure your tops are structured enough to provide support and definition to your chest. Add a knee-length skirt or slacks that also reach your natural waist. Anchor your ensemble with heels or heeled booties to add height to your frame. You can also play around with a high or boat neckline, paired with a high-waisted maxi skirt. This outfit has a beautiful, breezy, casual look.
Petite
Boxier crop tops will overwhelm your small stature, so choose a fitted piece that's specifically designed for petites. Look for a top that has structure and texture, so it doesn't resemble a sports bra. Pair it with paperbag waist pants and sandals.
Over 50
Don't doubt for a second that you can pull off a short top — even if you prefer to keep your bareness to a minimum. Try a long-sleeve crop, paired with high-waisted bottoms with a looser fit. Steer clear of palazzo pants and go for a more structured trouser. This combo will emphasis your waist and look classy at the same time. Add mules and you're good to go.