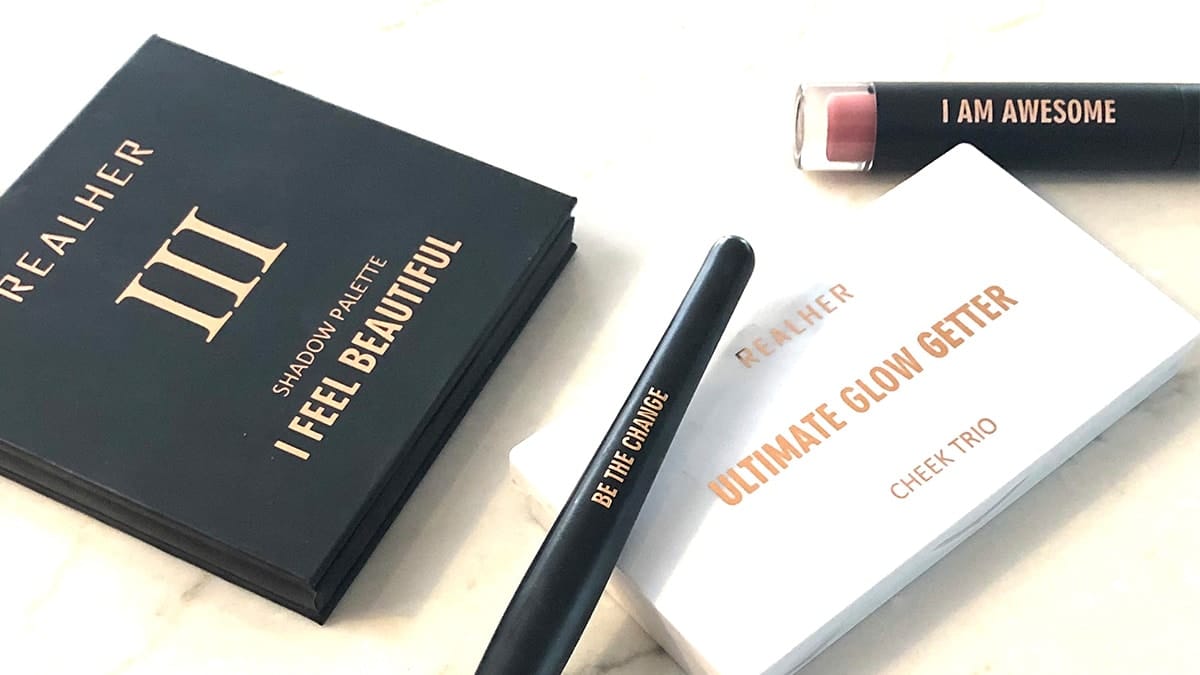 This post may contain affiliate links, which means I earn a small commission if you click and buy something (at no cost to you). See our privacy policy.
What is Realher Makeup
RealHer is a beauty brand that — wait for it — tells you how fabulous you are. Each product boldly features a positive affirmation in all caps. If RealHer makeup were low-quality, this might feel gimmicky. But the opposite is true. I found the products to be very well done: shadows that go on smoothly, lip gloss that feels amazing, and bronzer and highlighter that glows just enough.
Realher price points are comparable to department store beauty prices. You can grab a luscious lipstick for $18, a nine-color shadow palette for $28, and a pencil eyeliner for $16. While this is more than you'd spend on makeup at Target, I deem this stuff splurge-worthy. The quality is quite good, the packaging is beautiful, and the affirmations will make you smile.
Shadow palette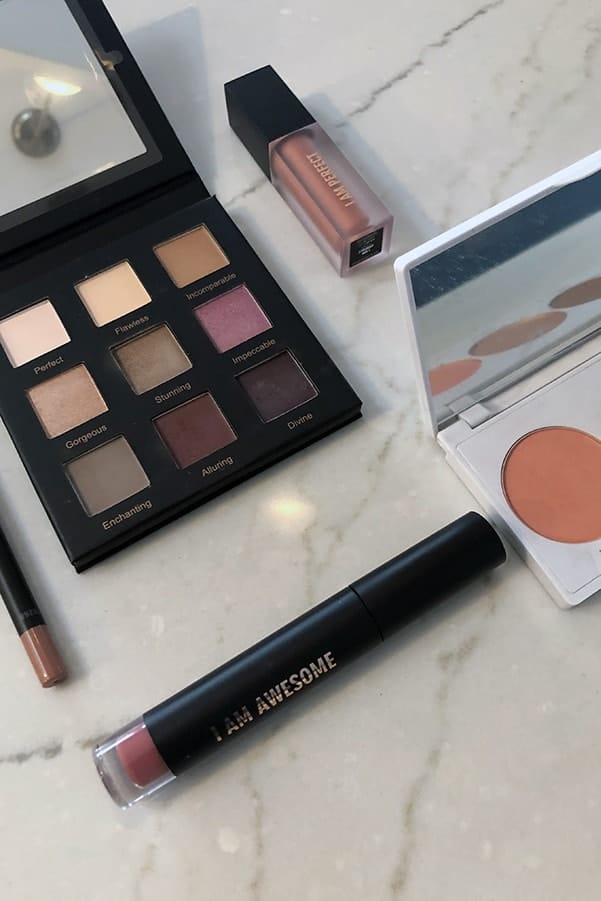 I have the "I Feel Beautiful" shadow palette, which features gorgeous jewel tones and neutrals. The taupe "Stunning" shade is easy to wear right across the lids with mascara for a natural look. I've used the darker colors "Alluring" and "Divine" as liner. Using a moist applicator brush, these glide on smoothly and with the precision of a wet eyeliner.
Lip kit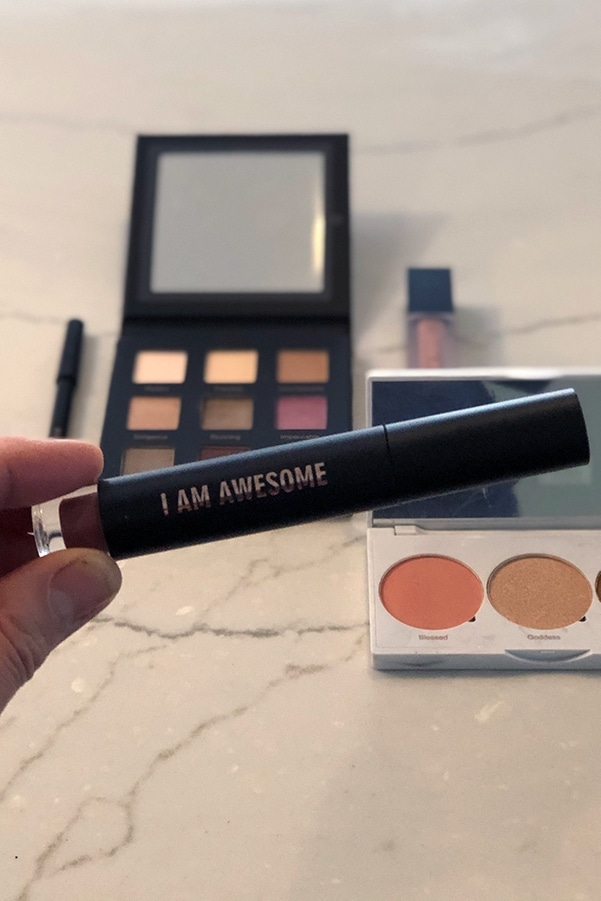 Realher's lip kit includes a lipstick, lip liner, and gloss. The "I Am Awesome" set features pretty mauve tones that are super versatile. The lip stick and lip liner stay put in a fairly impressive way. I've taken to wearing the lip gloss often, because it's such a beautiful color and I love the way it feels.
Cheek trio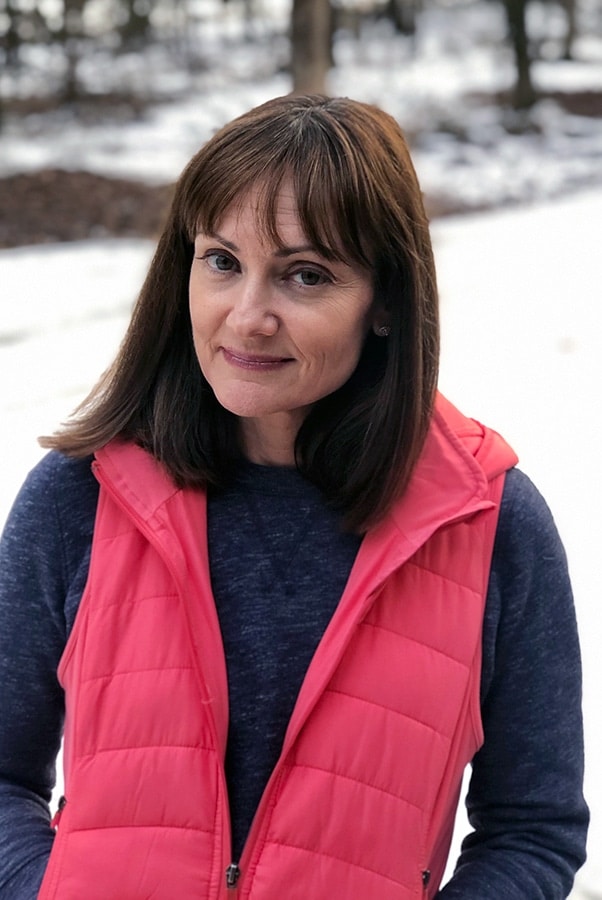 The cheek trio contains a bronzer, highlighter, and cheek color, with instructions on how to use them. I like to be subtle with highlighting and contouring — so I appreciate that these colors go on softly. If you want a more dramatic effect, you can layer.
Why Buy Realher Makeup
You could splurge on a Realher lip gloss for yourself, but this line also makes a lovely gift for your bestie. And guys, you can get in on this too. Just stick with products with generally positive affirmations like "Eye Am Amazing." Skip the "Do Your Squats" eye shadow palette, though, as that may send her the wrong message.
It's also noteworthy that Realher is certified cruelty-free and paraben-free. In line with the mission to empower and support women, the brand also donates a portion of proceeds to causes that benefit women.
Where to Get Realher Makeup
You can pick up Realher products at Realher.com or Macys.com, NeimanMarcus.com, or HSN.com.
Thank you to the RealHer team for providing the makeup referenced in this review.