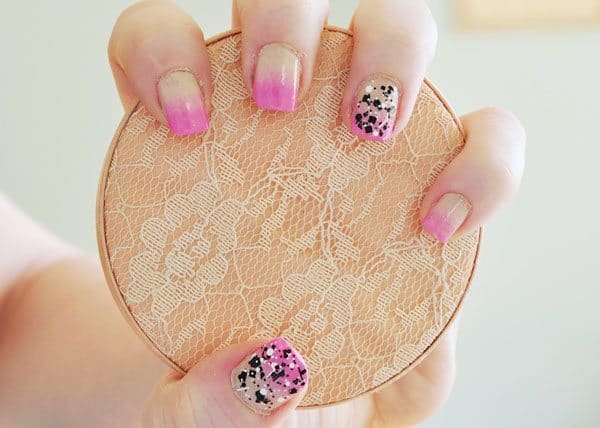 Any serious nail painting guru knows that independent nail polishes are where it's at in terms of manicure "wow" factor. Sure, Zoya and China Glaze and Essie and OPI are always coming out with amazing colors and textures and sparkles, but when you're wearing something that's a little less "mainstream," it's almost as if you have an edge over everyone else. Also, there are only so many nail polishes you can buy before you've already purchased the entire collection. Your next step, naturally, is to go for indie polishes.

Today I'm dishing on one of the more coveted independent polishes to hit the nail market: Cover Band Lacquers Sticks 'n Stones. This nail polish, a matte, black-and-white glitter top coat–has quickly become my favorite. Why? Because it takes literally any manicure and makes it a million times more awesome. Seriously–your nails never knew they could look this cool.
Sticks 'n Stones Nail Polish Review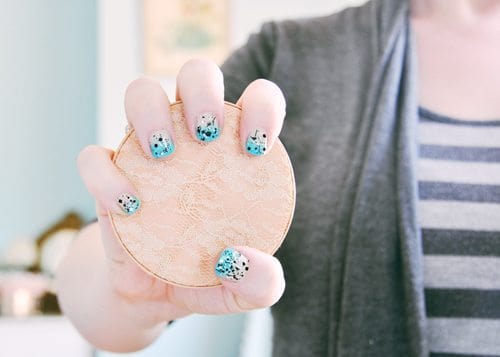 Sticks 'n Stones nail polish is sold exclusively on NinjaPolish.com, where you'll find oodles of more indie nail polishes. You'll probably need to sign up for the waiting/notification list since this bad boy sells out quickly. Sticks 'n Stones is modeled after another indie nail polish by Lynnderella called Connect the Dots. I haven't personally tried the Lynnderella version because a) it's nearly impossible to find and b) when you do, it sells for upwards of $100. (Yes, nail polish fanatics are slightly insane.) However, I have seen many a comparison online and I do prefer the chunkier glitter of the Sticks 'n Stones nail polish.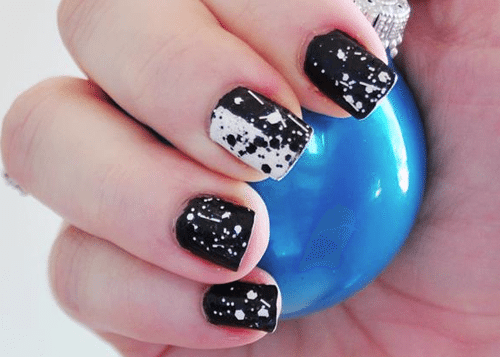 Like most glitter polishes, Sticks 'n Stones is difficult to remove. While that's annoying come removal time, it's awesome throughout the duration of your manicure. I've actually been able to wear it for over a week at a time without any chipping. Impressive, no?
Sticks 'n Stones sells for $9 and is worth every single cent. You can apply it over a gradient, over naked nails, a geometric design or a solid color. It can take on a retro vibe, when paired with certain colors, or even a paint-splatter effect.