Saying goodbye to the cold may feel pretty satisfying, but it's not nearly as much fun as welcoming spring with a smile and some fresh, on-trend garments.
Spring is most liberating shopping season of the year, too. It's a time when we go bolder with color and pattern choices. We can expand or even contradict our "go-to" looks. We can go a little crazy, and simply chalk it up to spring fever.
Here's a look back at old spring fashion trends from years past. And see our post on spring 2023 fashion trends.
2019 Spring Fashion Trends
From brilliant hues to out-there prints, there was something for everyone in the 2019 mix. Here are eight of our favorite styles from the 2019 spring trends.
1. Scarf prints
Was the scarf print ever not iconic? The beauty of its reemergence is that you now have full excuse to break out your inherited Pucci scarf or slip into the wrap dress you inherited from your mom's glam '70s wardrobe.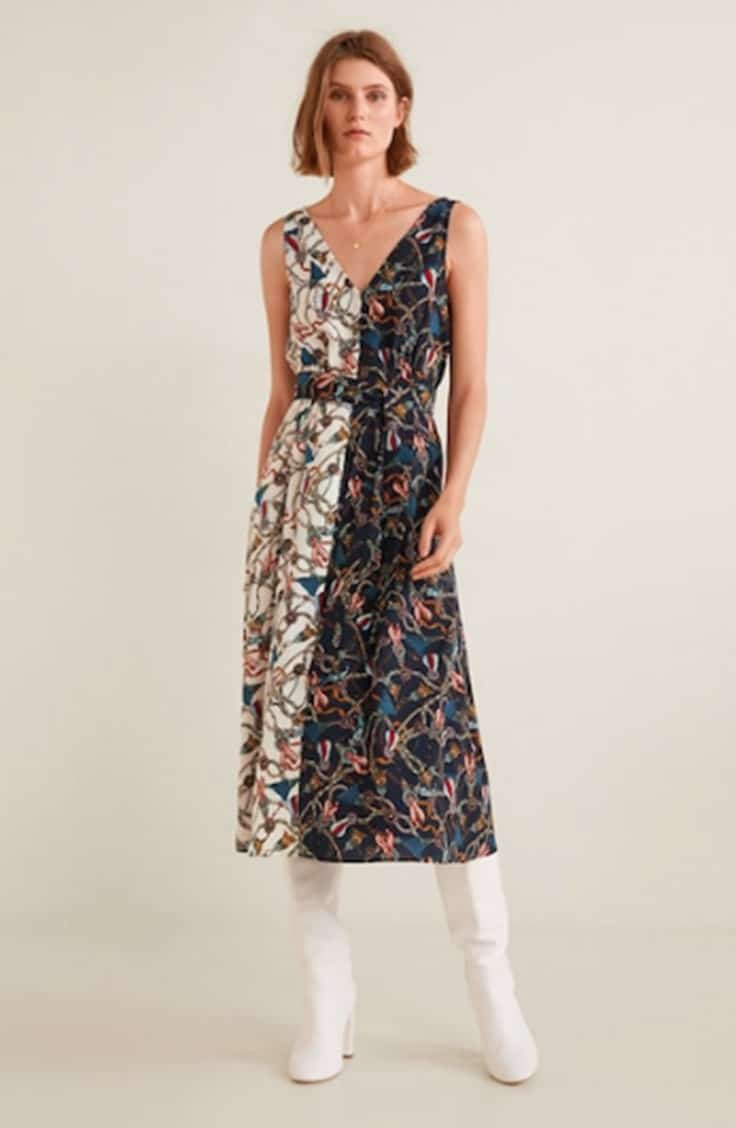 Or you could easily add something beautiful, like this scarf print dress ($49.99), to your closet.
2. Sweet butterflies
True, you're not in kindergarten anymore, but if the runways are any indication, we're all taking a little style inspo from the younger set this spring. One bit of evidence: the vibrant butterfly is trending, and that adds a little girlish charm to any look.
Try these sweet Olivia Burton 3D Butterfly Stud Earrings ($45) to your rotation if you want to keep it low-key.
3. Fishnet everywhere
You don't have to be an '80s rock vixen to step out in fishnets this season. An open weave gives them a more modern look, and looks a little more laid-back than the traditional style.
Try these Steve Madden Single Openwork Tights ($9.97), which are adorned with gleaming stars for a fun touch.
4. Brilliant yellow
The beauty of yellow is that it instantly perks up any outfit! You can easily turn drab to fab by adding a pop of the sunniest hue of the rainbow to your look.
This LOFT Floral Wrap Blouse ($59.50) is a simple, head-turning top that also adds a pretty floral motif to the design for a fresh, seasonal design.
5. Cozy crochet
The crochet of spring 2019 is definitely not your grandma's pick. The trend leans more resort-chic, with a cool, nonchalantly chic vibe that makes it perfect for your mid-season getaway.
This breezy Tularosa Chunky Sleeve Sweater ($66) features intricately crocheted sleeves that lend it a cozy look. Simply gorgeous in this modern cropped style.
6. New neons
Do you dare? Neon everything is pretty much everywhere this spring, and it's definitely not a look for the wallflowers.
If you're bold enough to take the plunge, try something that's easy to dress up or down, like this ASOS Design Ruched Chuck-On Midi Dress ($48). Pair it with wedges or heels for a cute finishing touch.
7. Fiery magenta
Think of magenta as a fresher alternative to red. It's just right for your springtime events — perfect for adding a rush of heat to your ensemble and great for wearing with anything from white to black.
These Banana Republic Bare High Heel Velvet Sandals ($89.50) pack a punch with their pedi-baring open toes.
8. Dainty ruffles
The ruffle has a tendency to look matronly if you aren't careful. But you can elevate your look with a contemporary take, as seen on this DKNY Ruffled One-Shoulder Top ($47.40).
Tuck it into skinny black pants, a sleek pencil skirt, or throw it on with a pair of jeans and heels to shake up your look.
Hello Spring 2018 Trends
As in years past, the spring summer '18 runways predicted a fun line-up of fashion trends. Read on for some of our favorites, along with budget-friendly pieces you can work into your rotation now.
1. This Color Makes Me Blush
Big, bold primary colors will generally be a hit this spring, but fire engine red is one to watch. You can wear red on red, or easily pair red with grays, silvers, creams and blacks. Red and pink or red and orange are also successful combos, but not for the faint at heart.
Try adding a red trouser or red blazer to the mix this spring. Or, take a baby step with a bold red shoe.
2. It's Dazzling, Really
The sequin trend will continue this season. To avoid blinding your coworkers, save the sequins for dates and girls night out. These days, you can find fully sequined tops and pants along with the usual suspects of sequined-adorned shoes and handbags.
3. Everyone's Favorite Blue Times Two
'80s-inspired clothes are taking things to a new level as denim-on-denim outfits continue to trend high. The blue-times-two combo has long been a favorite street style look for celebrities — and thankfully, it's pretty easy to copy.
The classic double-denim outfit is simply a chambray shirt, medium-tone jeans, a camel belt and camel boots. But I like to mix things up too. Once you've nailed the chambray top, go for a ruffle or wide-sleeved denim top for a little something different.
4. A Clear Winner
The see-through trend is a thing, and it's happening at a mall near you. From clear plastic bags to dress and tops featuring sheer panels and sleeves, transparency is having a moment.
A plastic tote is your new weekend fun bag, and it comes with an added benefit. You won't throw as much junk in there when you can see it all from the outside. Trust me on that one.
Or you can nod to the trend in a more subtle way with a sheer dress or top. This kaftan-style top is so feminine, you'll love wearing it over a cami and your fav leggings.
5. Checks All the Boxes
We talked about the checked blazer in the fall, and now we're talking about checked pants and vests in the spring. In these warmer months, get your checked fix in with sleeveless pieces or a crop pant. Be particular about checked minis though — too short and you might be dabbling with a trashy vibe.
Spring Fashion 2017 Essentials
These spring fashion pieces are perfect for dinner with the girls, to the workplace if you're in a business casual situation or anytime you want to step up your casual look. If you need to stock up on the basics, see this advice from our friends at GreekU.com.
1. The Girly Top
Michael Kors, Chloe and others brought flirty flowers to their spring '17 designs — along with baby doll tops, lace and ribbons. The takeaway is that feminine is in, and in a big way. Nod to this trend by adding a few florals to your collection for spring. And since the next item on your shopping list is leggings, we'd suggest you go for at least one floral tunic.
2. Leggings with Style
Hot pink leggings with integrated shoes made their way into the Balenciaga collection, but we're breaking that look down into a more wearable combo: bright leggings and sleek, open-toe booties. This season, you can break out of the black leggings mold and experiment with new colors and fabrics. Corduroy or velvet, anyone?
3. Open-toe Booties
The open-toe bootie is a classic that can accompany nearly any trendy piece. They'll look as great with your fancy new leggings as they will with the jeans you bought three years ago. For ultimate wearability, look for styles with minimal embellishments — no fringe, no big buckles — and a sturdy block heel.
4. Shirt Dress
While feminine styles were aplenty, the runways also featured a selection of menswear-inspired pieces, like mechanic-style jumpsuits from Hermes and Vanessa Seward and a pinstriped shirt-dress from Alexander Wang. That's your signal to add a shirt dress or two to your wardrobe. We like options made of crisp fabrics that are long enough to pair with a belt. And you get bonus points for pinstripes!
5. Kimono Jacket
The kimono jacket is a timeless wardrobe pick and close cousin to the shirt-dress-and-belt combo. This style nods to the trench coats, cinched waists and belted robes (yes, that is a thing) that showed up in designer collections for the spring. Choose pieces with wide belts for the most impact.
Fashion Trends Spring 2015
1. Denim Watch
Tailored bell bottom jeans kicked skinnies to the curb. A good flare or a relaxed wide leg (bonus points for sailor buttons!) will get you far. Buy now, wear through fall.
Where to Budget Buy: Zara
2. To the Max
Chloe's free-flowing, floor-sweeping dress silhouettes have officially caught on with the rest of the design world. Ethereal goddess vibes commence.
Where to Budget Buy: Forever21
3. Rock your Body
Sleeved or not bodysuits have taken over the top game. Leave the crop tops to the kids and show a little skin in this more sophisticated manner.
Where to Budget Buy: Reformation
4. Go-Go Moto
They don't have to be neon or latex, but your leather boots do need to be boxy and at least knee-high to nab the nostalgic nod.
Where to Budget Buy: Nordstrom
Spring 2013 Plus Size Trends
5. Colorblocking
Accentuate your curves with bright and eye-focusing colors such as orange, pink, and blue. My friend loves this dress ($29.09) because it draws the eyes to your knees, which makes the entire outfit look lean and classy.
6. Key-hole Blouse
Key-hole blouses show a bit of skin while keeping "everything in place." I love the solids and patterns available at Old Navy for just $29. The cut, fabric, and look paired with shorts or trousers are a win for any size.
7. Forever21
With an entire section devoted to plus-sized fashionistas, anything and everything here is always in-style and of-the-season. LOVE this floral dress for $27.70.
8. GAP
Usually offers plus-sized versions of the regular and petite apparels, for spring (and summer) a GAP shirt-dress is a win. Tying at your slimmest part (your waist!) this classy silhouette works for day or night!
2012 Plus Size Spring Fashion Trends
Ok, we'll be honest, spring fashion is the furthest thing away from our minds right now (we are so into fall, hello orange!). But….. we did some spot some MAJOR trends during New York's Spring 2012 Fashion Week that got us crazy excited for the fashion outlook for plus size fashionistas. Check out our picks for best Spring 2012 trends for plus size women.
1. Peplum
We think peplum is so underrated. It was popular in the 80's and we just love how womanly the style is, so we're glad to see it as a trend for next spring. Designers like Jason Wu, Rodarte, and Thakoon embraced the peplum trend on their spring runways. Peplum is perfect for highlighting the curves of plus size women as well as creating curves for plus size women who have more of a square or round shape.
2. Crop tops
We see you giving us the side eye. Yes, plus size women can wear crop tops and look fabulous in them. Layer the top over a long tank or pair it with a pair of high-waisted pants.
Depending on your fashion courage level, plus size women don't have to expose their stomachs when wearing crop tops You can wear a crop top over a tank or a sleek dress. Even better, try one with a pair of high-waisted jeans.
3. Bold color blocked stripes
Stripes continue to be a major trend for spring 2012, with designers like Richard Chai and Tadashi Shoji showcasing the trend in their Spring Fashion Week Shows. However, for Spring 2012, the stripes show up on more feminine silhouettes, like on full skirts.
Faith21 plus which is Forever 21's plus size collection offers a super chic striped black and teal dress. It's perfect for fall and will work for spring 2012.
4. Mesh
Cynthia Rowley, Alexander Wing, and Donna Karan added mesh pieces to their spring 2012 collections in the form of dresses.
ASOS Curve offers a super sexy mesh panel body skimming dress in black up to size 22.
2011 Spring Trends
Here's a little review of what was hot in 2011.
1. High-waists and wide legs
Meet your new day-to-night bestie. Spring's sleek '70s-inspired jeans look cool again after almost a decade of skinny-jean world domination. Wear 'em with wedge heels and a tucked-in top to look long and lean.
2. Perky prints, lots of them
The whole anything-goes look continues to be a winner. Back in September, nearly every designer used this handy rule of thumb: Stick to one or two colors (or a few in the same family) when mixing and matching to avoid the crazy-lady look, but by all means, wear a floral dress, a patterned jacket and textured accessories, too.
3. Something sheer
The gauzy stuff was all over the Fashion Week runways way back in September. Our advice for wearing this trend in real life? Steer clear of the X-rated looks that leave nothing to the imagination. Wear a totally solid top over something sheer so you've got a sexy, filmy layer peeking out underneath.
4. Crop tops
Crop tops made a small impact last year, but they've gained momentum for Spring 2011. This is very much a high-summer 2011 look, one great for the hottest of weather and party atmospheres, such as festivals. It's risky, but it's fabulous fashion, especially with your high-waisted wide legs.
5. Japanese inspiration
One sure way to stand out in a crowd? Sport spring's vibrant Japanese-inspired pieces including obi belts, kimono-like coats and satiny pieces in festive blues and pinks (just not at the same time, or it looks too costume-y).
6. Neutrals
Sand, buff, beige—call it whatever you want, but we've seen boatloads of clothes in barely there pales on the spring runways. If you think wearing neutral shades head to toe will wash you out (or make you look naked) wear another color up top like always-chic black or a flattering red.
7. Preppy accessories
Dig through Mom's (or Grandma's) closet to find oldies but goodies such as ladylike watches, woven bracelets, tasseled loafers and a natty striped tote. Wear these once-out-of-date accessories all together (the more the merrier!) and look totally 2011.
8. Citrus hues
Orange ya glad vibrant citrus hues are big for spring! Okay, so that was lame, but seriously, we're especially psyched because the hot new color makes updating last summer's cobalt and aquamarine clothes a total cinch.
9. The 60s
Win major cuteness points in the tricky First Impressions round by wearing a hip A-line-shape coat in a bright, cheeky color. 60's inspired looks are super ladylike, accentuating curves and fostering femininity.
10. Comfort
So long, bandage dresses! Arrivederci, can't-sit-down short shorts! Michael Kors told said, "It's time to get rid of all those painful heels and too-tight dresses." Come spring, stores will be chock-full of looser, easy-breezier shapes like long, billowy blouses and swingy dresses. All we can say is Phew!