This post may contain affiliate links. See our privacy policy.
I just purchased a fantastic pair of silver, sock-style, open-toe booties. They were just what I needed to complete my NYE outfit (yes, I'm planning ahead this year!) and also carried the very comfortable price tag of $60.
NYE is an occasion that can easily lead to one-time-use garment purchases — the bane of a budget fashionista's existence. So before I hit "complete your purchase" for those booties, I spent a few minutes thinking about how I can realistically work bold silver footwear into my everyday wardrobe.
I'll share those bootie outfit ideas with you now — feel free to use them to justify your own purchase of flashy shoes!
How to Wear Open-toe Booties
1. Monochrome for Boots that Pop
Statement booties look fabulous as part of an otherwise monochrome outfit. I'm already picture my silver booties with black faux leather leggings and a lightweight black button down. If I'm feeling frisky, I'll add a pair of dark blue gemstone earrings. The simplicity of monochrome lets you get away with a blingy shoe even for more casual occasions.
2. Skinny Jeans and Long Sweater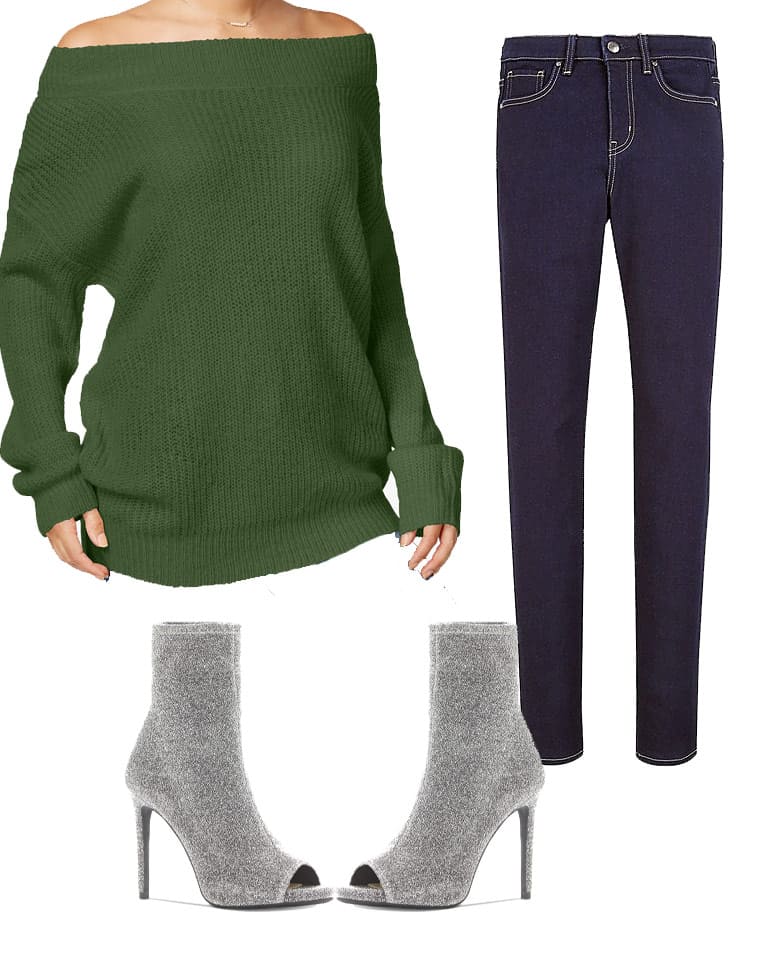 This outfit also balances out the flashiness of the booties by matching them with more casual pieces. An oversized sweater doesn't have to be reserved for chilly evenings at home, after all.
3. Rolled Jeans and Half-Tucked Button Down
Rolling your jeans above the booties draws the eye and creates a nice frame for your fancy shoes. A lightweight button-down works best here — you don't a relaxed look and not a starchy, bulky one.
4. Short Dress, with or without Tights
A lined, short dress with a bit of shape — as opposed to bodycon — works well with open-toe booties. I prefer a low-profile boot shape with this outfit, mostly because a bulky boot makes my feet look and feel enormous.
5. A-Line Skirt and Light-Colored Moto
Get in touch with your retro side with a bright A-line skirt and cream or soft pink moto. A-line skirts are so flattering, and you can play with the length to suit your comfort level. Generally, the shorter the skirt, the longer and thinner your legs look.
6. White Crop Pants and Chambray Button Down
Two staples every woman should have in her closet are white crop pants and a chambray button-down. You can wear these two pieces with nearly any shoe, including your new open-toe booties!
7. Knee-Length Pleated Skirt, Tee, Denim Jacket
The pleated skirt is the more relaxed cousin to the A-line. Combine it with a soft, poly-blend tee shirt and your favorite, slightly worn denim jacket. The booties add a smidge of sass to this outfit, so add a glassy lip gloss to finish the whole thing off.
8. Pencil Skirt and Peplum Top
When you feel like making an impression, pull out a sleek pencil skirt and a peplum top to wear with your booties. Throw in a mist of Chanel No. 5 and a slightly tousled hairdo, and all eyes will be on you.
9. Bootcut Trousers and Blazer
Bootcut trousers give your open-toe booties and whole new look. This is also a perfect strategy for toning down a bold shoe. Add a nice belt and structured blazer for the right mix of business and style.
10. And of course, the Cocktail Dress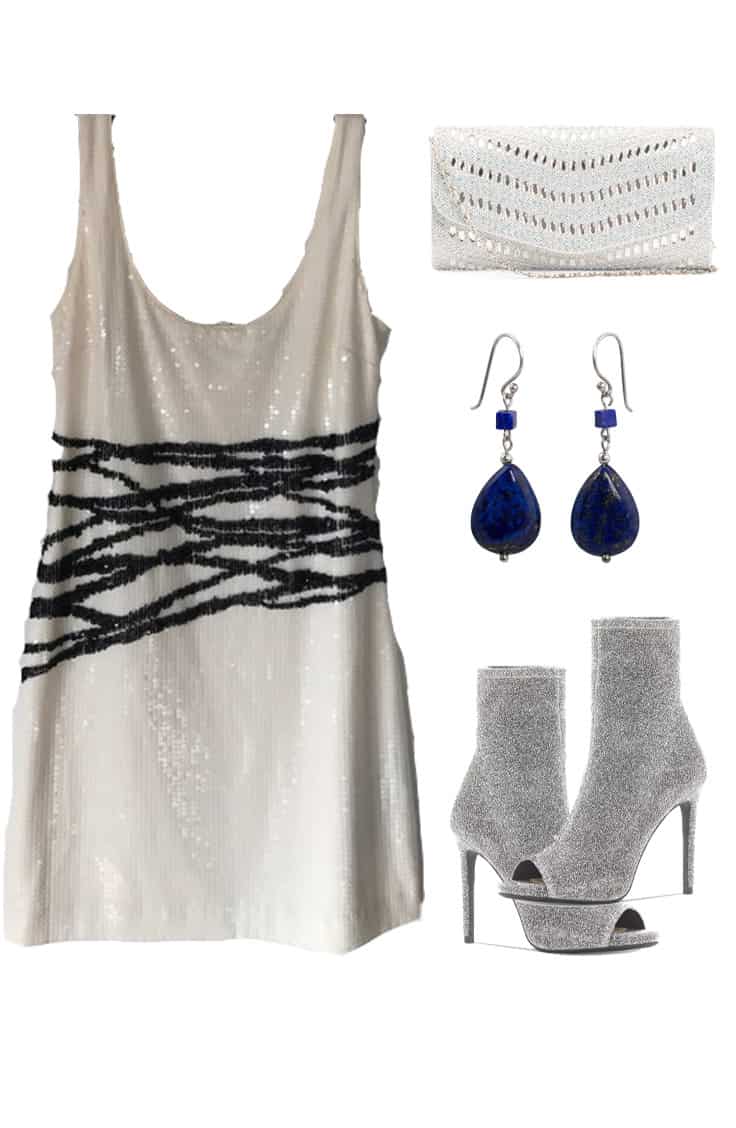 I bought my booties specifically to go with a white-and-black sequined cocktail dress. I bought the dress at Bebe a few years ago on sale, and I had it tailored to fit better. I've since worn it at least three times, with plans to wear it again this NYE.
Since I've already worn this dress with pumps and with sandals, I wanted to try something different this time around. Hence, the booties. This ensemble has celebrity flair to it, as similar combos have been worn by Gwyneth Paltrow, Miranda Kerr and Gigi Hadid among others. No reason you and me can't pull it off too, right?