So Jennifer Aniston, with her toned legs (ok, who are we kidding . . . her toned EVERYTHING), is basically the model of pencil skirt-wearing perfection. But you don't need Jen's body or bank account to get that sleek, sexy pencil skirt silhouette. Don't believe us? Read on for the Budget Fashionista's guide on how to wear a pencil skirt. You won't regret it.
How to Wear a Pencil Skirt — the Golden Rules
1. Choose the Right Length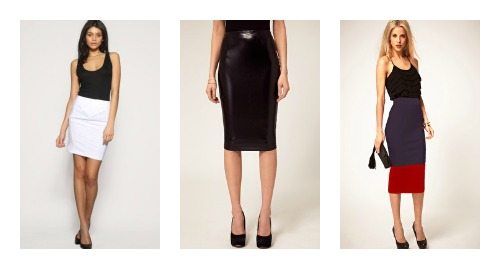 You can generally find pencil skirts in three basic lengths:
Above the knee, by about two full thumbs' worth
At the knee
Below the knee, by about two full thumbs' worth (a shortish midi length)
The right length for your legs:
A pencil skirt will draw attention to the bottom-hem and then up from there. For this reason, the knee-length midi is often the most flattering, as that's usually the smallest part of your leg. If you'd like a more calculated strategy, try this:
Take a measuring tape to your shins (middle of knee cap to ankle bone) and note the number.
Switch directions and measure from mid knee cap to your hip hone.
Subtract the smaller number from the longer number.
Divide that result by 2.
If your shins are shorter than your thighs, the number in Step #4 is the height above your knee that your skirt should hit. If your shins are longer than your thighs, drop the number length below your knee.
The right length for the occasion:
Your leg measurements may say one thing, but the occasion plays a role too. As an example, you probably won't wear a short pencil skirt to a work function. Keep these pencil skirt guidelines in mind:
For Work: At knee or below the knee
For Dates: Above the knee
For Church: At knee or below the knee
Over 50: At the knee or below the knee
2. Know Your Shape
Pencil skirts on those who are bottom heavy tend to pull across the middle (from one side of your hip to the other), causing an unslightly "whiskering/wrinkle" effect. If you're got a bit extra in the hip area, buy the skirt one full size larger and get it tailored to your body.
3. Pay Attention to Your Side View
Most people pay attention to the way pencil skirts look from the front- which can be deceiving if you have a tummy or a pouch. When trying on pencil skirts, ALWAYS TURN TO THE SIDE, and see what the skirt looks like from the side view. If you notice a pouch, consider purchasing a size larger and get it tailored and/or make sure to wear a body shaper with the skirt.
4. Petite? Tuck it in. Tall? Leave It Out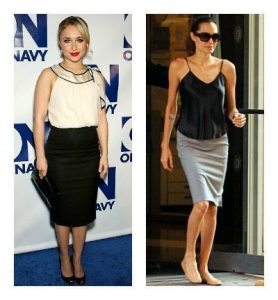 If you're petite, tucking the shirt in will make your legs look longer. If you're tall, leaving the top out will make your torso look longer. The same rules apply to those who have long torsos (tuck it in to create a midline waist) or shorter torsos (where it out to create a longer waist, thus elongating your top portion).
5. Go For Color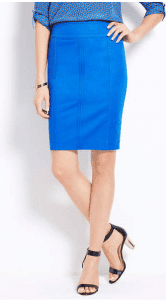 While black is the go to color for pencil skirts, we here at TBF feel that you should look into other color options like blue and red. A word of caution: if you're bottom heavy steer away from colored pencil skirts unless you're trying to accent your lower half.