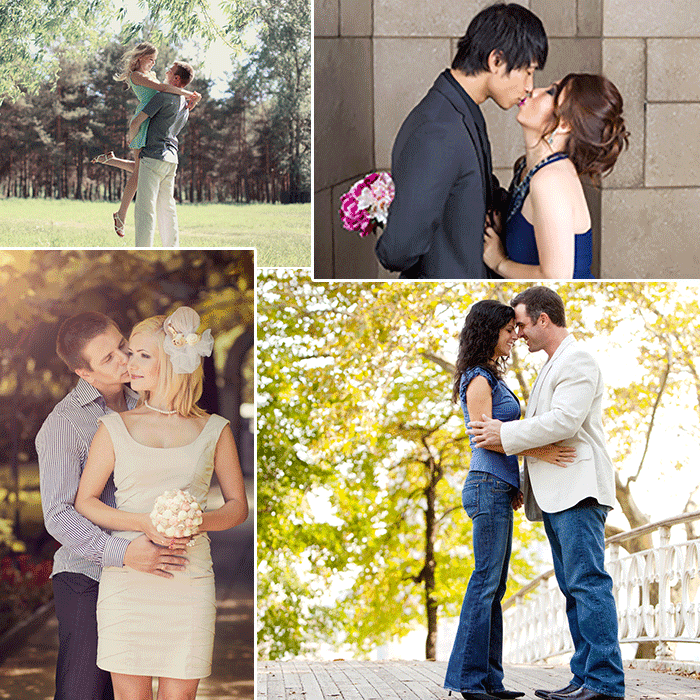 Engagement photos are a lovely way to capture the chemistry and love between two people. They are also meant as a joyous celebration of a new chapter in your life. Ensure that your engagement photos represent your new-found happiness by taking the time to get every aspect just right. One of the biggest challenges for couples is to find complementary outfits in colors that don't clash or appear washed out on film. Secure your picture perfect engagement photos with these vital color tips.
Pick Your Palette
Color is good, but too many colors can make an otherwise cute couple look like a hot mess. Narrow your color palette down to two or three complementing colors. Don't know how to properly combine colors? Pull out that trusty color wheel. Complementary colors appear opposite each other on the color wheel, such as green and red.
Coordinate Each Other
You could have an out-of-this-world beautiful outfit, but if it doesn't coordinate with your significant other's ensemble, your engagement photos will just look "off." This doesn't mean you and your Mr. should look identical. Opt for garments that are complementary or share shades in the same color family.
Flatter Your Features
Different colors flatter different skin tones and hair colors. Choose colors that will enhance your beauty, not take away from it. For example, individuals with pale skin and dark hair look best in deeper colors, while individuals with dark skin and dark hair are best suited for brighter colors. Pale skin and light hair? Stick with soft colors.
Embrace Bold Colors
There's no need to always play it safe. Embrace those bold, vibrant colors to make your engagement photos really spectacular. Think purple, blue, green, and some of the seasons other hottest colors. If you're the type who's more comfortable in neutrals, consider adding pops of color to your photos by sporting lively accessories.
Keep Jewelry Simple
Speaking of accessories, no outfit is complete without a few pieces of jewelry. Just like your articles of clothing, the color of your jewelry can help make or break your look. Opt for simple pieces of jewelry, and keep it non-reflective if possible to avoid camera mishaps. Traditional pearls are a classic and elegant choice for engagement photos.
Contemplate Your Hair
There's nothing worse than spending hours on your hair only to notice it looks flat and "blah" in your photos. Unfortunately, photos are not three-dimensional, meaning most photos simply won't do your hairstyle justice. To avoid frustration, keep your hair down and straight. Consider adding a cute headband or flower for a splash of color.

Color is a major factor when it comes to the final outcome of your engagement photos. Think long and hard about the colors you choose for your clothing and accessories before the day of your photoshoot and you won't be disappointed with the results.