This post may contain affiliate links. See our privacy policy.
Readers: PearlsOnly sent us this pendant free of charge. We do not guarantee product reviews, and we only do them when we truly enjoy the product.

I love black pearls. They have a deep, iridescent color that makes for a versatile accessory. Wear 'em with jeans and white T or to dress up your bare neck above a simple, classy cocktail dress. So when I opened this package from PearlsOnly.com, I was definitely hoping for something in black.

The PearlsOnly pendant arrived with a certificate of authenticity and appraisal, which noted a $375 appraised value. It also came with a pretty purple drawstring pouch, and the necklace itself was placed in a small box lined with black velvet. A nice presentation, indeed!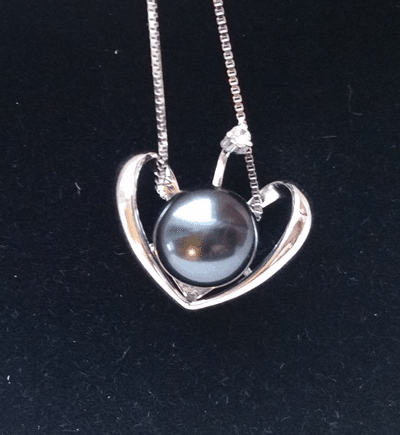 The black pearl pendant inside impressed me on two counts. For one, it's huge. The pearl itself measures between 9 and 10mm. Secondly, the pendant is complemented by a dainty cubic zirconia, which adds style and a nice touch of femininity. The chain is .925 sterling silver and 17.5 inches in length. This is known as princess length, and it's definitely all-purpose. You can wear it with a crew neckline or a plunging V.

The only downside is that the chain is looped through the pearl's setting, and the pendant can easily slip off. Thankfully, the pendant is big enough that you probably won't loose it. Just be careful where you take off the necklace — you don't want to lose your pendant in a sewer grate.
This pendant is part of the PearlsOnly Affordable Luxury Collection, and it sells for $65. You can learn more here: PearlsOnly Heart Black Pendant.