Never underestimate the style power of a great jacket. Throw one on with jeans, a maxi skirt, even tailored shorts and poof—instant style upgrade. Slip on a pair of fun flats or on-trend boots, and suddenly even running errands feels chic, and there's nothing that makes standing in the grocery line more tolerable than knowing that at least you look fabulous.
For petite women on a budget, however, finding a jacket that fits is a challenge. Sure, some petite-specific retailers (if you can find them) carry great selections, but the price tags tend to induce more sticker shock than buyer satisfaction. And tailors are an option, but if it's more than taking up a sleeve (petite cuts are about shoulder width and hem length, too), it's probably going to make even a bargain jacket more trouble (and cost) than it's worth to begin with.
The other problem? Apparently retailers are under the impression that the only petite females interested in proportionally appropriate clothing are over the age of 60 and of a particularly conservative bent. Google "petite jacket" and top hits include "Eddie Bauer", "Talbots" and "Coldwater Creek" – not that there's anything wrong with any of those folks, but they're not exactly fashionista go-tos. Sigh.
Fashionable Jackets for Petite Fashionistas
So, in our quest to keep all the (literal) shawtys looking fabulous, we're sharing our picks of sources for jackets that will make you feel six feet tall. The list is, unfortunately, um, short. Okay, for real—we can hardly ever find budget-friendly petite jackets anymore. Ever. Retailers, take note.
Ann Taylor LOFT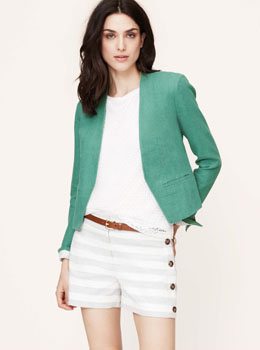 Petite Linen Cotton Dobby Open Jacket, $89.99 from Loft
We *heart* the petite jackets at Loft.com—the colors and cuts are modern (like the cotton linen jacket pictured above), and the prices aren't completely ridiculous though they will require us to dip into that change jar that's supposed to be helping us fund our next tropical vacation in order to justify the purchase (we weren't gonna get far on the $47 we've saved in the last year anyway).
Macy's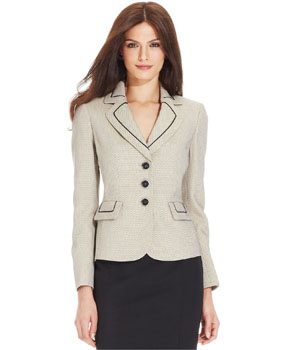 Le Suit Petite Three-Button Tweed Jacket, $57.99 from Macy's
Macy's makes the list primarily for selection—while some of their jackets are kind of ho-hum and not so fashion forward, there are a lot of options (at least in comparison to most other retailers) and some are super cute, totally reasonable, and eminently work appropriate (the Le Suit petite three-button tweed jacket for example).
Forever 21 and Charlotte Russe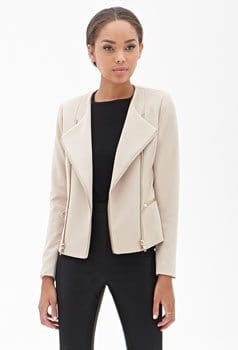 Ribbed Knit Biker Jacket, $32.80 from Forever 21
Okay, we know—this is not the place you'll want to go for that power jacket to take you to your next promotion. That being said, for the sheer love of being able to afford some variety in our closet, we love these two retailers for easy to wear little on-trend jackets (obsessed with the Ribbed Knit Biker Jacket at F21). Of course the sizing is not technically petite (it's not even technically reliable from one garment to the next), but since these items are cut with the junior frame in mind, most will work for petite girls in the small to average size range without requiring costly alteration adjustments.
The Limited and Target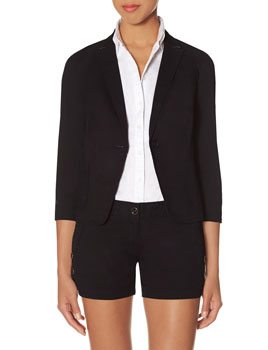 Outback Red® Patch Pocket Blazer, $89.95 from The Limited
We're combining these two because the selection of petite jackets offered by each is soooo miniscule, neither of them deserves their own entry. However, the handful of petite jackets they do offer are clean and classic (Limited), and versatile and inexpensive (Tarjay). Worth a look for wardrobe staples (we like the Outback Red Patch Pocket Blazer, half off right now with promo code BIG50) and the occasional trend-worthy jacket but don't expect to be knocked out.