This post may contain affiliate links. See our privacy policy.
Even in the most casual office settings, you want to keep it professional and polished. So whether you work in a jean-friendly environment every day of the week or reserve your denim for Casual Fridays, the business casual denim pieces you do pick make a difference. They can inform coworkers, customers or clients about who you are — what you want to be known for.
A classic wash might fall into the acceptable category, but if you're like us (aka fashion overachievers) you won't want to aim for OK. You're aiming for extraordinary.
So leave your classic blue jeans and standard skinnies for the weekend, and instead, button into positively pro pairs that make an impressive, even if casual, statement.
White Denim Capri
A clean white jean is the warm-weather option that always offers a crisp, cool and collected vibe. While you might wear it with bright and bold colors on your off-duty days, this pair looks totally slick paired with black blouses for office hours.
Go cropped with a shorter silhouette to stylishly show off some pumps, ballet flats or sophisticated mules. Just above the ankle is the demure hemline you've been dreaming of.
Business Casual Denim: Black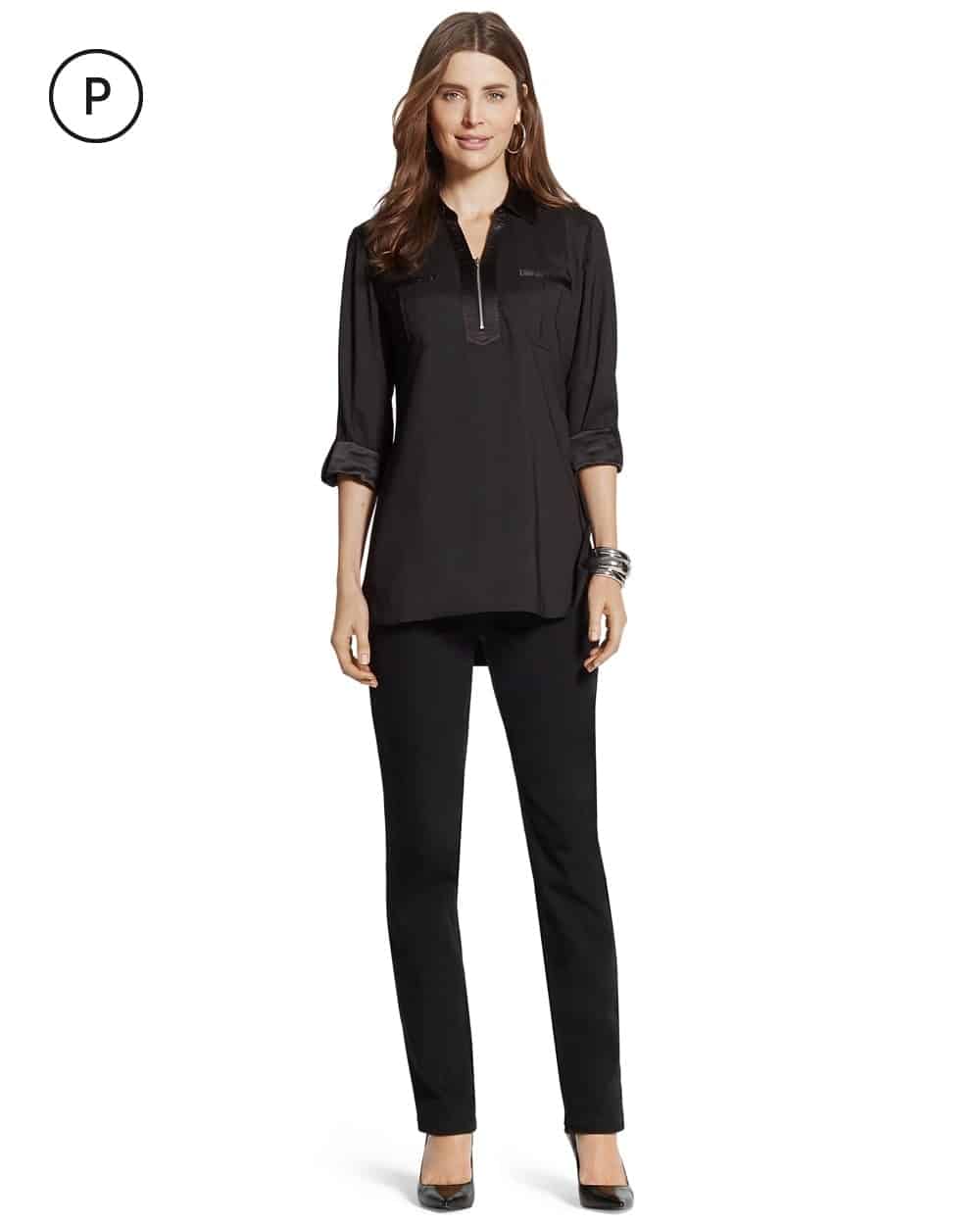 The best thing about black denim is that it doesn't look like denim at all! Skip faded blacks and vintage washes and go for the deepest, darkest and truest available.
Unless your coworkers get up close and personal, they won't be able to tell the difference between your black jean, your stretch ponte pant or your standard trouser.
Business Casual Denim: Flared Jean
Flared jeans tend to be a bit longer than your standards fits, making them perfect for pairing with a heel in the office. A dark wash that's slim through the leg and bells after the knee is your dressy alternative to boring straight leg options. It also lets you get away with a hint of vintage nostalgia.
Perennially classy, the office flare always looks posh even with a tee and belt.
Business Casual Denim: The Wide-Leg Trouser
A cousin to the flare jean, a creased, wide-leg trouser allows you to enjoy a more fun silhouette on your denim days. Almost always universally flattering, the roomy silhouette looks super chic paired with silky button-ups for sailor and retro-inspired plays on menswear trends.
From slanted pockets to unique button work, the wide-leg jean always seems to have a charming touch to make it stand out from the rest of the denim family.