Before designer collabs with budget retailers went buck wild and mainstream trendy, Norma Kamali was somewhat ahead of her time. With her multiple lines for Walmart, Nordstrom's, and Ebay, Norma's no stranger to the budget scene, and she's expanding her frugal reach, dear friends and family!

KamaliKulture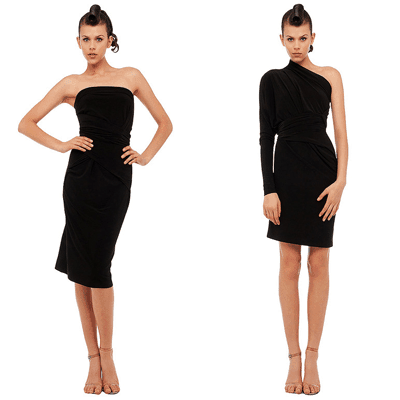 KamaliKulture, which launched on February 15, features an array of classic pieces at an affordable price point. By classic, we mean jersey dresses and professional chic wear you can take from office trendy to happy hour hotness.

Thanks to the wonderful folks at KamaliKulture, we were sent an All in One Top to sample. The All in One Top debuts for the general public in Fall 2012, but it shares the same silhouette as existing pieces like the All in One Dress featured above. (FYI: The All in One Dress retails for $96.)
What's the verdict on the All in One Top? While $96 may qualify as "budget" to Ms. Kamali, for budget fashionistas, it's pretty much an investment piece in our book. While close to $100 may be out of our comfort zones for just a top, there are several pros to this top. 1. It's a classic black top, which means we can wear it for a long time and often without looking like we're wearing the same thing every day. 2. You can restyle the top in eight different ways, and there's a nifty youtube video that teaches you how to wear the top/dress/tunic. (We've seen other versions of the All in One top and websites/advertisements showing models wearing the top in different ways, but we're scratching our heads wondering how to recreate that look, so trust us, the youtube tutorial is so necessary.)

In general, we liked the top, and we love how one top is really eight tops (or more depending on how creative you are). Like most all-in-one pieces, some of the looks will look awkward and off. (For example, we found that the extra sleeve material could look weird in some styles.) The material is stretch-friendly so it doesn't necessarily scream high-end, but it also gives you the flexibility to interpret the piece. So, while All in One piece was designated as a top, we found that with some styles, we could actually wear it as a short dress. (Hello new dress for a night out on the town!)
KamaliKulture will be an online exclusive and permanent collection from the designer; it'll be available at KamaliKulture.com, Zappos and Amazon in early March. All pieces retail for under $100.

Full Disclosure: KamaliKulture sent us a complimentary sample of their All in One Top. All opinions expressed in this piece, however, are ours and ours alone.