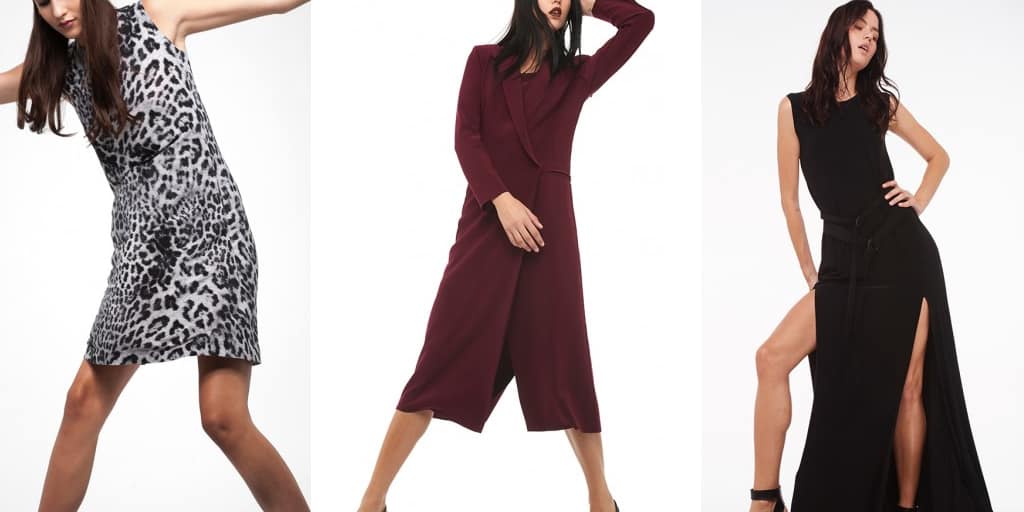 This post may contain affiliate links, which means I earn a small commission if you click and buy something (at no cost to you). See our privacy policy.
Back in 2006, Budget Fashionista helped spread the word that Norma Kamali was launching an affordable collection for Spiegel. Maybe we're used to that sort of thing today, but back then, Kamali's move was a touch revolutionary. There was a time, after all, when designers of her caliber had no use for the wallet-conscious masses.
But Kamali isn't like other designers, and she has since been the poster child for affordable collaborations and budget-friendly style. Here's a look back at Kamali's most memorable collabs, along with the scoop on where you can get bargain-priced Kamali designs today.
Kamali's Budget Collabs
Spiegel
The Spiegel collaboration line was called Norma Kamali Timeless — and the collection certainly lived up to its name. The black and red, interchangeable and/or convertible jersey knits in classic silhouettes delivered on style and versatility at the same time. And the prices were right too. The most expensive piece in the collection was $89; the cheapest was $12.
You could buy these garments from Spiegel's spring 2006 catalog. But interestingly enough, Kamali also sold pieces from the collection in her New York boutique — at the same, low Spiegel prices.
Everlast
Kamali also teamed up with Everlast and Bloomingdale's in the mid-2000s to create a line of comfy, fashionable sportswear. Yeah, we call that athleisure today. And, Kate Hudson thanks you, Ms. Kamali.
The Everlast collection included hoodies, sweats, wrap tops and the like, with each piece priced around $200 or less.
Walmart
In 2008, Kamali doubled-down on budget fashion with the debut of her Walmart collection. Immediate hits from the collection were the batwing cardigan and wrap dress. Stores sold out of inventory fast, and Norma Kamali enthusiasts had to go online to see the full, 80-plus-piece collection that included $6 tank tops and $15 jeans.
You can still find pieces from these older collections on ThredUP, Poshmark and eBay.
And Today: KamaliKulture
In 2010, Kamali parted ways with Walmart to produce health and wellness videos for Hulu. But she didn't stay away from us for long. Two years later at NYFW, she announced the launch of KamaliKulture, a collection of pieces priced under $100 each.
KamaliKulture is still available for sale today, but the pieces are no longer holding to the $100 price cap. You can snag some cute stuff for around $100, but there are several pieces in the $200-range also.
Inspired to shop Norma? You can find Kamali Kulture at NormaKamali.com, Zappos and 6pm.