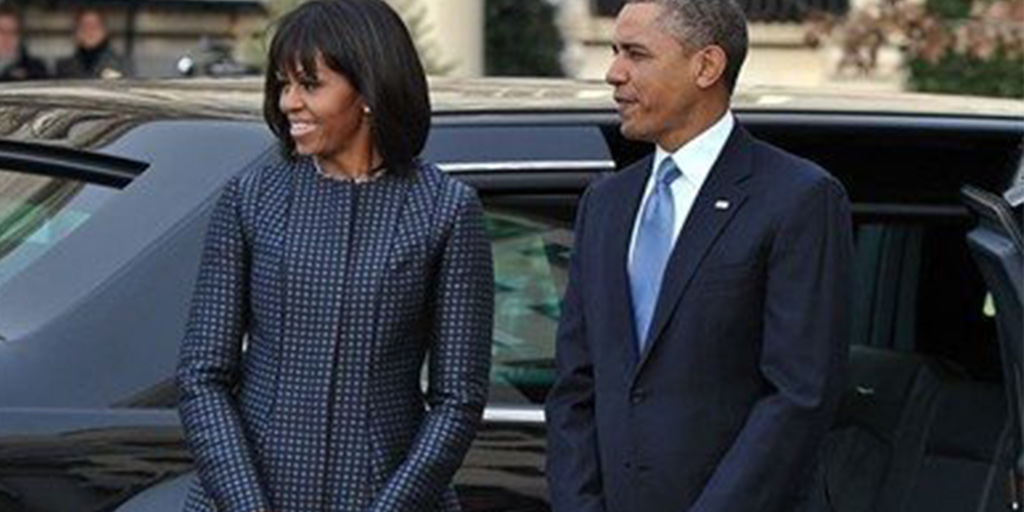 Michelle Obama came into the public eye in the early-2000s, and wowed us with her grace and style sense. During her eight years reigning as FLOTUS, we watched her take chances, go budget, be real and dress up. Granted, she didn't change up her look as often as Madonna, but she does know how to keep things interesting style-wise.
Inaguration Outfit 1: The Ceremony
The 2012 inauguration was no different. Michelle went for an entirely new look for her inaugural day style — with newly cut, eyebrow grazing bangs, clean makeup, a light lip and a menswear-inspired outfit in dark grey and black. A down-to-earth lady, Mrs. Obama looked — dare we say — almost severe?
Every inch of her was covered by way of a high-collared neck, sharp shoulders, long sleeves, cinched belt and high grey boots. Thom Burton, an American men's and women's wear designer, styled this outfit as well as another for the First Lady during the second Presidential debate.
Our First Lady looked impeccably structured and very modern. The only piece of the look that kept the whole style from being timeless was her choice of straight-cut bangs. Interestingly, she had a belt on for part of the day, and off for the rest. She likes versatility just like the rest of us!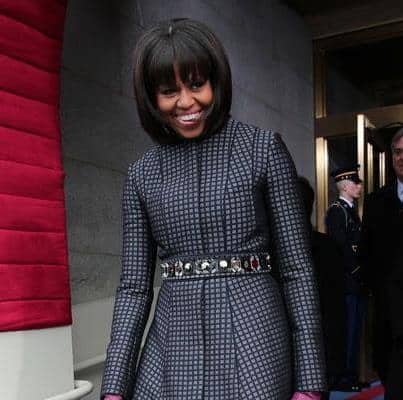 The Look for Less
You can mimic the essence of this outfit with a masculine checked dress featuring long sleeves and a high collar. Add your heeled, slightly slouchy boots and a pair of colored gloves to complete your power look.
Inauguration Outfit 2: The Swearing In
During the swearing in, Mrs. Obama wore a beautiful blue shift dress and cardigan by Reed Krakoff. Incidentally, Krakoff raves about Mrs. Obama's impeccable tastes. She completed the outfit with lined eyes and a light but lovely pink lip.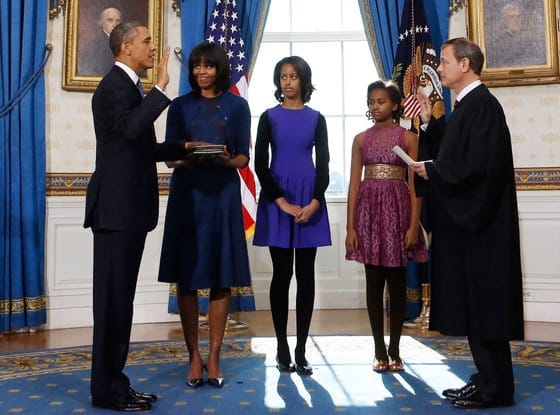 The Look for Less
A navy blue shift dress isn't hard to come by. Your biggest challenge will be finding one that's the right length — if you want a demure, below-the-knee hemline like Michelle's.
You might also go with black instead of navy blue.
The Inaugural Evening Outfit
Michael Kors designed the sparkly, chic bottleneck dress Mrs. Obama wore for the inaugural evening activities. FLOTUS looks fantastic with intricate silver bangles as her only accessory.
The Look for Less
A sleeveless dress with sequins can give you the same sparkle. Note the she's paired her sparkly dress with a kitten heel — but you can wear a strappy sandal if you prefer. Here are two sparkly sleeveless pieces we love.
Add some silver bangles from as low as $2.99 at Forever 21. Buy five different styles, but all in silver.
The Red Dress Outfit
This startling and beautiful red dress from Jason Wu is glorious on Michelle Obama! She wears it with the same silver bangles as earlier in the day.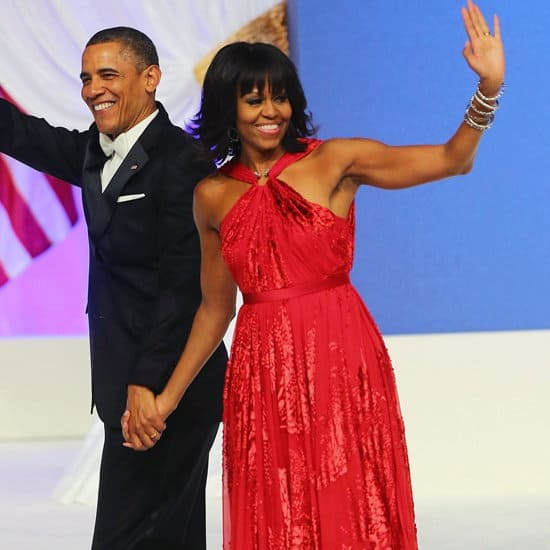 The Look for Less
The neckline, color and the band at the waist define this beautiful dress. Here are two options that share the same features!
Which inauguration outfit is your favorite? Let us know in the comments!