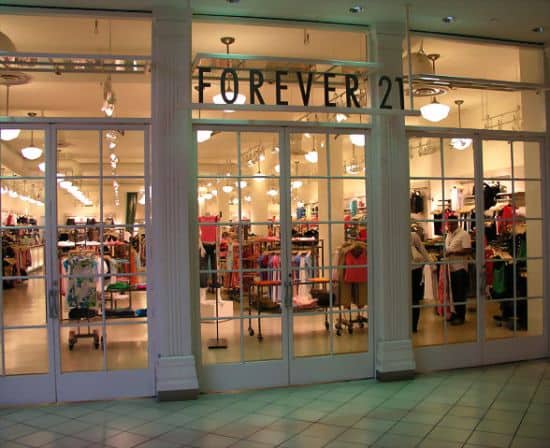 We'll say it, these stores are cheap. Sometimes we mean in price, and sometimes we mean in quality, but if you're shopping these correctly, you only need trend store selections to last you a season or two. There are the perfect shops for picking up seasonal items to add to your base wardrobe. Keeping prices low is key for trend pieces, as you'll need to swap out these items as fast as they come and go off the runways. You're looking for an item in the "It" color or pattern for the month, so stick to statement jewelry, printed blouses and novelty jackets as the types of items to pick up at your local trend stores to add seasonal flair to your closet.
FOREVER21
Forever21 is the epitome of fast fashion, and every budget fashionista's first stop for filling up on trends. Keep in mind Forever21's return policy (err…exchange policy) and shop smart. Buy online or buy in store, but don't plan on comparing the two and coming across the same merchandise. Restocks and sizing are hit or miss in the quantity versus quality world of Forever21.
WET SEAL
One of the first brands to tap into the high turnover of trend fashion, Wet Seal has become a mainstay in teen and young adult fashion. We use the word teen strongly because much of the merchandise is tight and bright. But if you use your imagination there are some hidden gems amongst the mini merchandise…is anyone else thinking Vegas? The teeny outfits come paired with teeny price tags, but if that's not your style they've got some great all-ages accessories and jewelry.
CHARLOTTE RUSSE
There always seems to be some kind of sale going on at Charlotte Russe making their already inexpensive clothes, just ridiculously cheap. The merchandise isn't exactly built to last, but at $5 for a tank or cami, it's usually best to stock up while the opportunity presents itself. Charlotte Russe is also great for adding some footwear style to your wardrobe, and most stores have a wall o' shoes filled with variations of every sandal, pump and boot trend currently on the market.
EXPRESS
As the sixth largest specialty retailer in the US for both men's and women's apparel, it should go without saying that everyone loves Express. Moderate pricing and killer sales have locked this store into every budget fashionista's radar, and with a substantial mix of basics and seasonal trends, the store will always have what we're looking for. Stock up on denim, printed blouses and office essentials. Sign up for the mailing and/or email lists to get discounts year round, and off nearly every purchase.
TORRID
Torrid can be considered the queen of plus-size fast fashion. With quantity over quality styles similar to those found at a Forever21, this store is great for trend tops and items for a last minute (not to mention inexpensive) night out. Torrid targets the teen and young adult audience so don't be surprised if the merchandise doesn't exactly scream classic.