Budget Fashionista provides this overview of Marshalls return policy for informational purposes only. These policies are subject to change. You can find the official Marshalls return policy here.
Marshalls return policy
Timing: 30 or 40 days
Marshalls maintains separate return policies for in-store purchases vs. online purchases. So:
In-store purchases must be returned to a Marshalls store within 30 days of purchase.
Online purchases can be returned to a Marshalls store within 40 days of your order date. If you mail the return, it must arrive at Marshalls' warehouse within 40 days of the order date.
The holiday return window also is different depending on whether you bought the item online or in a store:
Online purchase made between October 9, 2022 and December 25, 2022 can be returned until February 3, 2023.
In-store purchases made between October 9, 2022 and December 25, 2022 can be returned in-store until January 25, 2023.
Products eligible for returns at Marshalls
Marshalls will only accept unworn and unwashed items. If it's not saleable, you're out of luck. You can't return it or exchange it. If you want to return swimwear or intimate apparel, it must have tickets still attached. Opened beauty items and gift cards are not returnable.
Return shipping charges: $10.99
You can only mail in returns for online purchases. If you choose that option, you must use Marshalls shipping label and your refund will include a $10.99 deduction for return shipping and handling. You can bypass that charge by returning your item directly to a Marshalls store.
Any shipping charges you paid to receive the order are not refundable. The only exception here is for defective merchandise.
Refunds
You can usually get a refund to your original form of payment if you have the original receipt, packing slip, or shipping confirmation and you comply with the return window outlined above. Without proper documentation or outside the return window and you'll get a merchandise credit instead.
Items returned with a gift receipt are refunded with merchandise credit.
Note that you may need to show a photo ID to use your merchandise credit.
Exceptions to the above include:
If you bought the item in a store with PayPal, you'll be refunded with a merchandise credit.
Apple Pay returns are refunded with a credit to the original card if you have a receipt or the actual credit card. Otherwise, the refund will go to any card you choose.
Marshalls uses a refund verification system, which essentially tracks your return activity. That means you must show a photo ID to make an in-store return. And, store staff can refuse your return based on your prior activity.
Refund timing
Marshalls processes return credits on mailed items after your item has been received and verified. It can take 10 to 14 days for you to see the credit applied to your account.
Refunds are processed immediately for returns brought into a store. Your bank may take a few days to post the refund to your account.
In-store vs. mailed returns
You mail in returns for items purchased in a store.
Online items priced over $1,000 must be returned by mail. Same goes for handbags priced $500 or more and long occasion gowns.
Marshalls return policy: Next steps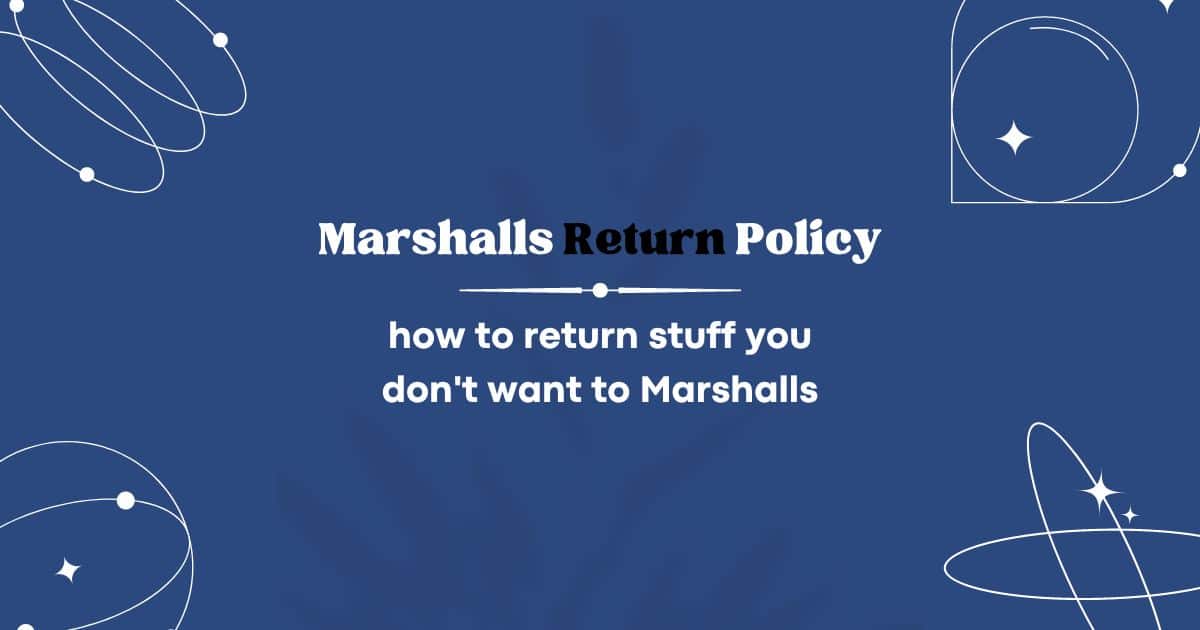 Find a store near you. You must take items purchased in-store back to a store. And for items purchased online, in-person returns are cheaper and faster.
If you prefer to mail your return, use the return shipping label that's attached to your receipt.
Take a photo of your receipt, shipping label, and the item you are returning.
Package up the item in a box, apply the shipping label, and drop the box off at the shipping carrier shown on the label.
What our readers say
Take a peek at the comments below and you'll see that many Marshalls stores are not forgiving with the return policy. A store employee can deny refunds and store credit if you don't have a receipt. Your best bet when shopping Marshalls is to keep your Marshalls receipts organized and don't remove those tags until you're sure you want to keep that piece.
Want to avoid making Marshalls returns in the future? See our post on How to Shop Marshalls.