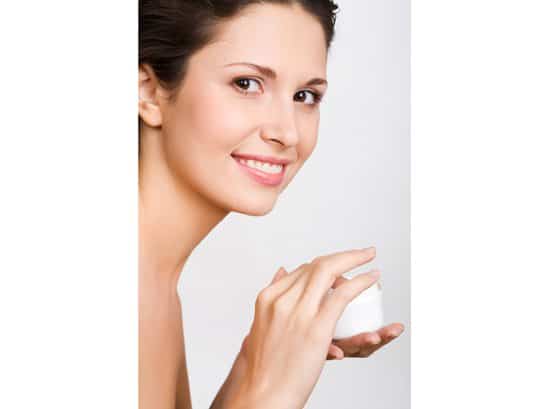 Let's face it. We all want radiant, Charlize Theron complexions. Better yet, wouldn't it be great to have that type of glowing skin . . . now? As in, immediately? You can.

Sure, we've heard a million times over about how drinking lots of water and minimizing stress (talk about a toughie!) can bolster skin's luminosity. However, it takes some time before these kinds of skin-glowing benefits kick in and are actually visible. Here then, are steps you can take to give your face a fresh hue in a matter of minutes.
Read on and get your glow on!
Get Glowing Skin, Now!
1. Wear Skin-Complementing Colors
One great way to step into gorgeous skin is to slip into a color that flatters your natural hue. We recently wrote about how to choose the best colors for your skin tone; wearing the right shade can take you from sallow to stunning in a heartbeat. We love brights like purples and raspberries for dark skin, greens and shades of yellow for medium tones and soft blues or melon hues for pale complexions. An easy, immediate skin pick-me-up is just a simple blouse or dress change away!

2. Laugh
Take a pass on that horror flick, pronto. We love to laugh—who doesn't? Whether we're cracking up at Internet videos of people falling down a few steps (tsk, tsk, so wrong!) or in stitches over our favorite movie outtakes, laughing does wonders for skin. The muscles used during a good belly laugh boosts blood supply to its surface, instantly making your cheeks glow. So go ahead and indulge in a case of the giggles!

3. Get Frisky
Break out the Barry White and indulge in a little lovin'. They don't talk about that afterglow without reason; truth is, research shows wrinkling up those sheets increases blood flow and releases endorphins (a.k.a "feel good" neurotransmitters), contributing to a radiant complexion. OK, enough science talk. Your mind should be on other things. Wink. Wink.

4. Get Some Rays
Key word: some. We're not advocating getting all George Hamilton or Snooki
sun-soaked by any stretch. Just 15 minutes outdoors while walking the dog, gardening or taking a break at work is all you need to give your cheeks a subtle, sunkissed glow.

5. Lace Up
Slip into your sneaks and get moving! No need to work yourself into a Jillian Michaels frenzy though; a brief walk around the neighborhood is enough to give skin that slightly flushed radiance without looking like you're fresh out of boot camp. Walking, like most physical activities (ahem, see #3), improves your body's circulation, which helps deliver nutrients to your skin's surface. What are you waiting for? You go, girl!

6. Embrace your Inner Child
Crunched for time? If you aren't able to take a 10-minute walk, let loose for 30 seconds. That's right. Shut the door if you have to, and then unleash your (silly/wild/crazy/fill-in-the-blank) side. Move, shake, twirl, touch your toes, jog in place—whatever it takes—to give your skin a quick boost. No one has to know you were getting all Footloose on yourself seconds earlier. Besides, they'll be too wowed by your brighter glow to even ask.

7. Put the Cig Down
If you must, you must (*sigh*). But each drag drags your skin down too; with every puff, your blood pressure instantly spikes, often causing your cheeks to turn traffic signal red immediately. Hold off on lighting up (if you must at all) and hold on to the smokin' hot look your skin's got going for you at this moment.

8. Be a Pop Star
It's happened to us all: you're 20 minutes away from meeting friends at a restaurant and that monster pimple sprouting from your cheek is so big you're wondering if it might require a reservation. Hard as it may be, resist the urge to pick it to its death until you have the time to engage in a Proper Pimple Pop (say that three times fast). Hurriedly tending to a zit will only cause reddening around the general area, not to mention lead to that awful oozing, bacteria-spreading mess.

9. Play with Your Food
Time to summon your inner Rachael Ray. But this time, fruits and veggies belong on your face, not your plate. We're big fans of a non-irritating facemask like one easily made with some honey and an egg. Combinations like avocado and olive oil or oatmeal and honey also make awesome masks.

10. Exfoliate!
Dead. Skin. Cells. In a word: yuck! Slough those bad boys off and instantly unearth the healthier, gorgeous layers underneath. We like the Neutrogena Healthy Skin Rejuvenator, St. Ives Invigorating Apricot Scrub (under $4 at most drugstores and Target) and Origins Modern Friction ($37.50, Amazon.com). Just go easy, glow seeker: overuse or being too rough can irritate your skin.

11. Go for the Bronze
Get glowing with bronzers to create a subtle effect. For getting that sunkissed luminosity, we like bronzers' glowability over that of a pink blush (which is better suited for a more dramatic highlighting effect). Try a favorite of ours, Sonia Kashuk's Bare Illuminating Bronzer ($12.99 online from Target). For dark skin, we like the Black Opal selection, typically available at local drugstores.

12. Take a Siesta
Snore your way to supple skin? You bet. The skin repairs itself while you're sleeping, so sneaking in some Zs for 15-30 minutes can make your face appear more youthful and fresh. Just don't nod off during dinner with the family, no matter how many times Aunt Carolyn talks about her hometown's Annual Tube Sock festival.

13. Make a Splash
One of the easiest ways to get your glow on is to splash your face with cold water a few times. It's super invigorating and when followed by gently patting dry, leaves your face looking refreshed and healthy. It's also a great way to test just how waterproof your waterproof mascara is (kidding! Splash before putting on your makeup of course. I only say this because, um, I've learned the hard way. Long day. Hurrying. Eye roll).

14. Let Off Some Steam!
Turn your sink ito a spa . . . well, almost. Brighten skin in minutes by simply filling your sink up with hot water. Then, with your face about 10 inches above the water, drape a towel over your head to seal in the steamy bliss. After a few minutes, splash with cold water and pat dry. Voila! You'll look and feel amazing.

15. A Solution . . . Right at Your Fingertips
All day, your fingertips are grabbing, typing, dialing and pointing. How about putting those digits to work on your complexion? Using your index and middle fingertips, lightly tap around your entire face then alternate with circular motions and gentle pressure. It's a quick, convenient way to stimulate blood flow and give your face an energized radiance.

15 'n a Half. If all Else Fails, Fake It!
Sometimes you're just too tired, too blah or too "I'd rather see what happens on DWTS and Modern Family" to get glowing, even if it only takes a few minutes. We understand, but guess what? There's an app for that! You can still get an amazing glow with Instagram, a photo app that has filter options galore. Send your soft, flattering Instagram aura to friends in no time flat. Luminous skin is literally achieved in a snap (even if it is kinda cheating).

So there you have it. Snooze, smooch, belly laugh and bronze your way to a gorgeous glow this very instant.
Watch out, Charlize. We're catching up with you.
Share your favorite ways to get instantly glowing skin. Leave your comment below; we'd love to hear from you!